MYANMAR | COLOURFUL TRIBES
Posted on Tue January 26, 2021.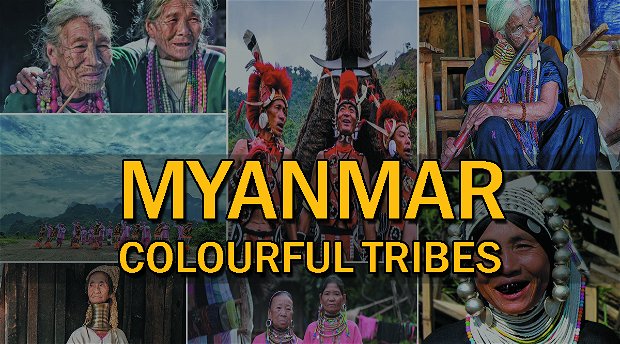 Myanmar (also known as Burma) is a largest Country by geographical area in mainland Southeast Asia, is a melting pot of different cultures and traditions. Myanmar has a population of around 51 million people, with over 135 distinct tribes and ethnic groups officially in Myanmar, they have their own history, culture, traditions, costumes and preserved ethnic language. These are grouped into eight "Major national Ethnic Races":
If you visit Myanmar, it's extremely important that you try to engage in ethical tourism and, if you choose to visit tribal groups, you do so in a responsible way.  Treat those who you meet with respect and dignity, and you will have an incredible experience in Myanmar.
1.    Kachin Tribe
Smallest of the Major National Ethnic Races in Myanmar are the Kachin people, also known as (Singhpo). They are mainly living in North-Eastern Myanmar in Kachin Hills and neighbouring Yunnan Province, China and Arunachal Pradesh, India.  The name of 'Singhpo' is a variation of 'Jingpo'.  About one million Kachin peoples live in the region. 
2.      Kayah Tribe
Kayah groups are nestled in isolated mountain area between Kayin and Shan State along Myanmar border with Thailand.  Kayah State is Myanmar's smallest state by both geographical area and estimated population is 300,000 people.
3.        KAYIN TRIBE
Kayin (Karen) ethnic group is one of the largest groups in Myanmar and their estimated population is around 7 million. Most of Kayin people live in Hpa An, the capital of Kayin state. Possible to reach it by road from Yangon across a Bridge (Thanlwin) over the Thanlwin River.
4.    Chin Tribe  
Chin, occupying the southernmost part of the mountain ranges separating Myanmar (Burma) from India.  Chins is a very big ethnic group and reside in north and north west in Myanmar.  Their estimated population is around 1.5 million. 
5.      Mon Tribe
Mon, also spelled Mun, Burmese Talaing, people are primarily live in Mon State, the Southern part of Myanmar and borders with Bago Region, Tanintharyi Region and Kayan State.  The Mon are one of the first people in the southeast Asia and the earliest one to settle in Myanmar. They founded an empire, and introduced both writing and Buddhism into Burma. The Mon were responsible for the spread of Theravada Buddhism in Myanmar and Thailand. The Mon culture is credited as a major source of influence on the dominant Myanmar culture. Their estimated population is around 8 million.  They are always proud of their traditions and culture which is very rich and ancient.
5.    Bamar Tribe
Myanmar has a population of around 51 million people, roughly 68% of whom belong to the majority Bamar ethnic group.
6.       Rakhine Tribe
Rakhine people or Arakanese are the largest ethnic groups in Myanmar.  Rakhine State is situated on the western coast in Myanmar, it is bordered by Chin State to the north, Magway Region, Bago Region and Ayawaddy Region to the east, the Bay of Bengal to the west and the Chittagong Division of Bangladesh to the northwest.  Arakanese means - a Burmese people of the western Arakan coastlands of Myanmar.  Sittwe is the capital city of Rakhine State. Their estimate population is around 3-4 millions.
8.    Shan Tribe
Shan is the second main ethnic group in Myanmar after Burma.  Shan group is also a very important and powerful group.  Most of the Shan people are live primarily in Shan State where is in eastern part of Myanmar and minority inhabit parts of Mandalay Region, Kachin State, and Kayin State. 
For more information of Myanmar Tribe Exploration program, please contact us [email protected]