COVID-19 PANDEMIC HISTORY MYANMAR
Posted on Tue October 18, 2022.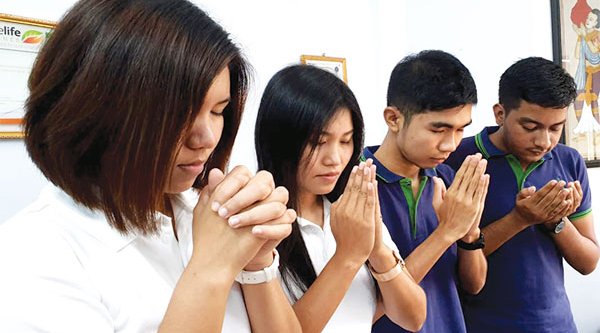 MARCH 2020 - FEBRUARY 2022
The Coronavirus (COVID-19) continues to spread all over the world and the situation has our fullest attention. The safety of our customers and employees is our top priority. We are monitoring updates and guidance from authorities and health organizations with regards to the Coronavirus very closely. We remain committed to working with the industry to support the delivery of information to our partners from trusted sources, as well as updates on how we are managing the situation.
Myanmar confirmed its two first cases of coronavirus from migrants on 23 March 2020. From that time, airport and borders are closed.
As a second wave by mid August 2020, reemergence of COVID-19 infections started in Rakhine State, Western Part of the country, at a rapid rate. From there, the Government increased the security measures such as lock downs at some districts in Yangon and some cities. Starting from end of 2020, spreading virus rate was going down and keeping in control.
The third wave had hit hard from the beginning of July to end of August, 2021. At that time, average number of new infections reported rise around 4000 and about 100-150 new deaths in each day in some weeks. Average new positive rate is about 25 to 28 % of total tests within a day (24 hours). Most of the cities/ townships are announced in partial lockdown (here called stay at home). At the end of August, new positive rate was getting down.
The number of new Covid19 positive cases are declining every day. Current average new positive rate declined to 2 – 3% of total tests within a day. The Government is releasing the Stay at Home order in cities / townships depending on new positive rate situation of respective city/ township. And also domestic travel restrictions are lifted step by step depending on virus situations of places.

AS IT STANDS TODAY THE FOLLOWING IN PLACE REGARDING COVID-19 IN MYANMAR AND TRAVEL :
All passenger flights to Myanmar are suspended until 28th February 2022.
Visa applications are suspended to all foreign nationals, except Diplomats , United Nations officials and crews of aircraft / ships operating to Myanmar until 28th February 2022.
Foreigners coming into Myanmar are required to present laboratory evidence of absence of COVID-19 infection issued no more than 72 hours prior to the date of travel before boarding any airline destined for Myanmar. They will be subject to quarantine 10 Days for fully vaccinated persons and 14 Days for non/ partially vaccinated persons respectively, on their arrival in Myanmar. COVID-19 RT-PCR test need to be done on Day 1 and 9 for fully vaccinated persons and on Day 1, 3 and 11 for non/ partially vaccinated persons with own expense during quarantine. In case of COVID-19 Positive result, the person would be sent to respective hospitals and cured with own expense.
Hotels in different places are re-opening according to Covid-19 Safety Procedures.
Domestic airlines are continuously operating according to Covid-19 safety procedures of Ministry of Health Myanmar. Passengers taking domestic flights require to present negative COVID-19 RDT test result within 48 hours before the flight upon check-in.
There are 7,761 active cases 19,310 death, 514,833 recovery of Covid-19 in Myanmar as of 11-February-2022. Overall total 541,904 cases.
Covid-19 Vaccine injection programs had started on 27th January 2021 and commencing continuously according to priority plans. Now, the overall country vaccine coverage is getting about 37.9%of total population.
Curfew (from 10.00 pm to 04.00am) prevail in the country until further notice.

Just Book Without Hassle !
COVID-19 Booking and Cancellation
It's up to client desire, you can change travel date, reschedule or cancel with no fee and full refund  with prior official information at least 7 days before traveling.
Safety Measures
Conducting increased team briefings, including with guides and drivers, on enhanced safety practices during the outbreak
Sterilization our vehicles
Providing guests with additional hand sanitizers
Providing guests with face masks if they wish to wear one
Regularly checking the wellbeing and temperature of on-the-ground staff. 
More about Health and Safety > Health & Safety
Things to Do While Traveling
Wash hands often with soap and water for at least 20 seconds. If soap and water are not available, use an alcohol-based hand sanitizer.
Avoid touching one's eyes, nose, and mouth with unwashed hands.
Use your elbow or a tissue to cover your cough or sneeze. Immediately throw the tissue away and wash hands.
Wear a face mask if you feel unwell or have a cough. (In Asia, wearing a face mask is in public is common but not necessary if you are healthy, according to WHO.)
Clean and disinfect with an alcohol-based disinfectant frequently touched objects and surfaces such as phones, computers or armrests.
Avoid close contact with people who are sick.
If you start to feel unwell, seek medical assistance, stay away from public areas and do not travel.
Asian Tour Myanmar at Corona Time 
Asian Tour Myanmar office team is continuously working to deliver reliable, precise and updated information to all our partners and clientele.  As our first priority is health and safety of our guests, our employees and our greater travel community, all personals of Asian Tour Team do not gather at the office but are working from their homes.  We are in constant contact with our local guides and staff to keep current of changes as they occur.
We can be reached by phone or Skype, Monday to Friday from 10:00 am to 5:00 pm and around the clock as usual via email.
Phones (WhatsApp/Viber) : +(95 9) 513 3958, 511 2006
 Skype : asiantourmyanmar
E-mail : [email protected]
We know that we are not alone in this struggle and we do appreciate everyone that has reached out to us during this time. We want to express our gratitude to all the frontline health care workers who are fighting for us all. Also, to those in other essential services that continue to provide the services we all need. We pray for everyone in this world for health and safety.
 
Asian Tour Myanmar at Beyond Corona
Asian Tour Myanmar is financially strong, have enough funding and resources to struggle the Corona crisis time. Even in this challenging time, we stand ready to work with you.  As soon as the crisis is over, inbound travel is allowed and international flights are resumed, we will open our tours /activities and be ready to welcome the clients according to preparations and guide lines of Ministry and WHO.
CSR during Corona Crisis 
COVID-19 Pandemic spreading all over the world infecting millions of people and facing inconceivable circumstances. Daily wage workers lost their jobs due to lockdowns and families are suffering with starvation. So, we are making donations to daily wage workers and low income persons (such as trishaw drivers, garbage collectors) as much as we can. And also, together with local tourism organizations and stakeholders, we try to donate essential things for hospitals and frontline health care workers.
We welcome you all, to participate in supporting livelihoods and combat COVID-19. 
Stay Safe And Stay In Touch With Us 
As the Coronavirus continues to spread, we sincerely hope that you are able to stay safe, and find ways to deal the best. As social distancing is the common theme to beat Corona, we, Asian Tour Team remain working at home. 
We would like to encourage you, our clients and partners, to stay in touch with us and let us know how we can best support in productive ways for the time of post-virus bounce.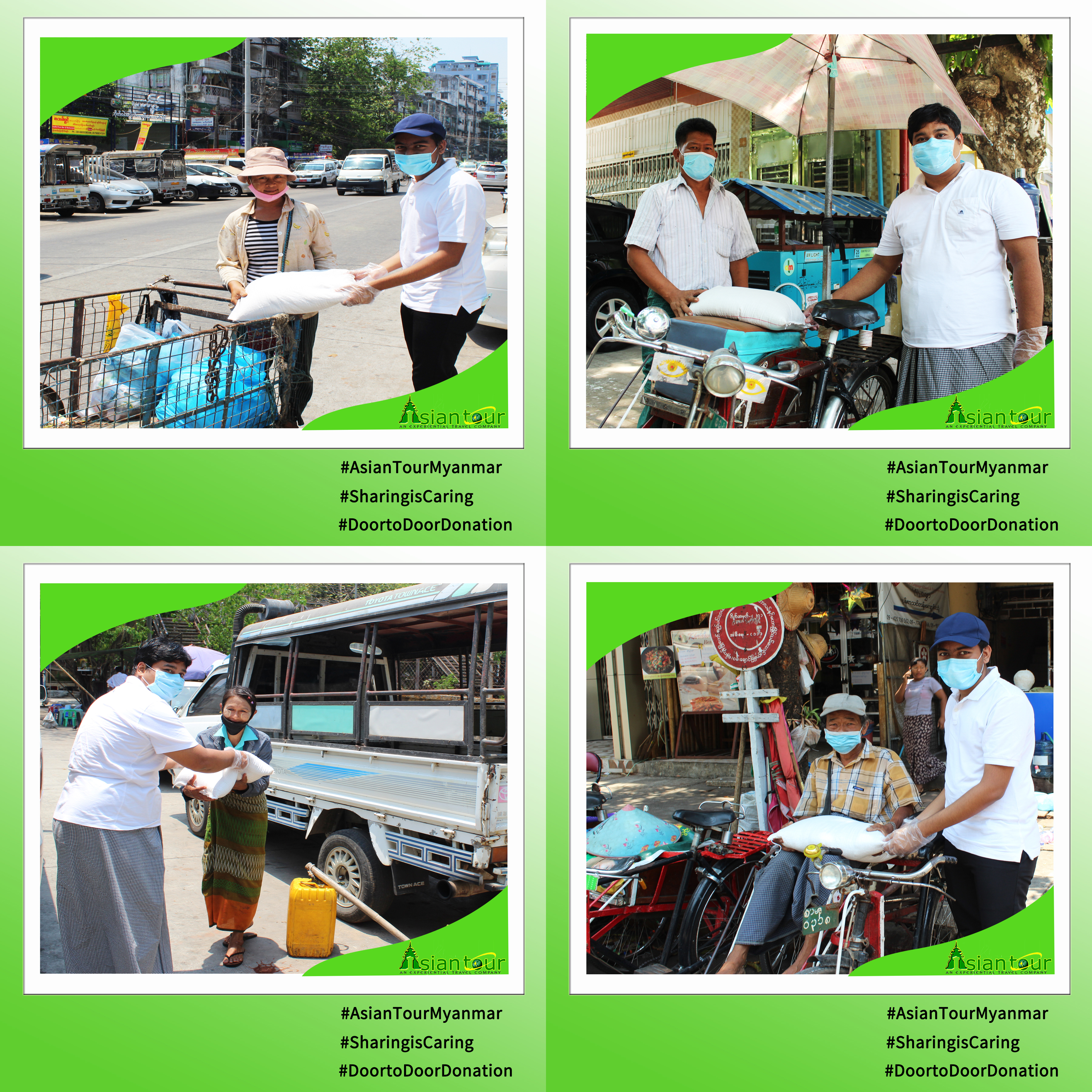 For more detailed Information and Live Updates :
TRAVEL INFORMATION : MINISTRY OF HOTEL AND TOURISM MYANMAR
GLOBAL COVID 19 INFORMATION (WORLD HEALTH ORGANIZATION)
SITUATION DASHBOARD (WORLD HEALTH ORGANIZATION)
CORONAVIRUS DAILY UPDATES (GLOBAL RESCUE)