KAYIN TRIBE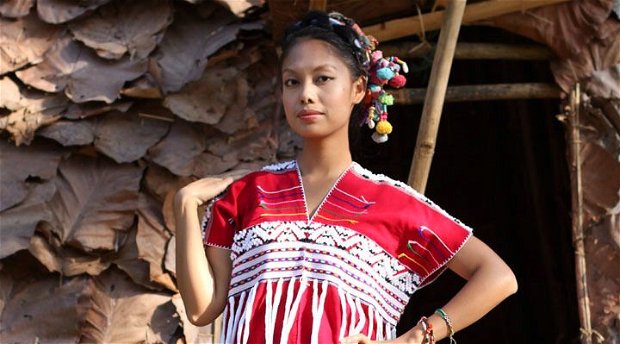 Kayin (Karen) ethnic group is one of the largest groups in Myanmar and their estimated population is around 7 million. Most of Kayin people live in Hpa An, the capital of Kayin state. Possible to reach it by road from Yangon across a Bridge (Thanlwin) over the Thanlwin River.
Kayin People
Kayin State sits on the international border with Thailand and borders the national states/regions of Kayah, Napyitaw, Bago, and Mon. Hpa-An is the capacity city of Kayin State. The state's population is 1.43 million (2011 HMIS data), or 47 people per square kilometre. 16% of Kayin's population live in urban areas, and the remaining 84% in rural areas.
Kayin people comprise of different 11 ethnic groups such as Kayin, Kayinpyu, Pa-Le-Chi, Mon Kayin (Sarpyu), Sgaw, Ta-Lay-Pwa, Paku, Pwo, Monnepwa, Monpwa and Shu. Among them, the largest Sgaw and Pwo have differences of dialect within their language.  The Sgaw or Skaw are Burmese Kayin, their (one – third) of population live in Karen State or administrative division. Over 1 million has settlements in the mountain of Karen State, in the shan uplands, and to a lesser extend in the Irrawaddy and Sittaung deltas. Predominantly Sagaw are Christian and mainly live in hills area.
The Pwo Karen inhabits primarily the Irrawaddy delta. Predominantly Pwo Karen are Buddhist. Most of Kayin people are Buddhist or Buddhist – animist. Minority of Kayin are Chrisitian and Mulism.  Karen dialects occupy the Tibeto-Burman branch of Sino-Tibetan languages. While the Karen people speak at least 12 dialects, the Karen language has three main branches; Sgaw, Pwo, and Pa'o.
Kayin men wear their headdresses with tassels hanging loose on the right side of the head. They wear trousers, longyis, shirts and tunics, which can be either pullover-type or jacket-type. Their longyis have horizontal stripes with a parallel strip in the middle. Kayin women dress in long tunics and longyis, with headbands that have both ends hanging in the front.
Attraction
The most important Karen celebrations are the Karen New Year, celebrated in December or January, the Karen State Day celebrated on November 7, and the wrist-tying ceremony, celebrated between July and September.
Mount Zwekabin, Caves and Pagodas are the most attractive in Kayin State for visitors.
Kayin Tribe Program
Combination of Kayin and Mon Tribes Program
For more information on this tour and other experiences, get in touch with us at [email protected]