Kayah Tribe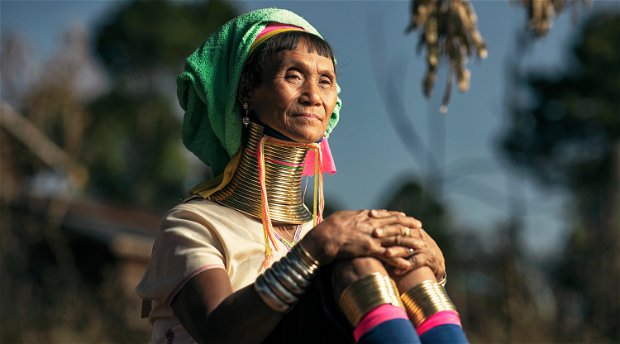 Kayah groups are nestled in isolated mountain area between Kayin and Shan State along Myanmar border with Thailand. Kayah State is Myanmar's smallest state by both geographical area and estimated population is 300,000 people.
Kayah People
Kayah people also known as Red Karen or Karenni or Kayah, a Sino-Tibetan people.  The name Kayah is a new name invented by the Burmese to split them off from other Karen.  Kayah people comprise of different 9 ethnic groups such as Kayah, Zayein, Karen (Padaung), Gheko, Kebar, Bre(Ka-Yaw), Manaw, Yin Talai and Yin Baw.  Among them, the main ethnic groups are the Kayah, Kayaw and Karen (sometimes called by the Shan term Padaung), attract tourists from around the world. Karen women stack their neck with brass rings, which give the long-neck illusion.  Karen mythology claims the tradition arose to prevent tigers from biting their necks! Some say that the lengthened neck is a sign of beauty and wealth and will attract a better husband.
Most of Kayah people inhabit in Loikaw, the capital of Kayah State in Myanmar.  It is located in the Karen Hills area.  In addition, a large number of Kayah people moved and live in Mae Hong Son province of Thailand.  Estimated 49 percent of kayah people are Buddhists, 43 percent are Christians and 6 percent are Animists.
Kayah men wear white headdresses and shirts with traditional jackets and trousers just past the knees.  Silver daggers and stringed silver swords are carried on traditional occasions. Some Kayah women wear their hair in high knots wrapped with red headdresses.  Their sleeveless blouses are normally black, covering only one shoulder.  Red cloaks are worn over the blouses. Long white long shawls are tied around the waist with both ends hanging loose in front.  They usually wear red or black longyi.
The majority of the Kayah live by farming.  Kayah State has a primarily extraction-based economy. The main crop is rice, mostly irrigated, with other important crops including millet, maize, sesame, groundnut, garlic and vegetables.  Two of these can be combined to make arguably the state's favourite product: rice wine.  Mineral products include alabaster, tin and tungsten. Valuable woods such as teak and pine were once produced.
Music is an important part of Karen culture and women can be found playing guitar in most villages. The Karen are also expert elephant trainers.
Attraction
Among many religious festivals of Kayah people, the most important festival is Kutobo or the flag mast festival.  Annually, this festival is held village by village and Kayah State day falls on 15 January.
Nevertheless, Kayah's natural beauty and great cultural diversity is a significant draw for visitors as Myanmar's tourism industry expands its reach.
Kayah Tribe Program
Discovering Shan Mountains And Hidden Padaung Tribes
For more information on this tour and other experiences, get in touch with us at [email protected]