10 Amazing Things to Do Around Inle Lake
Posted on Fri May 8, 2020.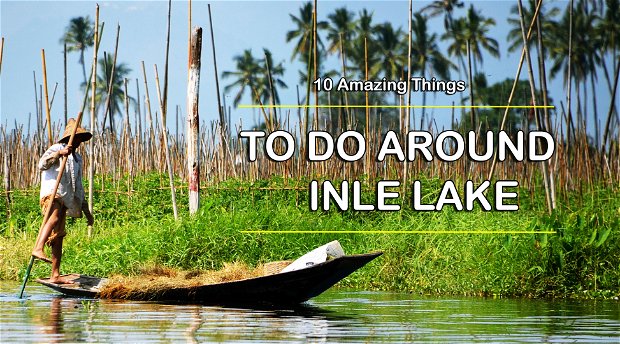 Inle Lake known as a memorable, a unique area in Myanmar and also one of the most magical places on earth. Inle Lake is quickly becoming a popular destination for travelers and which is located in the Nyaung Shwe Township of Taunggyi District of Shan State. The Lake is famous for its floating villages, gardens and the unique ways of life of its inhabitants. The people of Inle lake are called Intha, meaning 'sons of the Lake' and they live around the lake. In addition, other small ethnic groups live in the area including the Pa O tribes. Most of Inle Lake's inhabitants are farmers and fishermen with unique farming and fishing methods of their own. Local fishermen take their boats out on the lake every day and are known for having a specific and unique rowing style that involves balancing on one foot while rowing with the other. This rowing style can only be seen at Inle Lake in Myanmar.
Although it's the second largest lake in Myanmar its name literally translates to small (Le) Lake (in). Le also means four and initially, there were only four villages around the body of water so perhaps that's a more logical translation. People all over the world are journeying to its shimmering waters in search of quaint lifestyle, various natural, cultural, religious, historic sites and delicious Shan Noodles. Add Inle Lake to your Route through Myanmar. If you are wondering what to do in Inle Lake and how to plan the perfect tour around the lake, we've gathered 10 amazing things for you to do around Inle Lake with our best experiences.
Things to do Around Inle Lake
1.   Boat Excursion around Inle lake
The number one of all the recommended things to do in Inle Lake for good reason, no visit to the area is complete without a day spent exploring the lake itself by boat. To get a glimpse of the local life, set on out on a boat tour which stops in small stilt houses along the way. Get out in the early morning, it is the very best to experience the sunrise on the lake if you can. Your Asian Tour guide or  boat driver will know where to go but he will give you some options that you can visit or not.
The boat tour mainly takes you through tourist attractions like floating garden, floating villages, floating colorful local market, Phaungdawoo Pagoda, the Jumping Cat Monastery, small workshops, factories and shops on the lake, some more interesting than the other. You can visit shops like cigar or gold maker and factories where they create beautiful clothing. Next up, visit Maing Thauk Village which is located on the east side of Inle Lake. This village is almost completely built on the water and it is impressive to see how these people live their lives. Indein villages, located in the Western side of the lake, you will find a small river leading up to the village of Indein. Here, you can find an endless row of pagodas and stupas all lined up in one area. In this densely populated area, you will find these monuments both old and new lined up for visitors to see. Encounter with the fishermen during sunrise or sunset. It is impressive to see how they easily balance on the tip of the boat trying to get fish into their netted cages. Remark: One day or Two days is required to visit depending on your time.
Explore 1 Day Sample Program, Highlight of Inle Lake
2.   Boat Tip to Sagar Village
However, the best part of the visit to Sagar is not the village itself, but the boat journey to get there. As you leave the main body of the lake, and your boat winds down the narrower waterways on its way to Sagar, you'll have plenty of time to lean back and enjoy your idyllic and picturesque surroundings. Although it takes some time to get there, you won't be bored. With the hazy Blue Mountains constantly on the horizon, you'll pass by floating farms and several more stilt villages. You'll come across ponds covered with lotus flowers, and spot migratory birds flying above you. The whole journey there was spectacular, and the camera had another good workout! Remark: One day is required to visit.
Explore 1 Day Sample Program, Unforgettable boat trip to Sunken Stupas Sagar
3.   Say hello to Long-necked women
Padaung tribe or Kayan, is especially famous for the so-called long-necked women. These women use brass coils to elongate their neck, starting as early as five, adding more rings as they get older. The long neck actually doesn't get "longer", rather their collarbone and chest is pushed downwards and their chin upwards, creating an illusion of a longer neck. These women are working on their garment. This is pure for tourism purposes to show-off their 'Long-necks'. Worth a visit! In Inle, you can find long-necked women around the floating market. Remark: Long-necked women exploration should be combined with your full day boat excursion.
If you want to explore home of Long-necked women, Loikaw Tribes
4.   Experience with Exotic Boat Lunch on Lake
Exotic and memorable dining unlike any you have ever experienced before: lunch on Exotic Boat Lunch on Lake. They transformed a rice carrier boat into a fully equipped restaurant. On-board chefs prepare your gourmet lunch on the boat while you take in the breathtaking scenery and enjoy exquisite dining, an experience you will never forget. Remark: This option will be expensive, but really authentic, about US$ 65 per person for group of 4 persons.
Explore 3 Hours (Approximately) Sample Program, Exotic Boat Lunch on the Lake
5.   Kayak through the floating stilt village
While Kayaking through the floating stilt village, you get a deeper understanding of the culture and local traditions. It is one of the best ways to get a complete insight on Inle lake in just one day. You can get up close and peek into the life of villagers who live on the lake.  
Explore 1 Day Sample Program, Kayak and Trek in inle
6.   Explore around Inle Lake by bike or cycle
Exploring the area around Inle Lake by bike is both environmentally responsible and social sustainable. Also, it's the best way to get around the town and a great way to explore. Wander around small rural villages, located Eastbound out of Nyaung Shwe. Other areas worth visiting are the Maing Thauk Village, a ramdom art gallery, the countryside, rice fields, bamboo forest, visit ethnic villages and enjoy some pleasant sceneries. Remark: Half day or One day is required to explore the area around Inle Lake.
Explore 1 Day Sample Program, Inle Kayak and Bike
7.   Adventure trekking 
There are lots of really popular trekking routes around Inle Lake, most starting from the village of Kalaw and descending down to the lake. This usually takes between two or three days, but it is more than worth it as you will get to stay in local monasteries along the way and can enjoy the jungles around Inle Lake firsthand which are dotted with streams and waterfalls.
Explore 2 Day Sample Program, Off the beaten track from Kalaw to Inle Lake
8.   Take a hot air Balloon ride over Inle Lake
One of the newer things to do in Inle Lake is a balloon flight. Wake up with your head in the clouds and enjoy an unforgettable moment.  Oriental Ballooning runs morning balloon flights in Inle Lake from October to April. These balloons are smaller than the ones in Bagan, and it's a fair bit less popular, but the scenery during the flight is nonetheless breathtaking. The views over the lake, the floating gardens, and surrounding villages were spectacular. Remark: Average Hot Air Balloon rides 45 minutes.
9.   Join a Shan cooking class
The area around Inle Lake is known for its delicious Shan cuisine and now you can also learn how to make this for yourself. Depends on your time, some program will take you to the local market first when you can learn about the local ingredients used in Shan cooking. All programs let you learn how to make some of the signature dishes here such as chicken with cashews and the best part is that you get to eat all the tasty treats at the end of the class.
Explore 4 Hour Sample Program, Experience Inthar Cuisine / Cooking Class
10.  Visit Red Mountain Estate Vineyard and taste wine
Just a short distance from Nyaung Shwe is a winery that gives amazing views of the area from high on the hill. The Red Mountain Estate Vineyard produces nine different varieties of wine made from locally grown grapes. You can visit the Vineyard for inexpensive wine tastings that includes 4 locally produced wines and vineyard tours. The whites are much better than the reds but all are surprisingly drinkable.
Perched on the lower slopes of the mountain, the winery is a perfect place for relaxing at sunset with a cheese platter and a glass of wine. From the outdoor terrace, visitors can take in the panoramic view towards Nyaung Shwe and down the valley towards Inle Lake itself.  Remark: Half day is required to visit depending on your time.
Explore  Half Day Sample Program, Wine and Bike to Red Mountain Vineyard - Half Day
Contact our experts to add this splendid experience > [email protected]
.................................................................................................................................................................................
More Information
To get to Inle Lake you will have different options by Public Bus, Plane or Night Train from Yangon, Bagan and Mandaly.
Flights will go to most of the popular destinations. Heho airport is about 45-minutes from Nyuang-Shwe and 1-hour from Inle Lake.
It's best time to visit Inle Lake from November to February. Temperatures in the daytime are around 30°C where it can get quite cool in the night because Inle is over 1300 meters above sea level.
Number of days spend in inle lake
With two days to spend in Inle Lake, you have enough time to both see the most common sights and go a little off the beaten track. If you like to travel slow and want to explore more in Nyaung Shwe, you should stay for three or four days.
We hope our experience will help you live yours in the most fulfilling of ways and that you will make amazing memories in Myanmar.
Please share this blog post with your friends and let us know if you have any questions or comments.
blog comments powered by

Disqus