Off the Beaten Track from Kalaw to Inle Lake - 2 days / 1 night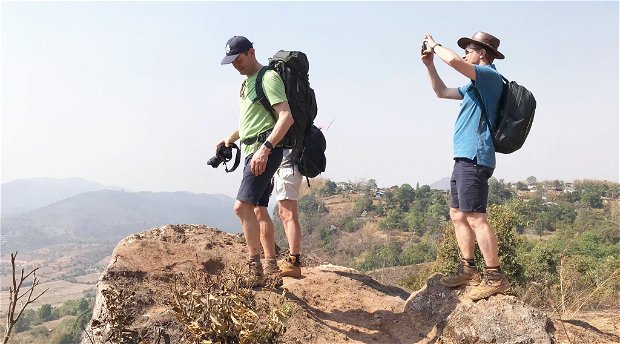 Trekking is not only trekking there are many things behind the words.
Imagine, along the route offers fabulous views of Shan Mountain Range, surrounded by untouched natural environment. Passing through fields where farmers harvesting, planting or tending to their crops, taking warm hospitality by Inthar and Pa O race, get a chance to live like a local life for one night with local accommodation.
Remark: This tour is just an example and can be customized to your preferences.
Gallery
Itinerary
Day 1
Kalaw – Baw Hnin Kone – Htee Tein
Start walk and explore the hill town with the local market, the tiny train station and the old catholic church (if open). Continue to BAW HNIN KONE village.
From Baw Hinin Gone village you will walk 3 hours before arriving to Kone Hla village for lunch. The route offers fabulous views and passes through fields where farmers in the morning will be harvesting, planting or tending to their crops of wheat, potatoes, ginger or other vegetables.
After simple lunch at village house, trek 2½ hours through PACK TU POUK village to HteeTein, your overnight stop. The route is filled with the panoramic views of the Shan Mountain Range and surrounded by unspoiled natural beauty.
In the late afternoon we'll reach HTEE TEIN, our overnight stay is in the village monastery or village house, a special place to spend the evening and although the accommodation is basic, it is comfortable. Dinner will be prepared on spot and served later this evening.
Overnight at village monastry or village house.
"Walking time and place may change subject to weather and unforeseen situation.
The villages you will be passing through are very traditional. Conservative dress will be appreciated.
Recommended things to be bring: light weight trekking shoes (jungle boot and rain coat for rainy season), mosquito repellent, long sleeves sweaters and pants, small flashlight."
Depart from Htee Thein monastery after your breakfast around 07.00. After a long (going down) walk, you will reach INDEIN village on the shore of Inle Lake. On the way you may be pass the tour villages of Inthar and Pa O races. There are many plantation of cheroot leaf. Arrive to Indein around at 12:00.
In Indein village, you can see the ancient Pagodas from the XVI century and quiet places; take your time for visiting the village.
Your boat is waiting at Indein village and boat transfer to hotel.