Wine and Bike to Red Mountain Vineyard - Half Day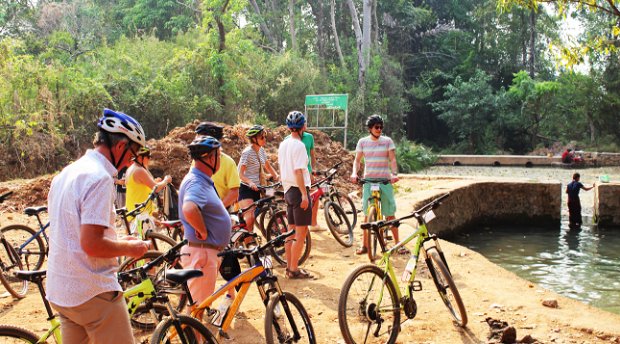 Escape from the crowds and explore Inle Lake Differently : Biking and Tasting Wine !
Jump on a bike and ride to the outskirts of Nyaung Shwe, where concrete buildings give way to their Bamboo precursors. The colorful tribal market is the best starting place to explore where you can find fruits and vegetables, household goods and so on. Continue, ride through the Bamboo forest and pass through farms, rice paddy fields, canals, villages of Shan tribes and visiting hot springs. A short uphill ride is the final leg before reaching Red Mountain Estate where you can learn about their wine-making facilities. Enjoy the panoramic view and settling down at their hilltop restaurant for a tasting with red and white wine. After, bike back to Nyaung Shwe.
Remark: This tour is just an example and can be customized to your preferences.
Gallery
Itinerary
08h30 - 12h30
At 08:30, start with a leisurely bike ride through Nyaung Shwe, the thriving trading town on the north end of Inle Lake. Pedal around the side streets of town, stopping to see warehouses piled high with tomatoes and to check out the bustling canals. There may be a chance to visit the market to see the fresh produce on sale and rub shoulders with the local shoppers.
Cycle away from town to the outskirts of Nyaung Shwe, leaving the tall concrete buildings of town behind and heading into the fields and farms. This area is home to a diverse mix of hill tribes. Be on the lookout for people from the Pa-Oh, Shan and Inthar ethnic groups in their traditional dress.
Follow the lake's eastern shoreline south, stopping for photos and to visit villages on the way. Then turn off the main road and climb a short hill to arrive at the entrance of Red Mountain Estate. Take a tour of the winemaking facilities and learn about this joint venture between a French wine expert and the local Pa-Oh people. Hear about the challenges of growing grapes in the Shan State and Myanmar's nascent wine industry.
Take a seat at the hillside restaurant and begin the Inle Lake Wine tasting experience. Unwind and enjoy the fabulous views over Inle Lake while sipping tasty wine. Then it's time to hop back on the bikes and pedal to Nyaung Shwe.
What's included
Bike
Wine
Sightseeing with English speaking station guide