MYANMAR COFFEE HISTORY
Posted on Sat January 30, 2021.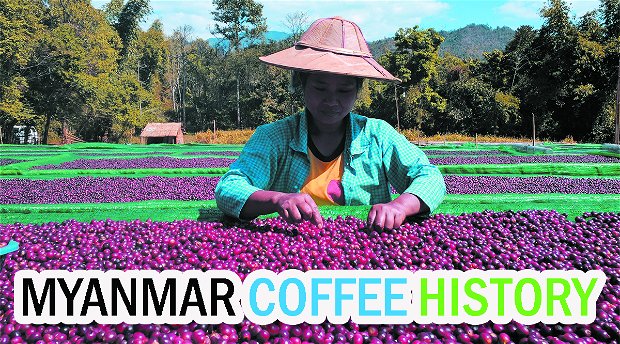 For most of us, being able to make a delicious coffee at home is a requirement. Going out to cafes or coffee shops are typically something we do when we have to.
Coffee was first introduced to Myanmar (formerly Burma) in 1885 by British colonists, when missionaries established some small farms up around the city of Pyin Oo Lwin.
Myanmar has more than 35,000 acres of coffee plantations, most of which are grown in Shan State and Mandalay Region, according to coffee entrepreneurs, but recently other regions (Chin State and Kachin State) have also started growing coffee. In Mandalay, most of the farmers own large estates, and produce washed coffee. Shan State producers are almost exclusively smallholders, most of whom own less than a hectare of land.
Those plantations can produce 12,000 tons of coffee per yield. Of them, 85 percent is Arabica, 14 percent Robusta and one percent other kinds of coffee.
Although Myanmar has specialty coffee species, coffee growers and producers still face challenges due to the lack of technology and a strong market.
Myanmar coffee background:
-Missionaries initiated coffee growing in Myanmar in 1885 at Myeik and Dawei.
-Kayin State (Thaung Daung area) established coffee farms at the same time and produced Robusta coffee which still continues to the present day.
-Catholic missionaries introduced Arabica coffee in 1930 to Southern Shan State. Northern Shan State and in Pyin Oo Lwin (formerly known as May Myo).
-From 1930 to 1934, a large (120 acre) Arabica coffee plantation called "Chaungwe" was established at Naung Cho township of Northern Shan State.
-By 1935/36, the total Myanmar coffee production was 268 tons with exports at 175 tons. Roasted ground coffee production was 108 tons.
-In 1968 to 1994, Ministry of Industry 1 managed the coffee state farms, especially the Chaungwe(NaungCho township), Pwe Daung(Pyin Oo Lwin township).
-In 1998, the GOM Heads of Stat laid down a strategy to extend cultivated areas of Arabica coffee up to 100,000 acres.
-Suitable areas of 50,000 acres in Mandalay division (around Pyin Oo Lwin) and Northern Shan state (around Naung Cho) were selected.
-In 1994, Ministry of Agriculture & Irrigation, carried out the cultivation and production of the crop where it remains to the present day.
-At the end of 2005, the total planting of coffee was 35,485 acres.
-As quality of the coffee bean is important, there will be the best yielding, best quality varieties
So, if you want to learn the techniques of coffee production that involves picking, drying and making of coffee powder, join our Coffee Plantation Tour in Pyin Oo Lwin
Get ready to witness the hot cup of coffee that is prepared from tip to toe in front of your eyes and enjoy the pure coffee. For more information, please contact us [email protected]