Yangon & Environs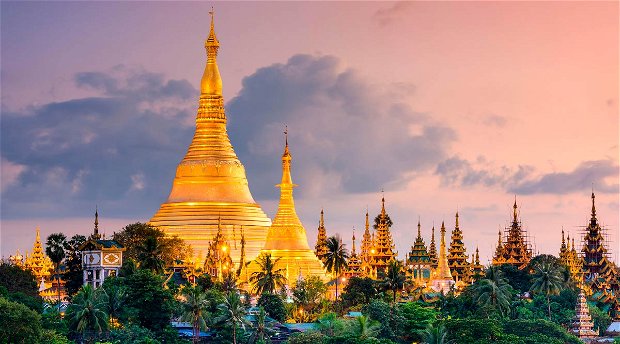 YANGON (RANGOON)
Yangon (formerly known as Rangoon) is the largest city in Myanmar (formerly Burma). Yangon is the only one city in South East Asia where could see a lot of colorful colonial buildings in one area. A mix of British colonial architecture, modern high-rises and gilded Buddhist pagodas define its skyline. Moreover, Yangon is home to the nation's most beloved landmark, the world famous glorious SHWEDAGON Pagoda. The city was founded by King Alaungpaya of the Kone Baung Dynasty when he took the village of Dagon in 1755. He named the settlement Yangon which means 'end of strife". Other places of interest are: Chauk Htat Gyi reclining Buddha, Sule Pagoda and, Bogyok (Scott) Market, National Museum and Kaba Aye (World Peace) is the significant for the Sixth World Buddhist Synod which was held in its large compound in 1954.
ATTRACTION PLACES TO VISIT
SHWEDAGON PAGODA

Shwedagon Pagoda, officially named Shwedagon Zedi Daw and also known as the Great Dagon Pagoda and the Golden Pagoda. Shwedagon Pagoda, which enshrines strands of Buddha's hair and other holy relics. Located west of the Kandawgyi Lake on 114-acre Singuttara Hill in Yangon. Shwedagon Pagoda is the most sacred and impressive Buddhist site for the people of the Union of Myanmar. Shwedagon Pagoda is covered with hundreds of gold plates and the top of the stupa is encrusted with 4531 diamonds; the largest of which is a 72 carat diamond. It is clearly one of the wonders of the religious world. Shwedagon Pagoda is a repository of the best in Myanmar heritage – architecture, sculpture and arts. Shwedagon Pagoda forms the focus of religious as well as community activities – the bustling of devotees and monks washing the statues, offering flowers, worshiping and meditating. Shwedagon Pagoda is administered by the Board of Trustees of Shwedagon Pagoda.
SULE PAGODA

Sule Pagoda is a Burmese stupa located at the heart of Yangon and is an important place for contemporary Burmese politics, ideology and geography. Legends tell that Sule Pagoda was built before the Shwedagon Pagoda, during the time of Buddha and is more than 2600 years old. It is a part of the Yangon City Heritage List.
BO TAHTAUNG PAGODA

This is a famous pagoda located in downtown Yangon, near the Yangon River. It was built by the Mon around the same time as the Shwedagon Pagoda and is believed to be 2500 years old. The pagoda is hollow within and houses the sacred hair of Gautama Buddha. The pagoda was completely destroyed during World War II but later rebuilt.
KANDAWGYI GARDEN

Kandawgyi Garden is a popular 260-acre park, lake and recreation area. It offers a fabulous view across the water towards the magnificent Shwedagon Pagoda, an orchid garden, a playground for children, a mini zoo, souvenir shops, many local restaurants and Karaweik Hall, an impressive replica of the royal barge where you can enjoy dinner with traditional dances.
BOGYOKE MARKET

There are many markets worth visiting but the most popular one in Yangon is Bogyoke Market. With more than 2,000 shops and a big selection of handicrafts, souvenirs, clothes, gems, jewellery, antiques and art galleries, tourists can while away your time browsing, searching for that perfect gift for your family or eating at one of the many traditional Myanmar and Chinese food stalls in the market.
DOWN TOWN YANGON

Downtown Yangon is widely thought to have the highest density of colonial period buildings in Southeast Asia. The Yangon City Heritage List consists of nearly 200 edifices including religious structures, ancient pagodas and British colonial buildings. The imposing red brick High Court, the legendary Strand Hotel, the sprawling Victorian elegance of The Secretariat and Yangon City Hall are must visit places.
HLAWGA NATIONAL PARK

Hlawga National Park is a 1,540-acre nature reserve with a museum of replica traditional Myanmar buildings, a 62-acre zoo with a rock garden and a lake just 25km from Yangon. It was first established as an environmental education centre in 1982. It is a popular day trip destination for tourists.
TAUKKYANT WAR CEMETERY

Also known as the Taukkyant War Cemetery, this place is a cemetery for soldiers from the British Commonwealth who died in the battle during World War II. The cemetery is located in the village of Taukkyan, around 25 km north of Yangon on Pyay Road. It is maintained by the Common wealth War Graves Commission.
Festivities and performing with evening entertainments such as Zat (Drama), Stage Show and Movies.
NATIONAL RACES VILLAGE

The National Races Village is situated in a lush park near Thanlyin Bridge. It has miniaturized landmarks from around the country, a playground, a lake, a crocodile farm and a bird sanctuary. Tourists can feel and experience every state of Myanmar here. Each state of Myanmar is represented here with a garden and a landmark building of that state.
THANLYIN

Thanlyin was a major port and previously known as Syriam. It is an interesting excursion across 1.2 mile long bridge to Thanlyin. Thanlyin is famous for the large golden Kyaik Kauk Pagoda rising on a hillock to the right road. There are the ruins Catholic Church built by an Italian Braoabite Missionary in 18th century and the tombs of two famous Myanmar poets Nat Shin Naung and Thayaza near Kyaik Kauk pagoda.
Thanlyin-Yele-Paya (an island Pagoda) is one of the holy places. It is attractive for crossing the river by boat (Sampan) in a short time. Feeding the river catfishes can be enjoyed for all.
KYAIK KHAUK PAGODA

Thanlyin is a major port city of Myanmar, located across the Bago River from Yangon. The main tourist attraction in Thanlyin itself is Kyaik Khauk Pagoda. Built 2000 years ago, this pagoda has four stairways and resembles a Mon-style stupa. Thanlyin also has the ruins of a Portuguese Church built around 1750.
TWANTE

The Pottery Town of Twante is a township in the Yangon Region of Burma, it is located west across the Hlaing River from the city of Yangon. Twante can be reached by land or river from Yangon. It is only 15 miles away from Yangon. Twante is a centre of pottery and hand-woven cotton cloth. The streets of Twante are littered with so many beautiful pots of different sizes & shapes. It is also an opportunity to see the way of life along canal.
DALA

Dala is a small village, located on the southern bank of Yangon River across from downtown Yangon. The township, made up of 23 Wards and 23 Village track, is bounded by the Yangon River in the north and east, the Twante Canal in the west and Twante Township in the south.
BAGO

Bago, formerly known as Hanthawaddy, is a city and the capital of the Bago Region in Myanmar. It is located 91 Kilometers North-East of Yangon. Bago is one of the richest archaeological sites in Myanmar. Bago was an ancient capital of Mon Kingdom in 15th century. Shwe-tha-lyaung Reclining Buddha (55 meters long), Shwe-maw-daw Pagoda, Kalyani Sima (Ordination Hall, 28 meters high huge Buddha Image of Kyaikpun Pagoda and the Palace of King Bayinnaung are some of the places of interest.
MYAING HAY WUN ELEPHANT CAMP

Myaing Hay Wun Elephant Camp, founded in 1986, is 10 acres and situated in Taikkyi Township of Yangon Division. From Yangon to Taikkyi Township takes only 90 minutes to drive. In this camp, a wide range of wildlife consists of animals like Blossom-headed parakeet, Wild Elephant, Red Jungle fowl, Wild boar, Hare Wild cat, Green Peafowl, Ruddy shield duck, Hill myna, Grass Lizard, Lesser tree duck, Monitor Lizard, Barking deer, Snakes, Chameleon, Quail, Dove, Pheasant, etc. Moreover, elephants are bathing with their mahouts; they are well-treated and have medical treatment for their health.
 
 MOEYUNGYI WETLAND WILDLIFE SANCTUARY

Moeyungyi Wetland Wildlife Sanctuary is a wildlife reserve of Burma. It is situated in Bago Division, about 70 miles north of Yangon, by the Yangon-Mandalay highway. It is just two-hour drive from Yangon. It occupies an area of 100 square kilometres and was established in 1986. A census at Moeyungyi revealed that there are 125 species of water birds including 70 species of migrants. Little Grebe, Purple Heron, Sarus Crane, Asian open bill, Rubby Shelduck, Purple Swanphen, Spot-Billed pelicasn, Pheasant Tailed Jacana, Black Winged Stili, Great Cormorant, etc., can be seen abundantly. The best season to visit is from November to March. In addition to bird watching, you can observe the livelihood of local populace, fauna and flora of the wetlands.
THARGARA (PHO KYAR) ELEPHANT CAMP

Thargaya Elephant Camp or Pho Kyar Elephant Camp is located in Yedashe Township, Thargara. It can be reached by car from Taungoo. There you can get the opportunities for studying natural forest plants, riding elephant around the camp, bathing and washing young elephants and many other things. Thargaya Elephant Camp is one of the two famous elephant camps of Myanmar (the other is Myaing Hay Won), about two hours of driving from Taungoo.
PATHEIN

Pathein, formerly called Bassein, is the largest city and located 190 km west of Yangon. Pathein is the capital of the Ayeyarwady Region, Myanmar and the gate way to Chaungtha and Ngwe Saung beach which are 40 km and 48 km away from Pathein. It is easily reached by road or by cruise through the complex Ayeyarwaddy River. As Ayeyarwaddy Division is known as the rice bowl of the country the landscapes are predominately rice fields with other colorful crops. Pathein is well known by its production of unique parasol locally call "Pathein Hti (Umbrella)" and "Pathein Halawar (traditional Snack).
PYAY (PROME)

Pyay was formerly known as Prome. Pyay is an important commercial center for trade between the Ayeyarwady Delta. Central and Upper Myanmar and the Rakhine (Arakan) State. It is a city halfway between Yangon and Bagan. Visitors can stop over in Pyay and travel on to Bagan and Mandalay. Pyay is situated on the eastern bank of the Ayeyarwady River on a lovely location. Interesting Places in Pyay are Shwesandaw Pagoda, Sehtetgyi Pagoda (the gigantic sitting Buddha image), Baw Baw Gyi Pagoda, Be Be Gyi Pagoda and Payama Pagoda. Other interesting places around pyay are Ahkauktaung, Shwe Myatman Paya, Shwe Nat Taung Pagoda and Shwe Bonthar Muni.
NAYPYIDAW

Nay Pyi Daw or 'Abode of Kings' has been the New Capital of Myanmar since 2005. It is also known as administrative and political capital of Myanmar. Gigantic spaces between occasional ministries, government buildings, malls and hotels are one of Nay Pyi Daw's most striking features. Nay Pyi Taw also has a number of tourist destinations such as museums, pagodas, gardens as well as magnificent natural views which attract tourists from all over the world.
TAUNGOO

Taungoo is a city between Yangon and Naypyitaw. This town is famous because of the palm tree and also well-known among the betel lovers. It is one of the main gateways to Bago Yoma and its teak forests in which you can see how elephants work. You can easily access there from Yangon by bus and it may take around 4 hours.
ROAD TO SOUTHERN MYANMAR KYAIKHTIYO (GOLDEN ROCK) | HPA AN | MAWLAMYINE
KYAIKHTIYO (GOLDEN ROCK)

Kyaikhtiyo Pagoda also called the Golden Rock, was built in 574 B.C and located 229 km from Yangon. Kyaikhtiyo Pagoda is one of the Burma's most sacred Buddhist Sites. A massive boulder on the edge of a cliff, 1095m above sea level, with a Pagoda on top of it enshrining a hair of Buddha is an important pilgrimage site for Burmese Buddhists. The rock that appears to be gold is actually a granite boulder that is covered with gold leaf applied to the rock by Buddhist devotees. It is the third most important Buddhist pilgrimage site in Myanmar after the Shwedagon Pagoda in Yangon and Mahamuni Pagoda in Mandalay.
HPA AN

Hpa-An is the capital and largest city of (Karen) Kayin State, Myanmar. Situated at the foot of Zwekabin Hill, which has a very unusual shape, once seen, is not easily forgotten. Most of the people in Hpa-An are of the Karen ethnic group. Picturesque views, wonderful caves, lakes, mountains and the laid back atmosphere are the highlights of the area.
MAWLAMYINE

Mawlamyine is the capital city of Mon state and the fourth largest city of Myanmar, lies on the mouth of Thanlwin River. It was colonial city port for teak export. Many old colonial building still remain along the quiet streets. A beautiful river trip from Hpa-An to Bi-Lu Island can be done. There are many ancient Pagodas on the slopes of hill range in the city. One of the main interesting place is Thanbyuzayat War Cemetery where Allied prisoners of World War 11's died while building the infamous Death Railway line that cross into Thailand from the Bridge on river Kway. The Caves of Kawgoon and Payon, famous for its countless Buddha images, stalagmites and stalactites are near the city.
THANBYUZAYAT (TIN REST – HOUSE)

Thanbyuzayat is a town in the Mon State of south-eastern Myanmar. Thanbyuzayat is about 64 kilometres south of Mawlamyine and 24 kilometres south-east of Kyaikkami and Setse beach. There is a large, well maintained war cemetery for thousands of Allied prisoners-of-war who died during World War II constructing the infamous death railway for the Japanese.
PAYATHONZU (THREE PAGODAS PASS)

It is one of the Myanmar-Thai border check-point is 470 km by road from Yangon. Now we can cross the border with the permit to proceed to the other parts of Myanmar. The self-driving trips, caravan trips, etc., are now under project. Wat Suwankhiri, Kloeng Thaw Falls, located 12 km from the border, etc., are the highlights of Payathonzu.
TOUR IN YANGON
Southern Myanmar Overland Loop
Myanmar Holiday, Southern and Highlights