Southern Myanmar Overland Loop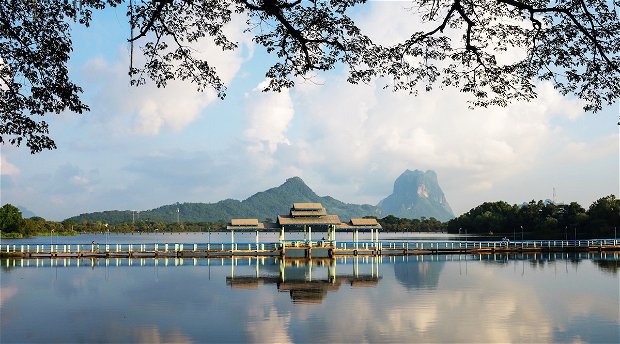 Explore a bit of Myanmar outside of Yangon on a 6-day tour to Golden Rock, Hpa-An, Mawlamyine and Bago. You'll have a chance to see amazing landscapes, caves, full of colonial architecture and intriguing mix of mosques and ancient temples. For visitors, Kayin and Mon states are tropical zone so winter is also suitable to travel.
Remark: This tour is just an example and can be customized to your preferences.
Gallery
Itinerary
Day 1
Yangon – Bago – Golden Rock (Kyaikhtiyo)
Early morning, drive to Bago (84 Km, 1½ hour). En route visit a tree shrine dedicated to legendary animist spirits known as 'nats'. Then visit the impressive and moving Allied War Graves cemetery near Htauk Kyant, the last resting place of over 6300 Allied soldiers and home to a memorial to 27,000 more. A stop is made in the handicraft village that produces woven bamboo wares. Continue to Kin Pun (110 km, 3½ hours) where you start in the trucks and on foot for Kyaikhtiyo (the 'Golden Rock'). On arrival, walk over a large platform to the Golden Rock and watch the beauty at this important pilgrimage site. Usually the place is lively with many people coming to spend precious moments here.
Overnight stay in Golden Rock.
NOTES:
The road from the base camp up to the Golden Rock has to be done by special dedicated trucks. You are not allowed to drive up there with your own vehicle. These open trucks are equipped with narrow benches on the back.
During the raining season, the platform around the Pagoda can be slippery due to rain or mist.
It is advisable to carry a torch light as there are frequent power cuts.
You are advised to only carry a light duffle bag or hand carry as your big luggage will stay in the car/bus at the base camp or leave at hotel in Yangon.
The Golden Rock Pagoda does regular gilding in a three-year cycle. During this time, the rock will be covered in bamboo scaffolding. Prior notice and exact schedule may not be given.
Day 2
Golden Rock – Hpa An
After breakfast, depart Kyaiktiyo (120 km – 3½ hours) for HPA-AN, the capital of the Kayin State. En-route stop in THATON, the former capital of Mon Kingdom, enjoy lunch break at a simple local restaurant and explore BAYINNYI a network of limestone caves extending through the whole mountain range opening to a picturesque lake. After refreshment at hotel, explore the town including LUMBINI GARDEN and LAKE KANTHARYAR known for its small island with fascinating rock formation with pagoda on the top. Continue to SHWE YIN MYAW Pagoda at river side for sunset viewing.
Overnight stay in Hpa-An.
After breakfast, start the day with local market and continue to SADAN Cave; Kyauk Ka Lap Pagoda and Caves of KAWGOON, YATAEPYAN and PAYON, famous for its countless Buddha images, stalagmites and stalactites.
Afternoon, continue drive and visit THAMANYA MONASTRY and HEINDU WEAVING VILLAGE before proceeding to KAWKATAUNG CAVE and a short walk to RUBY CAVE WITH IT'S LAKE. Enjoy the village life at LAKANAR & SHAUNG TONE VILLAGE.
Overnight stay in Hpa-An.
Day 4
Hpa-An - Mawlamyine
Drive 1½ hr to the port town of MAWLAMYINE.
Optional : Take the boat along the Thanlwin River to Mawlamyine. This is one the highlight of the trip: the tour takes 2 hours. Beautiful river scenery and hardly any other boats to be seen during the journey. Half way stop in the village of Kadow. This sleeping village offers great opportunities to discover simple village life: stroll through the narrow main lane of the village, talk and laugh with the people! Visit to the U Nar Auk Monastery which houses fantastic reliefs displaying the history of Buddhas life.
Arrive Mawlamyine and check in at hotel on Strand Road among historic buildings from colonial era.
Afternoon, drive past rubber plantation to THANBYUZAYAT, 70 km (2 hours) south of Mawlamyine was the western terminal of the infamous Burma-Siam 'Death Railway'. Visit a locomotive dating from World War II, a small museum and an Allied War Cemetery, resting-place for over 3,500 Allied POWs (Prisoners of War). Enroute to MAWLAMYINE, visit huge reclining Buddha image in MUDON.
Overnight stay in Mawlamyine.
Day 5
Mawlamyine – Bilu Island
After breakfast, drive to BILUISLAND ISLAND and discover the serene scenery of paddy fields and quaint villages. Visit small wood workshops, typical for Myanmar where walking sticks and pens are produced. Return to Mawlamyine late afternoon.
Afternoon, take trishaw tour through the post colonial city. The sightseeing includes the first BAPTIST CHURCH; ZYEGYI MARKET (if possible); MAHAMUNI PAGODA, a major temple site in Myanmar and SEINDON MIBAYA KYAUNG, where King Mindon's queen sought refuge. Enjoy the sunset from KYAIKTHALAN PAGODA, known as the Kipling Pagoda.
Overnight stay in Mawlamyine.
Day 6
Mawlamyine – Bago (by car)
Depart to YANGON (364 Km – 8 hours) with a stop in Bago.
Here you visit the Shwemawdaw Pagoda, which is over a thousand years old, and whose tip is even taller than that of Yangon's Shwedagon Pagoda. Continue to the 55-metre-long reclining Shwe Thalyaung Buddha image, one of the country's most revered objects. Visit the Maha Kalayani Sima (ordination hall) and Mahazedi (Great Stupa), offering panoramic views. Lastly, continue to Yangon, with a brief stop at Kyaik Pun Pagoda, famous for its four giant Buddha figures.
Overnight stay in Yangon.
Optional: Experience another colourful way of local transportation. Rise early morning and take the local train (very simple and basic) to Thaton. Upon arrival in Thaton your driver awaits you for the journey back to Yangon.
What's include
Accommodation in shared twin rooms with daily breakfast
Sightseeing with English speaking station guide
Transportation by air-conditioned vehicle with driver