SOUTHERN MYANMAR & MERGUI ARCHIPELAGO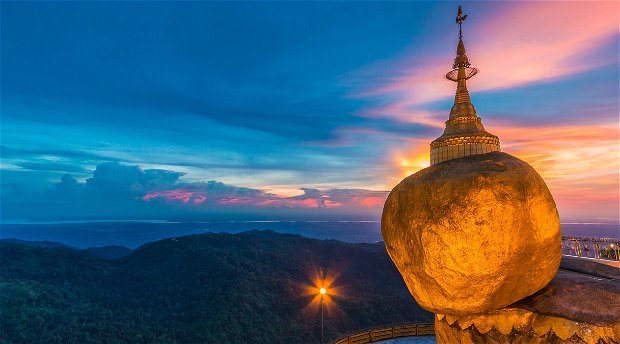 KYAIKHTIYO (GOLDEN ROCK)
Kyaikhtiyo Pagoda also called the Golden Rock, was built in 574 B.C and located 229 km from Yangon. Kyaikhtiyo Pagoda is one of the Burma's most sacred Buddhist Sites. A massive boulder on the edge of a cliff, 1095m above sea level, with a Pagoda on top of it enshrining a hair of Buddha is an important pilgrimage site for Burmese Buddhists. The rock that appears to be gold is actually a granite boulder that is covered with gold leaf applied to the rock by Buddhist devotees. It is the third most important Buddhist pilgrimage site in Myanmar after the Shwedagon Pagoda in Yangon and Mahamuni Pagoda in Mandalay.
HPA AN

Hpa-An is the capital and largest city of (Karen) Kayin State, Myanmar. Situated at the foot of Zwekabin Hill, which has a very unusual shape, once seen, is not easily forgotten. Most of the people in Hpa-An are of the Karen ethnic group. Picturesque views, wonderful caves, lakes, mountains and the laid back atmosphere are the highlights of the area.
MAWLAMYINE

Mawlamyine is the capital city of Mon state and the fourth largest city of Myanmar, lies on the mouth of Thanlwin River. It was colonial city port for teak export. Many old colonial building still remain along the quiet streets. A beautiful river trip from Hpa-An to Bi-Lu Island can be done. There are many ancient Pagodas on the slopes of hill range in the city. One of the main interesting place is Thanbyuzayat War Cemetery where Allied prisoners of World War 11's died while building the infamous Death Railway line that cross into Thailand from the Bridge on river Kway. The Caves of Kawgoon and Payon, famous for its countless Buddha images, stalagmites and stalactites are near the city.
THANBYUZAYAT (TIN REST – HOUSE)

Thanbyuzayat is a town in the Mon State of south-eastern Myanmar. Thanbyuzayat is about 64 kilometres south of Mawlamyine and 24 kilometres south-east of Kyaikkami and Setse beach. There is a large, well maintained war cemetery for thousands of Allied prisoners-of-war who died during World War II constructing the infamous death railway for the Japanese.
PAYATHONZU (THREE PAGODAS PASS)

It is one of the Myanmar-Thai border check-point is 470 km by road from Yangon. Now we can cross the border with the permit to proceed to the other parts of Myanmar. The self-driving trips, caravan trips, etc., are now under project. Wat Suwankhiri, Kloeng Thaw Falls, located 12 km from the border, etc., are the highlights of Payathonzu.
DAWEI

Dawei is a city in south-eastern Myanmar and capital of Tanintharyi Region, formerly known as Tenasserim Division, about 614.3 km south of Yangon on the northern bank of Dawei River. Dawei produces rice, rubber, teakwood, cashew nuts, betel nuts, oil-palm and fruits such as pineapples, a variety of mangoes and durian. A place to visit in Dawei is Maungmakan Beach, a well-known beauty spot of Myanmar, which is about 10 Miles from Dawei. Dawei is also renowned for it's the most venerated pagodas such as; Shin Motehti Pagoda, Shin Datweh Pagoda, Shin Maw Pagoda and Lawka Tharaphu Pagoda.
Shin Motehti Pagoda is a most venerated pagoda and must visit place for tourists. This Pagoda is believed to have been build 600 years ago. Local people still pay homage here. It is located few kilometers south of Dawei.
MYEIK (MERGUI)

Myeik is the largest city in Tanintharyi Region, Myanmar. It is located in the extreme south of the country on the coast of an island on the Andaman Sea. The area inland from the city is a major smuggling corridor into Thailand. The town of Myeik has been a busy and strategically significant port for over 500 years. It retains a number of colonial-era buildings on its characterful, meandering back streets. The heart of the city is the bustling harbour front with traders and a wide variety of wooden fishing and commuter boats.
KAW THAUNG

Kawthaung is a town located in the southernmost part of Myanmar, in the Tanintharyi Region. It is one of the entry ports into Myanmar and is only separated from Thailand by a broad estuary in the Pakchan River. It is also the starting point for all Myanmar-based cruises to the vast Myeik Archipelago. Kawthaung is known as the colonial British as Victoria Point. Nearby Kawthaung has a small water fall and hot spring at Maliwun Village 24 miles north from the town.
MERGUI ARCHIPELAGO

Mergui Archipelago located in southern most part of Myanmar, comprises over 800 beautiful islands. Due to its virtual isolation, the islands and surrounding seas are alive with an amazing diversity of flora and fauna and very beautiful underwater scenes and marine life. You can do some activities such as; Sea Kayaking along mangrove forest, Swimming, Sun Bathing, Jungle Trekking, Snorkeling, Fishing, Bird Watching. Explore more