Myanmar's Hidden Secret - The Mergui Archipelago
Posted on Wed December 11, 2019.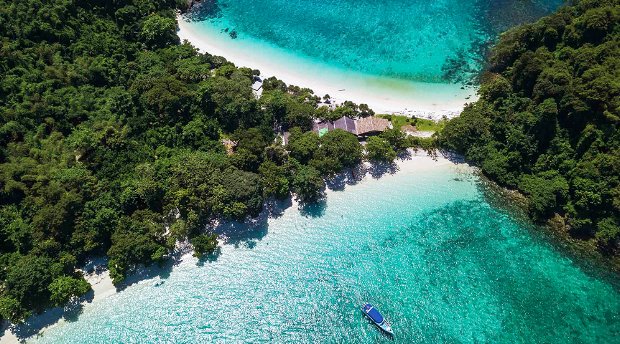 Mergui Archipelago (also known as Myeik Archipelago or Myeik Kyunzu) is located far in the Southern part of Myanmar and is part of the Tanintharyi Region. It consists of more than 800 islands, varying in size from very small islands to large islands hundreds of square kilometers wide, all lying in the Andaman Sea off the Western shore of the Malay Peninsula, near its landward (northern) end where it joins the rest of Indochina.
This is Burma's tropical paradise. The British colonial name of 'Mergui' still remains as opposed to the Burmese 'Myeik'. Mergui has crystal-clear turquoise waters, palm-fringed white sand beaches, amazing dive sites, rich wildlife, and lush mangrove forests. The islands and surrounding seas are alive with an amazing diversity of flora and fauna and beautiful underwater scenes and marine life. One of the most alluring attractions for divers will be exploring the interesting marine life such as sharks and rays. Furthermore, there are countless species of exotic tropical fish living within the coral reefs. Mergui Archipelago is also famous as a destination for activities such as diving, snorkeling, sea kayaking, fishing and research. There are few islands left in the world as pristine and untouched as those in Mergui Archipelago. In fact, the Mergui Archipelago is one of the world's best-kept secrets due to the fact that it was only opened to tourism in 1997 and arrivals are still limited by strict regulation.
Salone or Moken, Sea Gypsies of the Adaman Sea
Most of the islands are uninhabited, but few islands that do have people remain home to tiny villages with hardly any infrastructure and mixed populations of Burmese and the semi-nomadic Moken, so-called 'Sea Gypsies' who move from island to island and live by fishing.
The Myanmar 'Sea Gypsies' or 'Men of the sea ', namely Salon in Myanmar. They live a traditional lifestyle on the Southern part of the Myeik Archipelago, off the coast of Myanmar. Also known as Moken, many of the salone are still nomadic people. The salons are among the smallest minorities in Myanmar. There are many theories as to their origin. One source says they are of Austronesian ethnic group. Another says they migrated from southern China some 4,000 years ago. The salon people had lived, in the ancient times, on the Malay Peninsula until the Malay incursion when they left their native places and lived scattered throughout the Myeik Archipelago. Now- a -days, the salon can only be found on the coastal islands around Kawthaung, the southern town of Myanmar. They are expert in swimming and diving.  Moken also have an extraordinary ability to see underwater clearly and stay underwater for long time. They used to dive and submerge several times in a day. Even the children treat the sea as their playground. During the summer season, they live on boats and the rainy season, they live on land with temporary huts. Freely roaming the ocean in small boats from birth to death, living simply off its riches.  Their lives are romantic but increasingly difficult.
Top Sights In Mergui Archipelago
Three Islets
This large area consists of one small island and two large rocks, all of which rise well above the surface. Each could be considered a separate site; there is no way to see them all on a single dive, or even a full day of diving. All three islets are perfectly suited for multilevel profiles, with thriving marine life from the bottom to the surface. While the main island probably offers the best diving, both smaller islets are also worth exploring. The south islet features a submerged reef that nearly connects with the main island. Assuming you use currents to your advantage, it is normally an easy swim between the two. The north islet, on the other hand, is at least 100m from the main island and is best done as a separate dive.
Lampi Kyun (Sullivan's Island)

Lampi Island is the most popular island for the tourists in Mergui Archipelago. It is famous for its rich of many wild animals, Mangrove Rivers, birds, clean water and Coral Reefs and moreover virgin forest are growing. On this island reserve a National Marine Botanical Garden. It will take three days in Lampi to see in detail. There are nine different parts in it. The southern part of the island is good for fishing.
Horse Shoe Island

Horse Shoe Island is included in the Salone Islands Group and the visitors can go for the day trips. Horse Shoe is also known as Myin Khwar Island locally. The visitors could enjoy the lime stone rock, cave, corals, fishes, lagoon, beaches, forest, and birds around the Horse Shoe Island.
Nyaung Wee Kyun

A seasonal home for the Moken, this island has beaches, clear water and wildlife, making it a popular stopover for boat tours. Nearby 115 Island sees a lot of tour groups too and has fine beaches and snorkeling.
115 Island

Also known as Frost Island, 115 Island is about 38 nautical miles away from Kawthuang. 115 is a group of islands where is crystal water and worth to snorkel to see many colorful school of fishes, hard and soft corals. It is fantastic one of the finest islands to spend time on hiking and jungle trekking through the rain forest. You'll find here are the very definition of pristine very white and powder sand beaches. It's no wonder visitors come from all around to sink their toes into miles of pure white sand.
Kyun Phi Lar
Kyun Phi Lar, also called Pilar, is off Myeik and is one of the most popular islands in the beautiful Myeik Archipelago. The long white beaches stretch for kilometers without a soul around.
Ma Kyone Galet Salone Village
Ma Kyone Galet Salone Village is located on Bo Cho Island between 10.40-N and 98.16 E. Salon Festival is held at this village every year. The only human inhabitants in the area are sea gypsies, namely Salon in Myanmar. They live on boats during dry season and remain on land during rainy season. They still practice the same fishing and boat building techniques used for generation. In the present times some Salone inhabitants dwell peacefully on this island permanently with other people. Be careful of Strong current which is flowing near the village. It makes difficult for anchorage.
Shark Cave Island

Another of the top Mergui Archipelago diving sites, Shark Cave is known for its resident docile nurse sharks. The ragged cave entrance is on the North West corner of the islet, and is 5-16 meters deep. Often found guarding the entrance are several grey reef sharks, long- fin trevally and silver sweet lips. On the far side of the bowl a tunnel leads to the other side of the island and a beautiful hard coral reef.
Myauk Ni Island @ Red Monkey Island

Myauk Ni Island is included in the Salon Islands Group and the visitors can go for the day trips. Myauk Ni Island is known as Red Monkey Island among the foreign visitors. The visitors could enjoy the white sand beaches, corals, fishes, forest and birds around the Myauk Ni. Visitors could meet with Salone (Sea Gypsies) around the Island. Salone live on their boat ("Kabang") to collect shell, fish and various marine animals around the Red Monkey Island.
Thuye Kaung Kyun - Su
Thuye Kaung Kyun_su is aptly intended on a group of islets tagged with the names of Myanmar ancient heroes. This area consists of Nga Htway Rue, Nyaung Oo Phee, Nge Lon Lett Phei, Nga Khin Nyo Island and other small islets. This big area is well known as one of the best places for scuba diving, due to its depth of 20 to 50 Meters and clear water.
Kho Yinn Khwa Kyun

This horse shoe-shaped island 40 nautical miles from Kawthaung. There are at least 20 known dive sites around the island, including North Rock, where sea snakes and sea turtles are often sighted.
Sailing Around Mergui Archipelago
The tropical water and temperature around this archipelago are continually warm and pleasant. You can enjoy sailing throughout the year. Between November and April will be the best time for the sailing. The weather condition between December and February will be the most comfortable. The best time for snorkeling and diving will be around March and April because of the less wind with clear water. All of the island group is loaded with secure anchorages.
Diving In Mergui Archipelago
One of the allure attractions for divers will be the exploring the interesting living thing such as sharks and rays. Furthermore, there are enormous species of smaller fish and coral reefs. Not so many people have been there before and so this will be the excellent dive destination for you. Due to the trawling and long line fishing, it causes many effects on the fish populations. The worst threat will be the blast fishing with dynamite. You will hear the noise of explosion at least one time during your trip around Mergui Archipelago. Even some sites are bombed regularly, there are many corals, cuttlefish and other species are still undamaged and survive. In addition sharks and rays are also remain alive even the explosion is very close.

How to get there from Yangon:
You can find flights from Yangon to Kawthaung (Victoria Point), which is the gateway for discovering Myeik Archipelago. It takes only about 1 hour 40 minutes to fly. From Kawthaung, you can hop on to the express boats to reach Myeik.
How to get there from Bangkok:
If you want reach Mergui from Bangkok, you can either fly or travel by bus or train to arrive at Ranong, which is a small town on the Thai side border on Pakchan River. Mergui is situated 40 nautical miles from Kawthaung and Ranong. There are regular flights from Bangkok to Surat Thani. From Surat Thani, you can reach Ranong by car, which will take about 2 hours 30 minutes. Also, you can board the train to Chumphon and from there you can travel to Ranong by car. Alternatively, you can fly to Phuket from Bangkok and reach Ranong by private or public transport.
How to get there from Phuket:
Phuket is one of the easiest ways to reach Mergui Archipelago, since you have the options to travel by air as well road. There are regular direct flights between Phuket and Ranong. You can also find numerous buses and mini-vans travelling between these two destinations. After reaching Ranong, you can board the long tail boats at the jetty to get to Kawthaung. Simply ask the boat man that you need immigration stamp and he will guide you in the right direction.
The best time to visit Mergui Archipelago
December to February offers the most beautiful and comfortable weather conditions, in March and April – there is less wind and higher temperatures and the best time for diving and snorkeling, from November to April is the high season for visiting Myeik Archipelago.
Accommodation
The 4 best hotels & places to stay in Mergui Archipelago are Wa Ale Island Resort, Awei Pila Resort, Victoria Cliff Hotel and Resort in Nyaung Oo Phee and Boulder Bay Eco Resort.