Thiripyitsaya Sanctuary resort in Bagan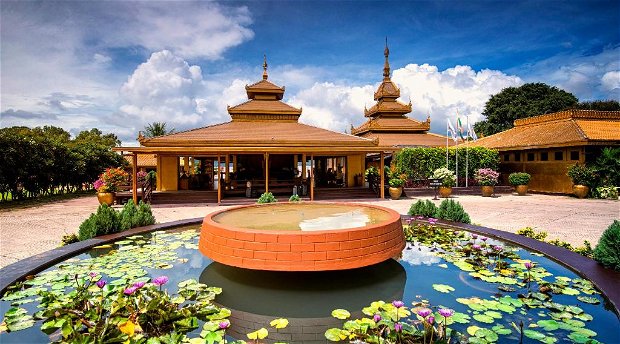 Since its renovation and extension in late 2001 the resort type hotel has become a symbol of quality in Bagan. The open, tropical design of the new Veranda Grill & Bar, the Spa and The Pavilion, as well as the new look of the reception and Nadi Restaurant have given the hotel a new atmosphere of warmth paired with elegance and comfort. Japanese management.
Location : Nestled on the banks of the mighty Ayeyarwaddy River in 24 acres of property in the historical Old Bagan. Adjacent to the archaeological museum, just 7 km or 10 minutes from the airport.
Rooms : 5The 76 rooms (32 Superior, 4 Suite River View, 4 Suite River Front View, 27 Deluxe Garden View and 9 Deluxe River View) are divided into 17 low-slung villas scattered through the big English-style garden. Each offers a spacious, private veranda. The rooms feature beautiful wooden floors and furniture, colonial patterns and full comfort amenities such as individual air-conditioning, mini-bar, satellite TV with in house movie, IDD telephone, safe and bathrobes.
Superior rooms (26sqm), these are the most modest room category at the hotel and are found further away from the river. One villa building contains four guest rooms. Superior rooms have only shower, no bathtub.
Deluxe Garden and River view rooms are of same size (26sqm) as superiors but in addition have bathtub and tea and coffee making facilities.
The River Front Suites and River View Suites (78 sqm) are larger than the Deluxe, and are located either in the ground floor (River front) or upper (River view) floor in a two storey building. The River View Suites provide better views of the Ayeyarwaddy River.
Facilities : For Myanmar, Thai and Western style dining you have the choice between the air-conditioned Nadi Restaurant, The Sunset Terrace or the open-air Veranda Grill & Bar. Enjoy a cocktail at The Pavilion an open-air Lounge with panoramic view. The Spa offers an extensive range of massages, facial or body treatments, as well as foot reflexology and aromatherapy. There is also a souvenir shop as well as Arts and Gems centre.
Sport & Spa : Swimming pool, SPA, and bicycle rental
Credit cards : Not accepted.
Address : Bagan Archaeological Zone, Old Bagan, Mandalay Division, Myanmar.
Tel : (95-61) 60048, 60049
Fax : (95-61) 60033