Taung Pyone Nat (Sprit) Festival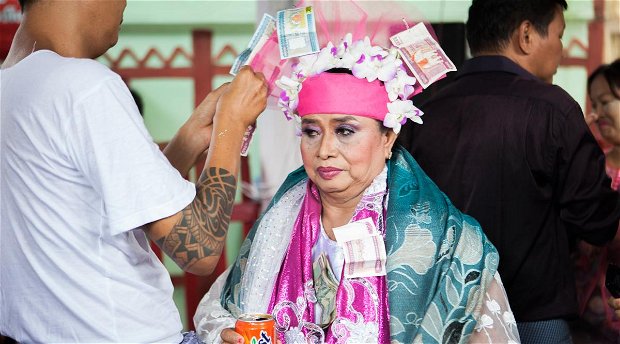 Place : TAUNG PYONE village, about 10 km north of Mandalay, on the Mandalay – Mogoke Road.
Time : 26 Aug – 2 Sep 2020 (Recommended to recheck the final occasion time with us.)
Duration : 8 Days
Description : The background history of the festival dates back to the BAGAN Period. After the empire King ANAWRAHTA'S Army went to attack the MONGOLS at the Burma – Chinese border. On the way back, he camped at the TAUNG PYONE Village. In the King's Army, the two young generals SHWE PYIN NYI NAUNG, adopted sons of the King who got the supernatural power were very popular. As youngsters, they enjoy drinking and gambling all the time. The King was building a pagoda at that village. He ordered everyone of his Army to participate. The two young generals didn't. The jealous ministers purposely did the plan by not placing the two bricks that were of the two generals. So the two bricks were missing after completion of the pagoda (We can still see this today). When the King found out that, he ordered to execute the two heroes and since then they became Nats (Spirits), and the King deified them as the guardian spirits of the area. They are the most popular among the 37 Nats deified by the people.
Nowadays, TAUNG PYONE is the most famous Nat festival in the country. Tens of Thousands of Myanmar People attend this annual celebration, held in honour of the TAUNG PYONE Brother lords. Not only TAUNG PYONE brother statues, but also Series of 37 NAT statues on the stands are offered food and flowers, cash and alcohol. All the Nat mediums and those who believe and worship Nat's gather in the village. Thousands of people are visiting the hundred some NATS Pavilions to consult a medium for their future prospects and fortunes. The mediums entertain the crowds with Nat dance with the traditional Nat music and performance during night and day.The whole area is occupied with circus and cultural dances, music and magic shows, fortunetellers and tattoo shops. Thousands of people come here every day during the festival.
Program : One or two days of this occasion program should be combined with your choice of tour including Mandalay.