Naga New Year Festival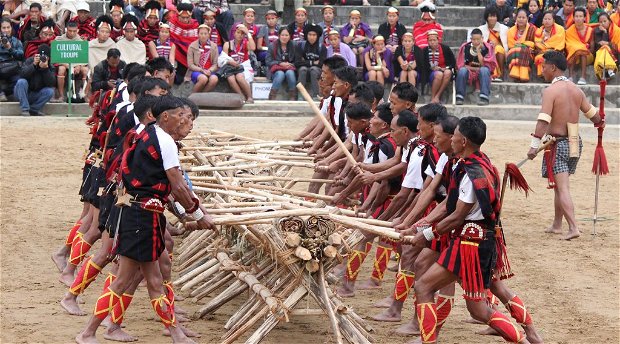 Place : Sagaing Division, Kachin State
Time : 12nd January - 16th January 2020
Duration : 5 day

NAGA is a hiding ancient in Myanmar. During this festival, you can get unforgettable experience. If you haven't seen them before, you will be surprised by seeing Native Naga men and women dressed up in their traditional and ancient ethnic costumes a grand head-dress made of a rattan hat topped with monkey fur and two fangs of a wild boar and long hornbill feathers, with a string of tiger claws in his face.
You can also enjoy their own unique songs and dances that you may never have seen before.
This Naga New Year Festival will give you full of surprises, new discovery and deep impression.
The place of festival is rotated every year, the villages of LESHI, LAHE and NAMYUM are famous for celebrating NAGA Festival.
Naga Traditional New Year Festival is celebrated in the middle of January, the time after the harvest and before starting the farming activities again. It is a time that they make clear the account of debts. Besides, they make prayers to have good crops and fair climate and to be freed from all kinds of sickness and epidemic. It was in this festival, the family members, relatives and friends from far and near happily meet with each other. In this festival, we the Nagas sing melodious songs and folk dances that mark our tradition and culture.
Having seen a good result, Naga Traditional New Year Festival was celebrated in township level as well since 1956-57. But in the year 1990, celebrating on different day and in different place was evaluated as having weak friendship and unity of the people group. Naga national leaders resolved to celebrate it on January 15 as the main but begins on 13 with the arrival of the folk dancers. Since 1993, Naga Traditional New Year Festival has been celebrating with the support of the state and the state leaders themselves have been attending it. Therefore, it is celebrated by turn in the hill towns like Layshi, Lahe, Namyun the reason into have more solidarity and to do regional development in the areas where there is very less development.
NAGA People!
Myanmar is a land of diverse ethnicity. High on the mountains of North West Myanmar are a proud group of people know to the world as Nagas, one of the 135 different ethnic group that live in Myanmar territory. Steep slopes and even deeper ravines mark the land as blue hazy mountains retreats towards the horizon.
A cold wind blows out of North during the winter months and summers are not hot in the Naga Hill. The Naga people are an ethnic group conglomerating of several tribes native to the North Eastern part of India and north-western Myanmar (Burma). The tribes have similar cultures and traditions, and form the majority ethnic group in the Indian state of Nagaland, with significant population in Manipur, Arunachal Pradesh and some small population in Assam.
The origin of the Nagas is known of any group believed to be from China that migrated south of the Himalayas. The first record of China people in India is from around the 10th century B.C. Based on linguistic evidence, it is believed that the Nagas and other Indians of Chinese descent originated in a region between the Yellow and Yangtze rivers in northwestern China and arrived in India in several waves of migrations that took place over several centuries after Aryans arrived. Their original settlements were around the Irrawaddy and Chindwin rivers in Burma.
Ethnically, the Nagas belong to the Tibeto-Burman family of Mongolian race. They are basically Tribal and speak several dialects, which are classified under Tibeto-Burman linguistic family. Naga community is comprised of several tribes and clans. Apparently, the physical texture of the Nagas is similar to their Tibeto-Burman neighbors having yellowish and brownish complexion. Both man and woman are tattooed and the style of tattoo is different from one clan to another, from one village to another and from one tribe to another.
N agas in Myanmar are basically found in Sagaing Division and Kachin State. The Naga territory in Myanmar is marked by Kabo valley in the south bordering to the Chin State, the Kachin on the north and the Burmese on the east. The townships which are populate by the Nagas are:
Homalin
Lahae with Tambakwe sub-township
Layshi with Mowailut sub-township and Somra sub-township
Khamti
Khanpat
Namyun with Pangsau sub-township
Tamu of Sagaing Division and
Tanai of Kachin State