Mercure Mandalay Hill Resort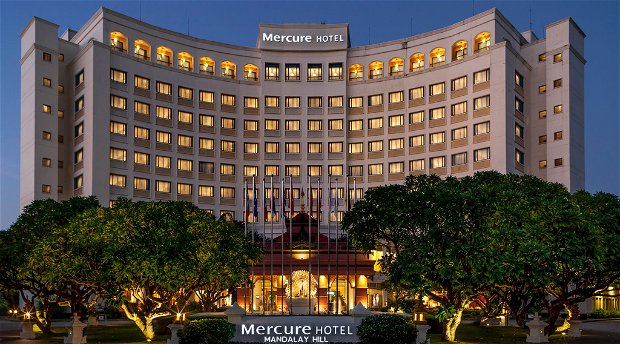 8-storey international first class hotel with panoramic views on a myriad of pagodas and the Mandalay Royal Palace. The hotel was formerly known as Novotel Mandalay. Beautiful swimming pool and Spa Areas inspired by Myanmar architecture.
Location : Set at the foot of the Mandalay Hill, within 10 minutes drive from the city centre, 45 minutes from the airport. Mandalay Hill Resort lies at the foot of Mandalay Hill with a panoramic view of a myriad of pagodas and the distinctive architecture of the Royal Palace.
Rooms : Comfortable rooms and suites featuring individually controlled air-conditioning, IDD telephone, mini-bar, safety box, radio, satellite TV and a hairdryer. The 8 Junior Suites (50 sqm) have a Royal Palace view, the 5 Executive Suites (110 sqm) and 1 Presidential Suite (122 sqm) have views over the Mandalay Hill. The Mandalay Suite has been designed to capture the opulence of bygone days. The work of local artisans has provided an ambience of luxury for you to enjoy. Master Bedroom with ensuite and private balcony overlooking Mandalay Hill and Irrawaddy plain to the north.
The 96 Superior rooms (22 sqm), have a view towards the Mandalay Royal Palace. They do not have coffee and tea making facilities.The 78 Deluxe are slightly bigger (25 sqm) and have a Mandalay Hill View. They also have coffee and tea making facilities. The hotel has several different suite categories, all come with private terraces and full amenities.
Facilities : Ming's restaurant offers the best Chinese food in town. At the Yadanabon Restaurant you will find an international buffet and brassiere menu. During the dry season sizzling BBQ is offered in the garden. Enjoy a relaxing drink at Kiplings Lobby Lounge or with your favorite tune from a CD at the Gem Bar. Other guest facilities include shops, business centre and meeting rooms. Night Life- Gem club and Kiplings Lounge provide a selection of dance, lounge and atmospheric beats including the latest imports of Europe. Live unplugged entertainment in Kiplings Lounge Bar each evening.
Sport & Spa : Outdoor swimming pool with swim-up bar and children's pool, tennis courts and health centre with gym, Bicycle. 18-hole golf course and a driving range adjacent to the hotel. The hotel has recently opened a new spa in the garden with a wide range of treatments.
Credit cards : MasterCard, VISA and American Express are accepted.
Address : No (9) Kwin (416.B), 10th street at the foot of Mandalay Hill, Mandalay.
Tel : (95-2) 35638
Fax : (95-2) 35671, 35639