MANDALAY & ENVIRONS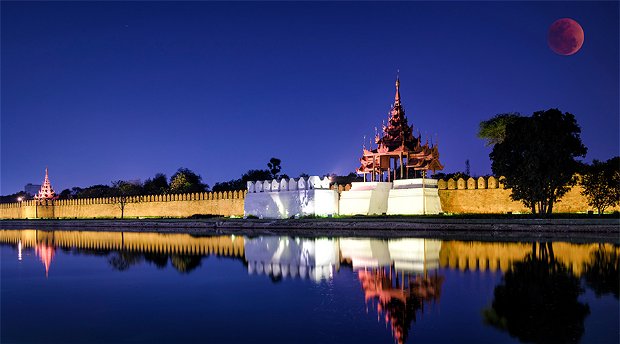 MANDALAY
Mandalay is the second-largest city of Myanmar, located on the east bank of Irrawaddy River. It is an important economic Centre of the northern side of Myanmar and is regarded as a cultural Centre of the country. The royal capital of the last monarchy of Myanmar, Mandalay is also known for its fine gold and silver crafts, wood and marble carving, silk thread weaving and ancient tapestry. Besides handicrafts workshops, interest places are Zeycho Market, Shwenandaw Golden Palace Monastery, Kuthodaw Pagoda and Mandalay Hill. There are several ancient capitals around Mandalay such as Amarapura, Sagaing, Ava, Mingun where Kongboung dynasty kings established their capitals respectively.
ATTRACTION PLACES TO VISIT
 
MANDALAY HILL

Mandalay Hill is a 240 meters hill that is located to the northeast of the City Center of Mandalay in Myanmar. The City took its name from the hill. Mandalay Hill is known for its abundance of Pagodas and monasteries and has been a major pilgrimage site for Burmese Buddhists for nearly two centuries. The fabulous panoramic view of the city, especially at sunrise or sunset is worth the effort of the barefooted climb on the covered stairway on the hill's southern slope. Tourists can also drive, however the colorful processions of prayer and the hawkers selling their wares are only visible while walking uphill. The climb also provides opportunities to catch glimpses of the amazing views.
 
SHWE INBIN MONASTERY

Shwe Inbin Monastery is a Buddhist monastery, located at the southwest corner of Mandalay City. This attractive monastery built in traditional of Burmese teak architecture. The monastery was built in 1895 by Chinese merchants U Set Shwin, the monastery consists of many impressive wood carvings and also contains a number of admirable works of art.
MAHAMUNI PAGODA

Mahamuni Pagoda or Mahamuni Buddha Temple is one of the most important Buddhist pilgrimage sites in Myanmar. The pagoda was built in 1785 by King Bodawpaya of the Konbaung dynasty after the Mahamuni image was captured during the invasion of the Arakan Kingdom. It is located at the Southwest of Mandalay, where inside lies the Mahamuni Buddha Image. Mahamuni Buddha Image is the most revered Buddha image in Mandalay. It is also known as the Phaya Gyi. The 4m high-seated image is cast in bronze and weigh 6.5 tons, which it's crown is decorated with diamonds, rubies and sapphires. Every morning at 4:30 AM, a team of monks washes the face and brushes the teeth. Since Myanmar Buddhists are so devout countless thousands of devotees apply gold leaf to gain merit, the image has completely covered with 15 cm thick gold and original shape is distorted. Several shops around the temple sell offerings for the Mahamuni Buddha image such as incense sticks, candles and flowers. 
KUTHODAW PAGODA

Kuthodaw Pagoda is a Buddhist Stupa, located at the base of the Southeast stairways to Mandalay Hill. The large grounds offer good views upwards of Mandalay Hill with its many temples and pagodas. Kuthodaw Pagoda or Maha Lawka Marazein Paya is often called the world's Largest Book, named after the 729 marble slabs inscribed with Buddhist teachings. It was built by King Min Don Min in 1857 to leave a great work of merit for future generations. It is famous for World's largest book which is a listed item in memories of UNESCO.
SHWE NAN DAW MONASTERY

Shwenandaw Monastery is one of the finest examples of traditional 19th century wooden monastery building in the country. It was built by King Mindon Min, located near Mandalay Hill. The monastery is also called the Golden Palace Monastery because it used to be part of the Mandalay Royal Palace and was completely gilded. Both exterior and interior of the monastery are decorated with intricate wood carvings. Shwenandaw monastery is the most significant of Mandalay's historic buildings.
AMARAPURA

Amarapura means City of Immortality. Amarapura is a former capital of Myanmar and now a township of Mandalay City. Amarapura is bounded by the Irrawaddy River in the west, Chanmyathazi Township in the north and the ancient capital site of Ava in the south. Amarapura is also known as Taung-myo (Southern Town) or Myohaung (Old City). Founded by King Bodawpaya in 1783, as his new Capital.
U BEIN BRIDGE

U Bein Bridge is one of Myanmar's most famous attractions. The world's longest teak footbridge gently curves 1300yd across shallow Taungthaman Lake, creating one of Myanmar's most photographed sites. U Bein Bridge built in the middle 19th Century using reclaimed teak from dismantled buildings. It is a glorious sight especially in the early evening as it becomes silhouetted against the vivid sunsets. It is also one of the most visiting sites for tourists.
MINGUN

Mingun is a small town in Central Myanmar. It sits on the western bank of the Irrawaddy River, approximately 7 miles north of Mandalay. It is famous for many Buddhists shrines; monasteries, meditation centers, monuments of historical and cultural importance. A boat trip to Mingun is pleasant with plenty of life on the river to see. It is about 11 miles from Sagaing and you can reach there by road. It takes about 30 minutes and you can also travel to Mingun from Mandalay but you can get there by road. It is about 7 miles upriver from Mandalay and you can accessible only by boat via Gawwein Jetty.
MYATHEINDAN PAGODA

Hsinbyume Pagoda or Myatheindan Pagoda is a breathtaking all-white structure situated on the western bank of the Irrawaddy River. It is approximately 10 Kilometers northwest of Mandalay. It was built by King Bagyidaw in 1816 to commemorate his first consort and his cousin, Princess Hsinbyume – who unfortunately lost her life during childbirth.
INN WA

Inn Wa is an ancient city near Mandalay, in central Myanmar (formerly Burma). It's known for religious structures left over from several reigns as the nation's capital, from the 14th to the 19th centuries. Dominating these is the Bagaya Kyaung, a 19th-century working monastery made of teak. The large, brick-and-stucco Maha Aungmye Bonzan monastery dates back to the 1800s. Its crypt area is a haven for bats. Bagaya Monastery (Bagaya Kyaung – Kyaung is Burmese for Monastery) is one of the most popular tourist stops in Innwa (AVA), Mandalay. It was built in 1834 during the reign of King Bagyidaw. But it's actually the second attempt–the original, which dated back to 1593, burned down in 1821. It was built on and around over 260 massive teak logs.
SAGAING

Sagaing is another ancient capital of Myanmar; it is located on the western banks of the Irrawaddy. It is famous for its many hundreds of white, silver and gold pagodas and monasteries that do its hilly landscape. Sagaing with numerous Buddhist monasteries is an important religious and monastic center. Today, Sagaing is known as a meditation center. The Sagaing Hills offer famous religious retreats where monks and nuns go for study and meditation in over 400 monasteries. Nearby is Ywataung village known for its silver craftsmen. All over the country would visit Sagaing for the purpose of religious retreat.
YANDABO VILLAGE

Yandabo is a pottery producing village – water pots, steamers, rive pots, money boxes and horseshoe-shaped stoves. It is located on the bank of Irrawaddy River in Mandalay Region. One person can make 30 to 50 such pots per day. It is quite a busy industry where one can feel authentic experience. All processes are being made by hand and also decorated. Especially, women are good artists for decoration.
MONYWA

Monywa is a capital city and largest city in Sagaing Region, Myanmar. It lies 136 km north-west of Mandalay along the Mandalay-Budalin branch railway line. The name Monywa comes from 'Mon' meaning 'cake or snack food' and 'Ywa' which is the Myanmar word for village. Monywa serves as a major trade center for India and Burma through Kalay Myo road and Chindwin River.
THANBODDHAY PAGODA

Thanboddhay Pagoda is one of the famous unique pagodas in Monywa of Sagaing Region. It is one of the most intricately decorated pagodas in the country with an extensive use of vibrant colors housing over 500,000 Buddha images.
PHOE WIN HILL

Phoe Win Hill is located on the west bank of Chindwin River and 25 kilometers west of Monywa. It is (about 20 minutes) walk up the hill. There are about 900 sandstone caves which contain many carved Buddha images and well preserved mural paintings. Some caves have beautiful exterior decorations. Some caves have large collections of ancient Buddha images some of which have been covered in gold leaf by local pilgrims. There are wonderful mural paintings in vivid colors representing Burmese life and Jataka stories. Phoe Win Hill's unique Buddha Images and precious paintings have been dated to between the 14th and 18th centuries. This hill is thought to be South East Asia's richest collection of Buddhist mural paintings and images.
 
SHWE BA HILL

Shwe Ba Hill is located on the west bank of Chindwin River just beyond the Phoe Win Hill in Monywa. Many caves and temples are carved out from the surrounding volcanic rocks and filled with ancient Buddha images. 13th century mural paintings can be seen in some of the caves inside walls. Those caves and temples are between the walk through narrow cliffs which is lead down by stone stairs.
PYIN OO LWIN, GOKTEIK VIADUCT, HSIPAW
PYIN OO LWIN 

Pyin Oo lwin, formerly and colloquially referred to as Maymyo, is a scenic hill town in Mandalay Division, Myanmar. It is located on the western bank of the river Irrawaddy River, approximately 7 miles north of Mandalay. It is well known for its colonial style houses with large compound and pine trees, eucalyptus and silver-oak abound in town. Delightfully cool and pleasant the whole year round.
National Kandawgyi Garden (Formerly National Botanical Gardens)
is located in the Alpine town of Pyin Oo Lwin, situated at an elevation of 1000 meters and 69 km by road from Mandalay. Founded in 1915, this lovingly maintained 435-acre botanical garden features more than 480 species of flowers, shrubs and trees. The garden has aviary, orchid garden and butterfly museum and the bizarre Nan Myint Tower to enjoy the bird-eyes view over the beautiful garden. In 2000, the garden was upgraded to be a recreation garden and renamed it "Kandawgyi National Gardens".
GOKTEIK VIADUCT

Gokteik Viaduct is one of Burma's most stunning man-made marvels built by the colonial British; it is a spectacular railway bridge over 100 metres above the ground and nearly 700 metres long. The bridge is between the towns of Pyin Oo Lwin and Lashio. It is one of the highest viaducts in the world and Gokteik Viaduct is now a popular spot for visitors who travel between Mandalay and Hsipaw. The train ride over this verdant valley is full of interaction, fun and thrill.
HSIPAW

Hsipaw is a wonderful, calm and composed town in the hills of Shan State. A charming and laid-back town located 200 km North East from Mandalay. Hsipaw offers a taste of real Burmese village life and some beautiful trekking routes in the surrounding countryside. The town's quite, dusty streets, traditional buildings and trekking opportunities make it worth the effort of getting there.
MOGOK

Known as ruby-land, this town is 205 km from Mandalay. Mogok attracts public attention for its precious gems-rubies, sapphires and balas rubies-as well as its significant natural panoramic view. Mogok was once abundance in precious stones. It is said that gems could be discovered if someone merely pulls off a turf of grass. Today gems are extracted through traditional methods of digging by hand and mining by machinery equipment in respective gem tracts. In the gems industry of Mogok, HtaPwe or gem markets play vital role in selling and buying the stones.
LASHIO

Lashio is the largest town in Northern Shan State, Myanmar, about 200 kilometers north-east of Mandalay. Lashio is famous for the Burma Road built by the British during World War II. It is major trading town with a large Chinese population; most foreigners who visit lashio are on their way into or out of China. Tourists would enjoy the journey along Shan State, admiring the scenic view and taking in the clean, chilly air of the environment or take a train ride on the winding tracks on the hill.
MUSE

Muse is the capital town of Mu Se Township in Northern Shan State, Myanmar. It is situated on the Shweli River and is connected by a bridge and road to Ruili in Yunnan Province, China. Muse is best known as being a major trade point with China.