Manaw Festival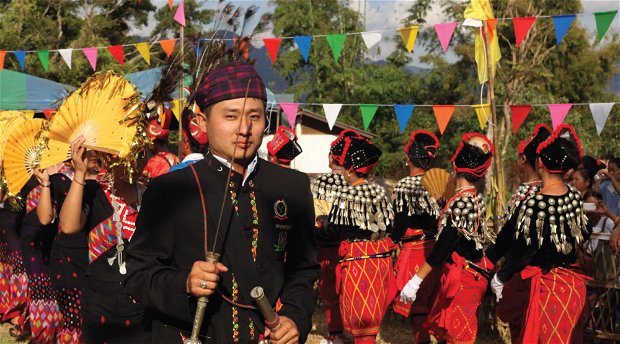 Place : Myitkyina, Kachin State
Time : 10th January 2020
Duration : 1 day
Description
The KACHIN, one of the largest ethnic races of Myanmar live in the Northern part of the country. The most interesting festival is MANAW festival which has been celebrated more than three decades. It is a reunion of all KACHIN tribes. The traditional MANAW poles decorated in KACHIN motifs are in the centre of MANAW ground. Sounds of brass gongs are heard and a line of dancers approaches the MANAW poles. As usual for all mountain people, the dance is communal and everybody joins in line behind the leaders. It is a show of gratitude to their ancestral spirits and their wish for a bright future. You can see everybody in their finest native costumes, especially the womenfolk with silver flash from their blouses.
How to get there 
It can be reached by air to Myitkyina from Yangon and Mandalay. The charter boat trip along the Ayeyarwaddy River on the way back to Mandalay is unforgettable.
Accommodation
Only 2-3* hotels are available in this remote area, but you will be provided to stay at the best available hotels in MYITKYINA and guest house in INDAWGYI LAKE by our arrangement.
Road Condition to INDAWGYI Lake and MYITSON is bumpy.
Recommended Short Program (which should be combined with your choice of tour).
8th OF JANUARY : YANGON / MANDALAY – MYITKYINA (BY FLIGHT)
Morning transfer to airport for flight to MYITKYINA. Upon arrival at MYITKYINA, sightseeing to downtown area.
9th OF JANUARY : MYITKYINA – MYITSON – MYITKYINA (BY LAND)
Excursion trip to confluence of MAIKHA & MALIKHA crossing through villages.
10th OF JANUARY : MANAW FESTIVAL
Enjoy the festival in the morning and you are invited the annual dinner of KACHIN National Day in the evening.
11th OF JANUARY : MYITKYINA – INDAWGYI (BY LAND)
7 hours drive to INDAWGYI LAKE.
12th OF JANUARY : INDAWGYI – MYITKYINA (BY LAND)
Sightseeing by boat on the Lake and drive back to Myitkyina.
13th OF JANUARY : DEPART FROM MYITKYINA by air to Yangon or Mandalay OR by car to BHAMO and then to MANDALAY by charter boat.