Inya Lake Hotel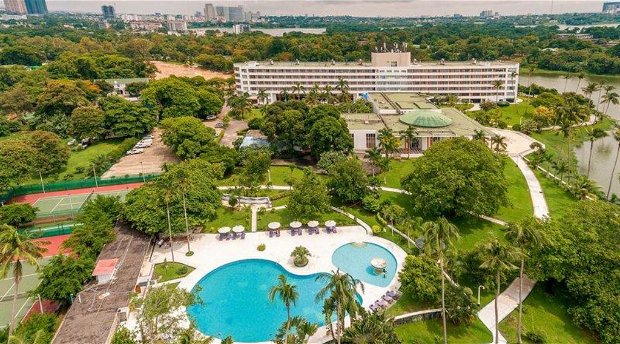 Yangon's first international Hotel built in 1961, fully renovated in 1996. It is a real city resort - an oasis Yangon's first international Hotel built in 1961, fully renovated in 1996. It is a real city resort - an oasis to get away to, from the bustling downtown. Burmese teak furniture and artifacts reflect the elegance and charm of a bygone era.
Location : The hotel is located in the middle of extensive garden setting, by the beautiful and tranquil Inya Lake. The resort is situated within 20 minutes drive from the airport. Free shuttle bus service to city centre is available for the hotel guests (approx. 15-20 min drive). A great place to relax and rest after a hectic day of sightseeing and shopping in Yangon.
Rooms : All 211 rooms are tastefully decorated and feature amenities such as air-conditioning, IDD telephone, satellite TV, in house movie channel, mini-bar and a big balcony with spectacular views over the lake or gardens. The 99 superior rooms (29 sqm) offer all of the above mentioned amenities. The 41 Deluxe rooms are slightly larger (43 sqm) and offer extra coffee and making facilities.The 8 Studio suites (42 sqm) have a separate kitchenette. The 4 Junior Suites (50 sqm) are yet larger and have an extra sitting room. The 3 Deluxe Suites are very large and spacious (120 sqm) and offer a nice views over the surrounding lake and gardens.
Facilities : The Orchid Café offers sumptuous buffets during the season as well as worldwide a la carte specialties. At the pool bar snacks and refreshments are served throughout the day. Enjoy a pre dinner cocktail with a stunning sunset at the Lake View Bar. Big Ballroom, 2 smaller meeting rooms and business centre. Souvenir shops are also present inside the hotel. Shopping arcade sells antiques, jewellery and exquisite native crafts, as well as a Delicatessen offering daily necessities.
Sport & Spa : Large and spectacular free form swimming pool surrounded by beautiful gardens and the picturesque Inya Lake. Two floodlit tennis courts, a jogging track, fully equipped fitness centre with a gymnasium, sauna, steam bath and massage.
Credit cards : Visa and MasterCard are accepted.
Address : 37, Kaba Aye Pagoda Road, Yangon, Myanmar.
Tel : (95-1) 662 866, 662 857
Fax : (95-1) 665 537