Inle Princess Resort in Inle Lake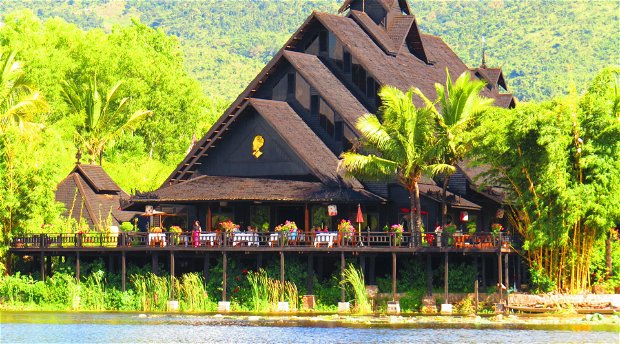 A charming boutique style luxury chalet resort built partially on the lake and on the shore. The Inle Princess Resort is built tastefully in regional style and entirely of wood. The chalet-suites of the IPR represent the highest standards and are most stylish choice of accommodation in the Inle Lake region. The hotel has a NO-NOISE policy. No TV's are to be found in the rooms and all boats approaching the resort has to switch off their engines 200 meters from the hotel, so as to safeguard the guests' peace and tranquillity.
Location : On the eastern shore of the Inle Lake near the Ma Gyi Sin village. 20 minutes by boat ride away from Nyaung Shwe.
Rooms : The Resort's simple yet elegantly appointed wooden Chalets are decorated with traditionally crafted furnishings and locally weaved cotton bedspreads. The bed is usually positioned in the centre of the chalet beneath the high rooftop; the front panoramic view glass window provides light filled living and sleeping area. All chalet features cosy and spacious living area and private balcony. As all chalets are built differently from the others the size of the room can vary even in the same category. All chalets feature the following amenities, (shower and bathtub, mini bar, hair dryer, IDD phone). They also have a private terrace, with Inle Lake, private lake/ pond or a mountain view.
Facilities : Dining room and splendid terrace overlooking the lake serving local specialties, Myanmar, Chinese, Thai as well as tasty western cuisine. The bar is the meeting point of the resort. There is also a souvenir shop and a wine cellar.
Sport & Spa : Recently opened Spa with Sauna and a wide range of pampering treatments.
Credit cards : Not accepted.
Address : Magyizin Village, Inle Lake Shan State, Myanmar
Tel : (95-81) 209055, 209364, 209365
Fax : (95-81) 209412