Htamane Sticky Rice Festival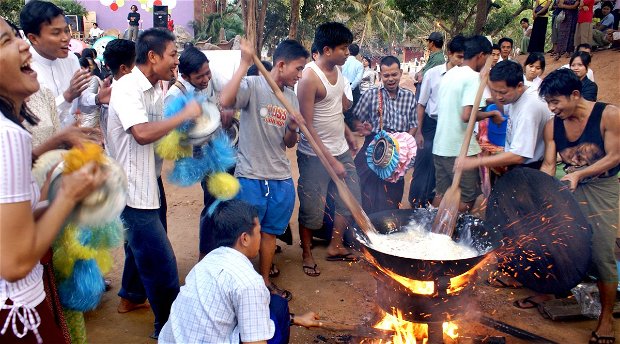 Place : Throughout Myanmar
Time : 8th February 2020
Duration : 1 days
Htamane (glutinous rice) cooking festival is a traditional yearly event in Myanmar around the Full Moon Day of Tabodwe. It is 11th lunar month on the traditional Burmese calendar (roughly in February), throughout the whole country. Some pagodas and monasteries, including the Shwedagon Pagoda, hold htamane-cooking competitions.

During the festival, Guests enjoyed watching performances, cook sticky rice competitions. And the first portion of it is delivered to the Buddha as per custom and the rest is delivered to neighboring to everyone. Finally, the winning team will receive the awards for winners.

How to Cook Htamane

One large pan requires 4 small baskets of sticky rice, 20 coconuts, one small basket each of peanut and sesame seeds, 4 kilo of oil, 0.32 kilo of ginger and some salt.
Firstly, the sticky rice must be soaked overnight. The next day, start frying the small pieces of coconuts and other ingredients. Then pour in the soaked sticky rice into the pan. Traditionally, three men are involved in the mixing of the Htamane. Two of the men mix with giant wooden spatulas and the third man instruct the men on how to mix the dough.
Towards the end of the mixing process, toasted sesame seeds, peanut, fried ginger, ground nut oil and fried coconut. Finally, Htamane is served on banana leaves that have been rubbed in oil that it safe to eat.