Chin State & Rakhine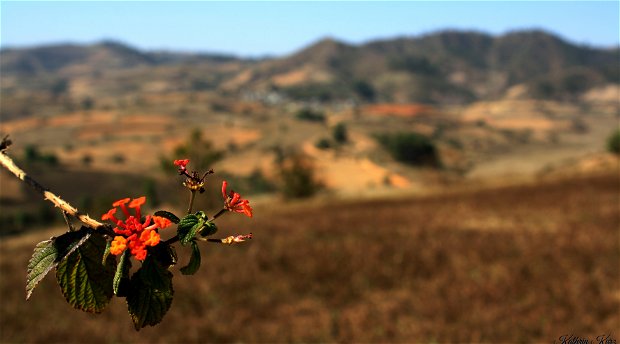 CHIN STATE
Chin State is an administrative state located in Western Myanmar. Southern Part of Chin State can be easy access from Bagan. The State is a mountainous region with few transportation links. Chin State is sparsely populated and remains one of the least developed areas of the country. The Chin are made up of many sub-groups which although historically related now speak divergent languages and have different cultural and historical identities. Living in the wild but embracing friendly smiles, Chins are one of the warmest people to come across.
KANPETLET

Kanpetlet is a small town in the Chin State of West Myanmar with a population of a few thousands and situates about 1,370 meters above sea level. It is 80 kilometers away from Mindat and one of the two gateways to climb the Mt.Victoria. It is known for Mt. Victoria, the highest peak in the Chin Hills and one of the highest in Western Myanmar and Natmataung National Park, home of some of the world's rarest bird species.
MOUNT VICTORIA

Mt. Victoria is the highest mountain and located in Chin State. It is home to a variety of rare and beautiful flora and fauna and ethnic tribes known for their tattoo-faced women folk. Mt. Victoria is one of the best places in South East Asia to learn about rare flower species. This mountain high 10,016 ft (3053m). November is the best time to visit to Mt. Victoria because the rhododendron bushes that covers the slopes in full bloom in November.
CHIN VILLAGE

Chin is well-known among many other ethnic minority groups in Myanmar for its impressive number of population. Chin tribes' villages will leave a lasting impression on tourists' hearts with their unique lifestyles and daily activities. The villagers make a living by fishing (using nets of bamboo); farming and weaving fabrics. As you present in their villages, you can have chances to experience that peaceful life, taking time to explore the ways of farming and handy weaving in typical houses. Also, due to the difficulty of accessibility, every Chin tribe has its own specific dialect. Just make sure you will always bring with a camera to capture all of these things.
HAKHA

Hakha is the capital of Chin State in Myanmar. It is located in the north-east in Chin State. Total area of Hakha is about 12.50 square miles. Situated on the slope of a mountain, the area is built in a U-Shape to preserve the natural hilly landscape. The city is mostly covered by thick clouds in cold weathers, making the city appear mysterious and magical. The cool air also provides a refreshing getaway for those who wish to experience a holiday away from the bustling city.
MINDAT

Mindat is a small town in the Chin State of Western Myanmar. The weather there is normally from cool to cold and misty. If the weather is clear, one can see the peak of Mt. Victoria from there. It is one of the gateways for the trekkers to trek to the peak of Mt. Victoria. You may enjoy trekking adventure around Mindat and its environs in Chin State; not only to climb a high mountain, but also to visit an area where people are still in tune with nature and tradition, the women with a face full of tattoos which is a sign of beauty.
RIH LAKE

Rih Lake is the biggest lake located in northwestern Chin State, Falam Township. It is famous for its heart shape, romantic heart-shape lake or Rih Lake is also known as 'Rih Li' in Chin ethnic language. The depth of this lake is about 60 ft and is about 3 miles in diameter.
RAKHINE
 
SITTWE

Sittwe is the capital of Rakhine State, Myanmar. Located on an estuarial island created at the confluence of Kaladan, Mayu and Lay Mro rivers emptying into the Bay of Bengal. It is a port city and was an important trading ground in the colonial era. It is the stop off point for most tourists when travelling to Mrauk U and a very safe city to travel too like many other cities in Myanmar. It has a diverse variety of things ranging from beautiful sea views to markets and spicy local dishes. One of the most popular views is the Viewpoint. There are many monasteries and pagodas in Sittwe, the most famous of which is the Shwe Zedi Kyaung. There are many nice restaurants around the town that stock a variety of freshly caught seafood but also other Rakhine dishes.
MRAUK U

Mrauk U is an archaeologically important town in Rakhine State, Myanmar. Mrauk U is a small town where the centuries old monuments form the backdrop for everyday life of local people. Mrauk U houses, pagodas and temple of all shapes and sizes – from temple-like structures to stone and brick ones. In the beautiful hilly landscape of the Rakhine state hundreds of ancient temples and pagodas are well preserved that a powerful empire was once flourished here.
SHITTHAUNG TEMPLE

Shitthaung Temple is a famous temple of Mrauk U and also notable temple in Mrauk U. The meaning of the name is Temple of the 80,000 Buddha images and is also known as the 'Temple of Victory. It was built by King Min Bin in 1535 to commemorate his conquest of Bengal. It is located on the north of the Royal Palace. The skill and art displayed in its construction and ornamentation are remarkable.
KOETHAUNG TEMPLE

Koe Thaung Temple is one of the highlights of Mrauk U, Myanmar and the largest temple in Mrauk U. The name means 'Temple of 90,000 Buddha images'. The temple was built between 1554 and 1556 by King Dikkha, the son of King Min Bin who built the Shitthaung Temple to gain religious merit. Koe Thaung Temple is located on a plain a few kilometers east of the Royal Palace. The massive monument, built of stone walls and stone terraces measures 76 meters by 70 meters. Resembling a fortress with its thick stone walls the temple is surrounded by fields of farmers.
ANDAW THEIN TEMPLE

Andaw Thein Temple is located at the northwest corner of the Shitthaung Temple. The name means 'Tooth Shrine'. It contains a tooth relic of the Buddha coming from Sri Lanka. It was first built as an ordination hall between 1515 and 1521 by King Thazata, and restored by King Min Bin between 1534 and 1542.
LE MYET HNA TEMPLE

Le Myet Hna Temple is one of the oldest temples of Mrauk U. It is located north of the Royal Palace. It was built by King Min Saw Mon in 1430, the founder of the Mrauk U Kingdom. Le Myet Hna Temple means 'four faces pagoda' is a rectangular sandstone structure. At the center of each side is a vaulted entrance protruding out of the structure facing one of the four cardinal directions. The main entrance is east.
NGAPALI BEACH

Ngapali Beach is one of the Asia's most beautiful Beaches. It has turquoise blue water, whiter soft sand, 7km long beach. Ngapali Beach (pronounced Napally) and it is located in Rakhine State, Myanmar. Myanmar's owns some incredible undiscovered beaches. Perfect palm trees all along the coastline and one of the loveliest places in Myanmar. It makes for the perfect place to marvel at the beautiful sunsets.