Reasons to Visit Myanmar (Burma) in Green Season
Posted on Tue December 10, 2019.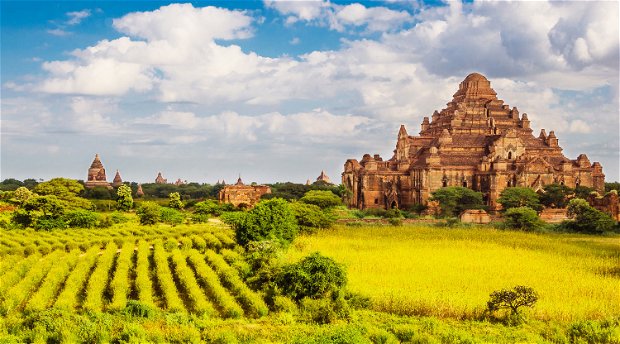 The Green Season is the low season for tourism and it is the time of the annual rain. In Myanmar, "Green Season" happens from the month of May until September. Most people are afraid of rain because they think the rain ruins their journeys. However, in Myanmar, you will see the differences. Traveling to Myanmar during green season brings you a fresh and unique experience. If you considering traveling to Myanmar and are hesitant about traveling during this time, please take a look list of reasons why you should travel in Green Season.
Green! Green! Green! I can't express to you how magically green Myanmar is during this time of the year. With practically daily showers the air is fresh and the hills are green. The green season offers a dramatic green wonderland and surely, photographers love the dramatic backdrops for wildlife, picturesque view and amazing nature shots with striking cloud formations and lush. The weather isn't too hot nor too cold, so you can wander along the green fields or trek onto the mountains without worries. If you travel on the outskirts of town you will see how this season is a busy time for local farmers. It's a time when there's only 25 percent chance of rainfall in areas such as Bagan, Mandalay, Northern Shan State, Inle Lake and Kalaw – all of which is Myanmar's hottest tourist attractions. So, you can absolutely take full advantages of these tourist spots and let your eyes feast over wonderful sceneries humidity and rain drizzles. The colors and imagery make fantastic snapshots to add to your travel album.
So, Why traveling to Myanmar in Green Season? What can you benefit from the rain? Here are some factors making you interested in traveling Myanmar in Green Season:
Fewer Crowds
Fewer Crowds means less waiting times, less tourists and more of feeling like you can explore on your own terms and nicer experience all round.
Cheaper Prices
Prices are usually cheaper too for everything. Half price accommodation, Flights Fare, cheaper tours, Transports, restaurants deals and other. You'll be able to haggle for discounts more easily. You have better services because of the off-season. A traveler's budget will stretch a lot further during the green season.
Lush Green Surroundings
Lush green rice fields, colorful flowers and bright green jungle. Myanmar's rainy season is simply stunning!
Cooler temperatures and cleaner air
The rains bring a cool relief from the sweltering temperatures and help to clean the air up from dust particles and pollution. Rainy season is the time to breathe in fresh air!
It's a great time to exercise
Cooler temperatures make it easier to be active!
For those who thinking of doing a Yoga Retreat or Meditation or Something, the rainy season can be the absolute best time to do so! The cooler temperatures make exercise easier and as said above, the fewer people during this time, means that you can get cheaper prices on activities!
Rainbows
On the other side of the clouds, when sun mixes with rain you get = rainbows! Rainy season is a dream for photographers.
Green as far as the eye can see
From lush paddy fields to tropical jungles, the landscapes are bursting with the green from the trees and plants. Your photos will look fantastic!
Fruit and vegetables are at their prime
Fruits and vegetables are at their most ripe during the green season and can be found in most restaurants, street stalls and hotel breakfasts.
Less queues
You want to get the best photo of a particular tourist attraction but so does everyone else. Peak season means more people so why visit when a little less tourists and cut down your queuing time!
Good promotions
It's no secret that low season is generally when you get more for your buck. Prices tend to be lower from your flights to your excursion. Save some money and see the world!
Amazing Countryside
When the rains come that amazing lush countryside you have come to see gets all the more verdant and fertile, waterfalls suddenly come to life and everything just seems more colorful.
Sustainable tourism
Traveling in the low season means - your supporting the communities who work here. Promote sustainable tourism and help small communities and local businesses earn a stable year-round income.
Less Dust
Myanmar can get little pretty dusty. The rainy season generally washes it away which is always good!
If you'd like to explore Myanmar with Fewer Crowds, Cheaper Prices, Lush Green Surrounding, Cooler Temperature, Cleaner Air and More Beautiful scenery when the country is at its greenest. Green season is the perfect time to visit and also quietest and the most special – because of the Buddhist Lent from July to October.
We hope this post has helped you understand how you can make your travels more environmentally friendly. Now let's get out there and paint the tourism industry green.
Customize your perfect trip with our travel expats > [email protected]