New Path To Dawei Peninsula
Posted on Tue November 26, 2019.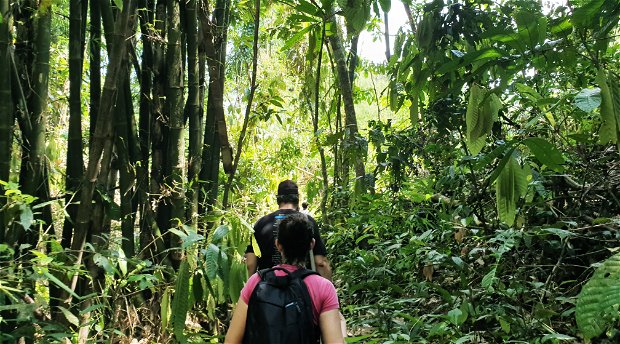 Dawei formerly known as "the clean city", in South – Eastern Myanmar and is the capital of the Tanintharyi Region. About 614 km south of Yangon on the Northern bank of the Dawei River. Dawei is a trading hub and quickly progressing town, the true size of the city is hidden beneath the coconut and betel nut palms which give the city a tropical jungle feel. The local people are delightfully friendly and it is a good place to explore the surrounding community villages and beaches. It produces rice, rubber, teakwood, cashew nuts, betel nuts, oil-palm and fruits such as pineapples, a variety of mangoes, mangosteens and durian. Dawei Peninsula filled with rural fishing villages and hidden beaches. Explore daily life style of authentic local people.
                                                                The city gives a tropical jungle feel
Community initiated by International Trade Center (ITC)
At present, International Trade Center is currently working Community Based Tourism project (CBT) around Dawei. ITC also organized FAM trip for Tour Companies based in Yangon. "ITC's approach to tourism focuses on increasing links to local markets, significantly expanding product offering to potential tourists, attracting investment and creating jobs at scale. The ultimate objective is to increase tourist arrivals and to maximize the sector's contribution to sustainable development." CBT tours take you to touch with genuine local people and experience their lives, livelihoods, arts, cultures and fascinating relationships with natural world. Taste their traditional snacks and home-cooked dishes that will never taste like restaurant food.  For those who are looking for authentic Community Based Tourism in Dawei; Ka Lone Hta Village and Tizit Fisher's Community have been offering community involment programs. 
                                                         Group of the villagers support the best service
Experiences
During trek around a picturesque Ka Lone Htar Village, nestled in verdant forest and crystal clear river, exploring a nature trail into orchard life, learning about forest remedies, enjoying forest picnic style lunch, swimming in the green river in the verdant forest and relaxing in simple unique barefoot forest spa were epic moment can give you a lifetime memories of between forest and community relationship.
                                                                     Epic moment in the verdant forest
Tizit, a Local Community on the Dawei Peninsular is 1.5 hour by car from Dawei town. You can explore Tizit Fishers' community by visiting Dawei Local house, trying your hand casting fishing net or searching for shellfish with a local guide at Tizit's white sand beach, enjoying a cool swim in the beautiful blue sea and experience with sumptuous beach picnic. A more peaceful sunset can be enjoyed at Tizit Beach, or indeed further down the coast along the Dawei Peninsula, exploring the spotless coves by motorbike. This kind of CBT can give you hands-on activities experience and awareness of how local fishers use fascinating fishing gear, from low to high tide! Visiting to CBT site, the community will have the generating income and other economic benefits, community development, culture & nature conservation.
Breathtakingly Beautiful Beach
Being a beach town, Dawei is home to breathtakingly beautiful beaches which are also popular tourist destinations. One of the main tourist attractions is Maungmakan Beach, a clean and serene place to relax and unwind. It is always crowded with the local visitor during the High Season. One can enjoy on fresh seafood at the various restaurants and cafes located at this beach. Sat Sar Aww, Phoe-Phoe Kyauk and Sin Htauk are other beaches which are worth a visit.
                                                                         Paradise Beaches in Dawei
Dawei has a long history, interesting past and beautiful architecture covering many of the buildings from the colonial era. Wooden houses and brick buildings are a mix-and-match of local, Western and Asian Architecture. There are plenty of examples of British Colonial Era Buildings as Dawei was one of the first Cities occupied by the British after the first of three Anglo-Burmese wars and remained under British Military control for over 100 years. It is also the cleanest city and compact enough to walk around with full of impressive and panoramic views surrounding city, but in summer, cycling would be the preferred option.
                                                       Cleanest city with full of impressive and panoramic views
Top Things To Do In Dawei
To appreciate the best of Dawei, these are the top things in Dawei you should do;
Check out Shwe Thalyaung Pagoda
See Lawka Tharaphu Pagoda & Its Reclining Buddha
Explore the Myaw Yit Pagoda
Visit Paya Ge Museum
Visit a local tea shop
Enjoy Dawei river boat ride
Explore Historic Buildings and Paya Ge Art Works
Touring the town
Shop at Si Pin Tharyar Zei
Take a stroll at Maungmagan Beach
Chill out on Tizit Beach
Eat Seafood on the beach
Go on Motorcycle Tour
Hit the Dawei Mountain Trail by Bike
How To Get Dawei From Yangon
There are 4 ways to get from Yangon to Dawei by Air, Train, Car or Bus.
Air
Myanmar National Airline (MNA), Myanmar Airways International (MAI), Air KBZ (K7) fly from Yangon to Dawei every day and Golden Myanmar (GMA) fly from Yangon to Dawei only Tuesday, Thursday and Saturday. The best way to get from Yangon to Dawei is to fly which takes 1h 10m.
Train
There is no direct train from Yangon to Dawei. However, there are services departing from Yangon Central Railway Station and arriving at Dawei via Mawlamyine. The journey, including transfers, takes approximately 25h 15m.
Car
If you want to go by car, the driving distance between Yangon to Dawei is 612 km. If you ride your car with an average speed of 112 kilometers/hour (70miles/h), travel time will be 06 hours 05 minutes.
Bus
Mandalar Min, Khaing Mandalay, Shwe Mandalay Express operates a bus from Yangon to Dawei twice daily which takes around 13 hours.
Thingyan (Water Festival) in Dawei
Myanmar Traditional Thingyan (Water Festival) of Dawei is usually different from another regions and townships. As the whole country, Thingyan (Water Festival) will normally be started from 13th of April. But this festival starts from 11 of April in Dawei as Kalay Thingyan (children's Water Festival). This is a Dawei Traditional Culture.
Eventually, the town of Dawei offers the discerning traveller a lot of options and is a perfect destination for all travellers.
Are you planning to make lifetime memories in Dawei? Please contact us for a private tour with unique experience.
blog comments powered by

Disqus