Most Popular Food in Myanmar That You Should Try
Posted on Sat May 23, 2020.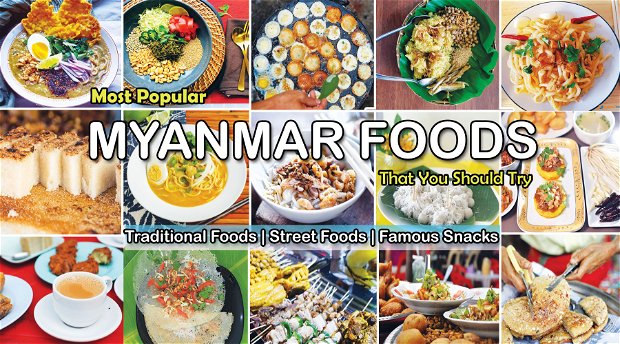 Traditional Foods | Street Foods | Famous Snacks
Although Myanmar Foods is influenced by India, China, Thailand and the culinary cultures of many ethnic minorities, so Burmese food is wonderfully diverse. Myanmar foods has own characteristics not only people, cultures, landscapes but also foods attract a lot of visitors to learn and enjoy. Here under are the best Myanmar Traditional Foods, Street Foods and Famous Snacks to taste while travelling in Myanmar.
Traditional Foods;
You will find a number of great specialty dishes in Myanmar that you absolutely mustn't miss. Some of Myanmar Traditional Foods to try include.....
1.  Mohinga
Mohinga is a champion of breakfasts!
Myanmar's unofficial national dish is Mohinga - a type of fish soup with thin rice noodles, banana stem and perfumed with lemongrass. Optional toppings include boiled egg, akyaw (crispy fried bean fritters) and coriander. You can add drops of lime juice, fish sauce or dry chili powder for your preferable taste. It is Myanmar's traditional breakfast but is also taken as a snack which people love to eat throughout the day.

2.  Ohnn Noe Khaut Swe (Myanmar Coconut Chicken Noodle Soup)
The best tastefully noodle soup!

Ohnn Noe Khauk Swe (Coconut Chicken Noodle Soup) is also famous as Mohinga with its own different style. It's wheat noodles with a curried chicken and coconut milk soup. You can add heard boiled egg, crisp noodles, sliced onions, chili powder and fish sauce for your preferable taste. 2 or 3 drops of lime or lemon juice will make the soup better. You can find coconut noodles almost everywhere at tea-house and street vendors in town.
3.  Nan Gyi Thoke (Rice Noodle Salad)
Burmese version of Spaghetti for any kinds of people!

Nan gyi Thoke is another popular breakfast food. However, it is available from morning till afternoon as some people eats regardless of the time. It has been equated as a Burmese version of spaghetti. The name 'nan gyi' refers to the round thick rice noodles and 'thoke' means salad.
The dish is made with thick round rice noodles mixed with specifically prepared chicken curry. Nan Gyi Thoke is commonly served with topping like coriander, crispy fritter and boiled egg. Small bowl of soup is usually accompanied by the Noodle when you order Nan Gyi Thoke in Myanmar. Of course, it's a complementary and you can ask for extra soup in case you want more. That is one the most interesting culture foreigner may find or perhaps strange when visiting Myanmar. Be sure to try this wonderful Nan Gyi Thoke. It is very delicious.
4.  Laphet Thoke (Tea Leaf Salad)
Well known Myanmar Salad!

Pickled tea Leaf salad is a dish which plays an important role at social and religious occasions throughout the country. To make the dish, the sour, slightly bitter leaves are mixed by hand with shredded cabbage, sliced tomatoes, crunchy deep-fried beans, nuts and peas, a splash of garlic oil and pungent slices of chili and garlic.
Laphet Thoke is the most popular Myanmar food in everyday life of Burmese people. Whenever people gather at someone's home or at a tea shop, usually expect to enjoy this cold dish together with hot green tea. It can be a snack, an appetizer or, coupled with a plate of rice, a meal.
5.  Kaut Nyinn Paung (Sticky rice)
The best choice for people who likes 'steamed sticky rice'!

In Myanmar, Kaut Nyin Paung is mostly served for the breakfast or sometime at the tea time in the afternoon. It is one of the dishes always can be easily bought in markets and tea shops. It is steamed sticky rice brown or white, served with pea, sesame powder, salt and shredded coconut. You can eat with tea, dried fish and also with deep fried tempura.
6.  Si Hta Min (Yellow Myanmar Sticky Rice)
Delicious Simple Sticky Rice!

Si Hta Minn or Yellow Myanmar Sticky Rice is always simple and delicious. It is one of the typical breakfasts in Myanmar and also a popular dish in pagoda festivals. Steamed peas and baked dried fish are a perfect duo with Si Hta Minn. It is sprinkled the Si Hta Minn with fried onion and sesame powder.
7.  Burmese Coconut Rice
Full Nutrition Burmese Dish!

Coconut Rice – is a really delicious dish that couldn't be simpler. It is prepared by soaking white rice in coconut milk or cooking it with coconut flakes. It goes well with many Thai dishes, some southern Indian dishes, as well as traditional Burmese cuisine.
8.  Rakhine Mote Ti
The best hot and spicy traditional food!

Rakhine Mote Ti is the traditional food of Rakhine State in the western part of Myanmar. Most people usually have this in the afternoon and evening. The taste is sour, spicy or some combination of three. The ingredients are thin rice vermicelli, fresh fish, ngapi (shrimp/fish paste), lemongrass, pepper, garlic, green chili paste, red chili sauce, crisp garlic garnish and coriander. You can try with two different style; one is salad with the taste of sour, spicy and salt and another style is trying thin rice vermicelli with the fish soup. You can get it spicier by combining some chili paste, tamarind liquid and fish paste liquid. Rakhine Mote Ti is not only in some tea shops but aslo in some stalls as a street food in down town Yangon, Mandalay and other cities also.
9.  Ngar Htamin (Shan Style Rice Salad)
For people who like popular Fish Receipe !

Known in Burmese as Nga Htamin (fish rice). It is originally from Shan State and the Shan cuisines are popular in our country. The recipe is prepared with rice cooked with turmeric and then mixed curied fish, some adding home-made tomato paste. This dish is served with leek roots, cloves of raw garlic, fried pork rinds and fried chili. Yummy!
10.  Shan Noodle
Must-try Rice Noodle Salad !

Shan noodles are the popular dish and its traditional food of Shan Ethnic. You can see everywhere in tea shops or in local markets. It's served with thin rice noodle with chicken or pork broth as a soup. Or you can mix the noodle with chicken gravy, sesame and roasted peanut as a salad, adding pickled mustard green and chopped leek in both versions.
11.  Tofu Nway (Warm Tofu)
Tasty Yellow Bean Paste !

Tofu Nway known as "Warm Tofu" is one of the popular dishes of Shan Tribe in north-eastern Myanmar. A thick porridge made from chickpea and served with variety of supplement such as rice noodles, chunks of marinated pork or chicken and covered with a layer of chili oil.

12.  Mote Lone Yay Paw
Best Thingyan Festival Food Ever!
Mote Lone yay Paw is one of the famous traditional Burmese sweets. Literally means 'rice ball on the water'. This food is made from sticky rice flour with Palm sugar. The food is often served during the celebration of Myanmar New year Festival which is also known as Thingyan. However, you can find it in every corner of Yangon today.
13.  Mandalay Myee Shay
Mandalay Speciality !
Myee Shay is the specialty of Shan State but Mandalay version is mostly spread throughout country. It is medium size rice noodles served with the meat sauce mainly made of pork or chicken. Toasted chickpea flour is added for the thick mixture and garnished with bean sprouts and crispy fried garlic to be balanced taste.
Street Foods;
Street food is one of the best things about our country. There're so many delicious street vendors dotted around the cities, with local snacks for cheap. Here's our top picks of the best Myanmar street foods. Get ready to drool…
1.  E Kya Kway (Burmese Youtiao)
Best Breakfast ever!
E Kyar Kway is one of Myanmar peoples' favourite breakfast food and can be found in every small and big tea shop. It is made with wheat powder. The golden dough is deep fried in hot oil, they're savoury. Dip them into coffee or tea for a hearty breakfast and its taste is seriously delicious! It is sometime consumed with Mohinga. In Shan State, it is sometime consumed with Shan Tofu Nway (Warm Tofu).
2.  Dosas (To Shay)
Finest Indian Style Burmese Food!
Dosas is crispy, savoury pancake from the Indian part of Burmese food. A Thin layer of batter is spread quickly inside a concave metal pot over hot stove, and the back of a ladle is used in a circular motion to ensure the dosa is evently cooked. The curry was smooth and the pancake did an excellent job of sopping up everything till the final drip. You can find them on many street corners in downtown Yangon.
3.  Burmese Nan Pyar (Nan Flat-bread) and Pe Pyoke (Brown peas)
Nan Pyar (Nan) is Indian style nan, and mostly eat with brown peas (Pe Pyoke) or sometimes eat with butter and sugar. These Nan and Pe-byoke are sold in the markets and tea shops. The vendor normally bagged the beans and added a torn-up naan on top or spread margarine and spill sugar on it– to go. You can dip it into tea and eat it too.
4.  Samosa Thoke
Yummy Street Food!
In Yangon, after sneaking through British Colonial Building, samosa salad shop is a good rest for a refresh. Grab a seat and observing local vendor preparing your salad and snack is very inspiring. This salad is with Samosa, form of triangle preserved with potatoes, onions and Indian spice masala. It's served with chopped samosa and yellow split pea fritters, mixed with shredded white cabbage, sliced tomato, shallot and boiled potato. And pour chickpea flour soup on it and add tamarind liquid, mint leaves and chili powder. The taste varies slightly if you put chili flakes or sweet sauce. Yum !
5.  Fried Burmese Tempura (A Kyaw Sone)
Greatest Burmese Street Food!

"A Kyaw Sone" includes variety of things which are deep fried like onion, potato, peas, banana, gourd, shrimp and so on. The sauce is made from tamarind with onion and coriander leaves. It is not only delicious but also nutritious.
6.  Grilled Skewers
When the night falls in Yangon, what catches your attention the most in China town is the smoky BBQ stalls abundant of aromatic meats, chicken wings, tofu or fish. The street turns crowdy from 19.00 and showcases the influence of China cuisine.
Try a glide of enoki mushroom, stick of broccoli marinated in sweet lime chili sauce then try the fish baked on intense flame and of course, take a Myanmar Beer.
Famous Snacks;
Myanmar has a number of popularity snacks that you can enjoy while spending your vacation. Here are some of them to start with…….
1.  Myanmar Tea
If you ever go to Myanmar, one of the first things that you'll notice that every town, and usually every block in every town has a tea shop at it.
Tea is a part of Myanmar culture and important in daily life. Myanmar is one of the countries that cultivate best tea in the world. Most of the Myanmar people enjoy a cup of tea and tea shop will be full with many visitors, lively and noisy. Of course, for most people who are crammed in a small house with every other member of their family, tea shop is not only to have a cup of tea but also a place to gather outside of home and chat or just hang out.
2.  Mote Lin Ma Yar (Husband and Wife Snacks)
This is a quite popular Myanmar Street Food and so delicious with it's fun name. Literally called as "husband and wife snacks," these tiny bites are a visual delight. These crispy snacks look cute and the taste is really superb.
Dollops of rice flour batter are added to a large sizzling cast iron pan that resembles a muffin tin. Toppings such as quail eggs, scallions, or roasted chickpeas are added to half of the dollops, and then, like a husband and wife, the two halves are joined to make a little round cake.
Mote Lin Ma Yar vendors are found all over the downtown area, but a particularly picturesque cart can be found on Anawrahta between 29th and 30th. Here the fried bites are extra crisp, and the quail eggs are cooked perfectly, not dry and oily like at other vendors.
3.  Lan Tha Yel Mote (GANGSTER SNACK)
This snack has a funny name and fresh vegetables are stuffed inside mixing with grand masala, spin onion and chili. You can find this snack around the downtown area and don't hesitate to try it.
4.  Khaw Pote
Crispy Sticky Selection!
Khaw Pote is a kind of appetizing snack of the Shan national race, who lives in the Southern part of the Shan State. Khaw Pote is not only a popular snack for the Shan nationals, but also for all nationals. We can easily eat Khaw Pote by frying or roasting it. Khaw Pote is more delicious if you eat with roasted and pounded sesame, and brown slab sugar. And you can also eat Khaw Pote only without mixing with other ingredients.
5.  Mote Kalamel
Mote Kalamel is one of the Myanmar Traditional Street Snacks. When making Mote Kalamel, coconut is one of the most essentials. As the dough Mote Kalamel has no chemicals dyes and smell, it is suitable for any kinds of people and can get the tastes of sweetness and softness from the mixture of coconut and black sticky rice.
6.  Bain Mote (Street Pan Cake)
Bain Mote is one of the famous breakfasts in Myanmar and it is the Myanmar Style pancake which is made with rice flour, palm sugar, coconut chips, peanuts, garnished with poppy seeds and butter. It is fluffy in the middle and slightly crispy on the sides. Taking a bite out of it will make you feel like celebrating.
7.  Mote Sein Paung
Mote Sein Paung is suitable for the people who don't like sticky rice!
In our country, most of the desserts are made of sticky rice. But, Mont Sein Paung is not like other snack. The meaning of Mote Sein Paung is "Steamed Rice Cake" and made of rice, jiggery and you can see two layers that the brown layers is made of jiggery and the white color is only made of rice. After steamed, we can eat together with coconut shreds and a few sesame salts. The taste of the jiggery layer is sweet and the white layer is rich in taste. If you like sweet, you can say to seller 'please, give me more brown color'. Mote Sein Paung can available from vendors, hawkers and Myanmar traditional dessert restaurant.
8.  Kauknyintok (Banana Cake)
Kauknyintok is a kind of banana cake that you should try in Myanmar. Its crust is made from glutinous rice and its kernel is made from a banana, sugar and coconut milk. You can find Kauknyintok Banana Cakes at any small restaurant, vendors, streets or Myanmar traditional dessert restaurant. You should try this food as a wonderful taste when visiting the capital of Myanmar.
9.  Shwe Yin Aye
Shwe Yin Aye – one of the popular Myanmar traditional dessert, is sweet and soft. It is made by steamed sticky rice, coconut milk jelly, tapioca seeds, coconut milk, sugar bread and ice. It is served free to everyone during Thingyan (Myanmar New Year) as New Year donation by most of the local families. However, there are also street vendors selling Shwe Yin Aye, so better make sure before you eat its fee or not. This simplest dessert is sweet, delicious and usually cooling on hot days and easy to make.
10.  Shwe Kyi
Must-eat dessert!
Shwe Kyi is a Burmese traditional dessert cake / pastry, made with semolina, sugar, butter, water, eggs, shredded coconut, poppy seeds and salt. This sweet semolina cake is a popular tea time treat in Myanmar, and often comes in a diamond-shape. Shwe Kyi is sometimes also called Sanwin Makin, depending on whether additional ingredients like walnuts or raisins are added. It is popularly served during traditional donation feasts, satuditha feasts and as a street snack. It is typically sold in the streets in large round pans. But also, it can available from markets, vendors and Myanmar traditional dessert restaurant.
blog comments powered by

Disqus