Featured Article by Latvian Influencer: 12 Reasons to Visit Beautiful Myanmar by Anita Sane
Posted on Thu December 19, 2019.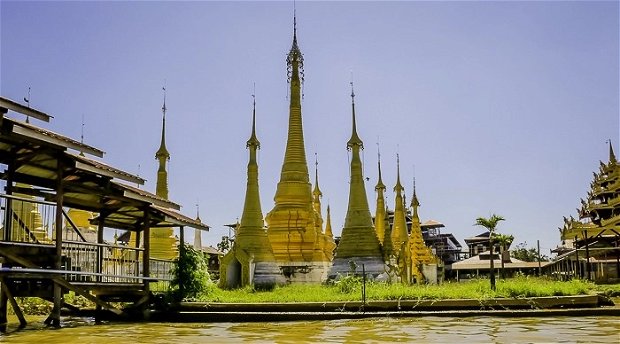 12 reasons to visit beautiful Myanmar
When I was getting ready for my trip to Myanmar, I told my friends about my next destination. I got two reactions, the first was, is it safe to go to Myanmar? The second: nobody goes there. Yes, statistics prove that Myanmar is the least visited country of Southeast Asia, mainly because of long years of military regime there. But the situation has changed since 2016 when Aung San Suu Kyi, a Nobel Peace prize winner, took the lead of the Myanmar government. Despite the long Rohingya crisis rooted in history, the country is slowly getting better improving its economy and infrastructure. In my understanding, at the moment, traveling to this country is an opportunity to support positive changes there.
And yes, it was completely safe in all the places I visited. So here are my 12 main reasons for visiting this awakening country.
1 Inle Lake Fishermen
Inle Lake is the second-largest in Myanmar (Burma) and the Inthar fishermen have become real bait for tourist visits there. These Burmese fishermen have mastered an unusual technique for paddling their boats. They are carefully balancing on one leg, wrapping their other leg around the oar to guide the vessel through the freshwater lake. This way, the fishermen can keep both hands free to handle the nets. The men in this region begin fishing when they are 13 years old and carry on until around 75 years old. Every day the fishermen will catch a small selection of carp using conically shaped nets which they submerge in the 10 ft deep lake. Inthar means 'sons of the lake' and the Inthar fisherman has long been an iconic image of the people of Inle and Myanmar.
2 Bagan hot air balloon ride
Since long time ago, mystical pictures of Bagan temples were blowing my mind. As you may know, Bagan is famous for its thousands of old pagodas and stupas stretching into the horizon. I think the flight over the area at sunrise is the best way to have a memorable aerial perspective of the place. Sunrises cast their light against ancient temples and pagodas, and they are even more incredible from the soaring heights of a hot air balloon. A hot air balloon ride over Bagan was named among "Top 10 Things to Do in Indochina Region" by Odynovo (formerly Odyssey) Tours. Balloon flights typically take place at sunrise or sunset and last around an hour. And it only runs from October to end of March every year. So even though it's not cheap at all, it could be your memory of a lifetime.
3 U Bein bridge
The beautiful U Bein bridge is one of Myanmar's most photographed and iconic sites. With its picturesque structure, lively local life and legendary sunsets, it's one of the country's premier tourist attractions. Situated 11 kilometres south of Mandalay, the unique U Bein is the world's longest and oldest teak bridge, stretching 1,2 kilometres across the shallow Taungthaman Lake. It is accessible to pedestrians and cyclists only, along with four covered pavilions and is supported by over 1,000 wooden posts. The bridge is around 150 years old and was constructed of timber, just a part of poles had to be replaced by concrete supports. The bridge is named after mayor U Bein who supported its construction. Views of the bridge are most impressive at sunset, and the best photo opportunities are from a boat to get a close up view of the bridge from the water.
4 Biggest book in the world
OK, it's not a book the way you usually imagine books. It is a series of huge stone tablets surrounding the Kuthodaw Pagoda in Mandalay, Myanmar. 729 marble tablets tell the story of the Tipitaka, the central text of Theravāda Buddhism. Each stone slab has a small pagoda erected over it. When they were built at the end of 19th century, the writing was filled with golden ink and decorated with precious stones, but unfortunately, when the British invaded in the 1880s, the soldiers looted the ink and the gems. In 2013 Kuthodaw Inscription Shrines were included in the UNESCO's Memory of the World Register.
5 Sunsets of Myanmar
Myanmar is called the "Golden Land" so you can imagine that country has some of the best spots to experience the most beautiful sunrises and sunsets. I saw quite a lot of sunsets and a few sunrises and I can say they are awesome. The one I liked the most was a sunset view from a Mandalay Hill and also the one from Red Mountain Estate Vineyards & Winery near Inle Lake. Visiting Winery and having dinner and a glass of wine is the perfect way to end the day exploring the area surrounding Inle Lake. This winery has some 400,000 plants on its property, claiming to produce some of the best wine in the country, with plants imported from Spain and France.
Everyone who arrives in Mandalay usually visits Mandalay Hill, which is the landmark of Mandalay and overlooks the city. It is believed that the Buddha predicted that a great religious city would emerge at its base. The Mandalay Hill summit is 230 meters above the city so you can enjoy panoramic views of Mandalay and its environs from the top. In the evening, the platform of Mandalay Hill's Su Taung Pyi pagoda is crowded with tourists who come to experience beautiful sunsets.
6 Street food
I find street food in Asian countries to be a real key to feeling the real taste of the country. So it was the same with Myanmar. The country has food influences from China, India, and Thailand. The food varies from region to region. The most traditional dish that you will find all across the country is rice with different kinds of curry. You can get Burmese curries typically in chicken or pork served with 4-6 small side dishes to go with a plate of rice. These curries are not very spicy, so they are safe to try for everyone.
If you are a fan of barbecue, you can't miss grilled skewers from vendors on the street. Delicious skewer of peeled baby potatoes will be grilled with any ingredient of your choice. The best street food can be found at temporary carts set up by vendors each morning or afternoon.
7 Puppetry
In Myanmar, string puppets were born during the Konbaung dynasty, in the late 18th century. From then on, puppet theatre grew in popularity. It wasn't until the 1920s that the theatre started to decline, partly because of the arrival of the cinema as an alternative entertainment. A Burmese marionette troupe must have 27 characters, including a king, animals such as horse, elephant, tiger, monkey and parrot, ministers, prince and princess and buffoons. A traditional Burmese orchestra usually provides the music. Puppets are usually made of wood. Growing interest in tourism has given a boost to the flagging puppet theatre in Myanmar.
8 Arts and handicrafts
There are many kinds of traditional handicrafts including wood carving, gold leaf beating, silk fabric making and lacquerware in Myanmar. Since Myanmar produces good quality teak wood, intricate wood carvings can be seen on religious buildings and hotels. Travelers may bring home wood carved fridge magnets like these.
In Myanmar, gold leaves are widely sold at the pagodas to gild the Buddha image or stupa with gold-leaf. The typical gold-leaf square measures just 0.000127 cm, thinner than ink on a printed page. Gilding a Buddha image or a stupa with gold leaf brings great credit to the gilder, so there is a steady growth of gold leaf cover on many images in Myanmar. These gold-leaves are made in Mandalay.
Myanmar people used to dress in silk gowns on special occasions like wedding and religious ceremonies. It served as a ceremonial dress. Mandalay and Inle are the origins of silk fabric production in Myanmar. Both spinning and weaving are done manually by a wooden spinning machine and wooden hand looms.
Lacquer-ware is a famous local craft that has developed over time into an art form of refined quality. Lacquer-ware is crafted from a mixture of the sap of the thitsi tree and ash applied on the surface of woven bamboo or wood. At present, the Bagan area is the best known for Myanmar traditional lacquerware products. By the way, did you know that Burmese week has eight days like pictured on this tray: Monday, Tuesday, Wednesday morning (00:01-12:00), Wednesday afternoon (12:01-00:00), Thursday, Friday, Saturday and Sunday? Each day is linked to a star sign. A child is often named according to the day of the week he (or she) was born. For instance, Monday is denoted by letter "K" and names like Khin, Kyaw, and Kyin.
There are many artists in Myanmar, especially in Bagan.
They offer their paintings of the surroundings and people made in different techniques, so you can choose the right one for you.
9 Mandalay rum
Frankly speaking, I am a cognac drinker with special appreciation of Otard brand. In Myanmar, imported alcohol is quite expensive so I decided to try something local and I was happy about my first choice: Mandalay rum. Mandalay Rum dates back to 1886 and now it's manufactured and distributed by Victory Myanmar Group Co. The company makes a robust lineup of rums, including white rum. According to experts, Mandalay rum has some brandy qualities in it so it really fits my taste. You can feel wine, fruits and oak, mostly, plus hints of fresh sugar cane. Unlike other distilleries that use oak wood to mature the rum, Mandalay Rum is aged in yamanay wood, which gives a smoky palette to it. Most world rums, including Caribbean rums, are artificially flavoured and coloured and are much sweeter than Mandalay Rums. By the way, rum is surprisingly cheaper than beer in Myanmar, so give it a try. A bottle of Mandalay Rum costs about 3000 kyats (2 USD) or more depending on where you buy it.
10 Affordability
In my opinion, Myanmar is very affordable and you can get good value for your money. The local currency is kyat and I paid in kyats mostly. In some places, they do not accept dollars and in most places, they accept only brand new dollars so I found kyats easier to use. For a short taxi ride in Yangoon, you pay about 2000 kyats (1, 30 USD), for longer up to 4000 (2, 60 USD). For a tuk-tuk, for a whole day in Mandalay, I paid 30 000 kyats (19 USD).
For a half day trip to Mount Popa from Bagan by taxi, I paid 35 000 kyats (22 USD).
Eating out in Myanmar is inexpensive – you can expect to pay $1 to $3 for a simple meal at a local eatery. For western food, you should pay no more than $5 to $10. Upscale places are more expensive. Tap water is not safe to drink so you will need to buy bottled water, which costs around 30 cents per bottle. Most historic sites require an entry fee for foreign travellers, which range from US$2 to $25; smaller and less well-known sites are cheaper. Bagan archaeological site entrance fee is 25 000 kyats (16 USD), Inle lake area 13 500 kyats (8,5 USD), Mandalay main sites combo entrance fee is 10 000 kyats (6,3 USD).
I used Asian Tour services of transportation, transfers, and lodging (not tours) for my trip so I have no my experience for the price of hotels. I paid 513 USD for 11 days 10 nights personalized package trip per person for two persons sharing 3-star hotel rooms. I think it is a great value for money.
11 Safety
Much of the country is perfectly safe, including all the places I visited. Yangon, Bagan, Inle Lake, Mandalay, Hsipaw, Kiyakto, and the Mergui Archipelago have no travel restrictions for tourists and pose no risk for leisure travelers. The U.S. Department of State ranks Myanmar as a Level 1 country, the same as Canada or the Netherlands, and recommends that travelers "exercise normal precautions". But even if it's safe, is it ethical? Myanmar has had issues with its treatment of more than 130 ethnic minorities since long time ago. There's nothing new here. So moral conflict attached to visiting Myanmar has been around for much longer than the past five years. Keep in mind that homosexuality in Myanmar is actually illegal. Only a few years ago, a citizen of the EU was sentenced to seven years in a Burmese prison for a "homosexual act". Be careful with tattoos and images of Buddha. It was only in 2016 that a Spanish national was deported from Myanmar after monks found a tattoo of Buddha on his leg. In some Burmese tourist spots like Mt Popa, you will encounter monkeys that will harass you for food. My advice is to just give them what they want as they might bite you.
12 People
People of Myanmar are friendly and try to give you the best advice they can.
Some service people try to cheat tourists, for example, I was laid off by taxi driver about a kilometer away from Karaweik Palace in Yangon where I wanted to go, even though the taxi was arranged by my hotel and I paid a full price, so follow your way on maps.me. I got a great service from Asian Tour Travel Company who fulfilled all their promises and gave me a feeling of safety and reliability during my entire trip. Like it? Pin it!
What did you think? Have you been to Myanmar? Or perhaps you're thinking of visiting there in the near future? Either way, I'd love to hear from you so please add your comments below.
Published by Anita Sane on December 15, 2018