Culinary highlights of Myanmar - 10 days / 9 nights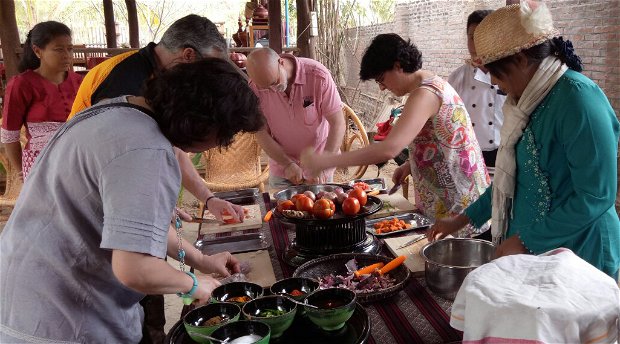 This great value gastronomy tour allows you to tuck into Myanmar's exotic cuisines, in between visits to iconic sites. Enjoy a wide variety of local flavours, tastes and authentic recipes or step-by-step presentation of Myanmar dishes from cooking classes to street-food touring.
Let's go with a local to see the beauties of nature and taste the local food in Myanmar! A famous quote from Rudyard Kipling in 1898 about the country goes: "This is Burma and it is unlike any land you know about".
Remark: This tour is just an example and can be customized to your preferences.
Gallery
Itinerary
Welcomed by your guide in Yangon at airport. Transfer to hotel (check-in from 14h00). Your guide will provide an introduction of the trip. Rest of the day free.
Overnight stay in Yangon.
Meals Included: None
After breakfast, meet your guide at hotel lobby. Head to Yangon's vibrant historic downtown for a easy walk among the atmospheric city streets accompanied by your guide. You may experience the history and architectures of old colonial buildings and why not photos !!!
Along with the walk, you will see the best of Myanmar street food with a local's perspective eating as appetizer from our handpicked locations that are safe and tasty. Stop at Lucky 7, a local teashop where a chance to experience an integral part of Burmese life: drinking tea!  Enjoy a variety of traditional Burmese snacks and noodles. Some of the famous dishes are mont pyar tha let (rice pancake), mont leit pyar (wanton-like parcels of bean and jaggery), shwe htamin (golden sticky rice), mohingar (rice noodles with fish soup - Myanmar's national dish) and own noe khauk swe (yellow noodles with chicken and coconut soup).
From there, continue walk to 999 Shan Noodle. On the way, pass by the Secretariat Building and St Mary's Catholic Church, two grand colonial-era buildings with rich histories. At the restaurant, sample Shan noodles, a famous staple of the largest ethnic tribe in Myanmar. Typically eaten for breakfast, Shan noodles can be had as a soup or salad and are fantastic any time of day, you may try as a light lunch. Transfer to your hotel for a short break.
In late afternoon, we take you through the back door and show you the full history of the Shwedagon Pagoda. Starting from the bottom of the hill and passing the workshops, markets and monasteries which will be useful to understand more of the country during the rest of your journey. Spend sometimes at Shwedagon Pagoda till dusk to enjoy sunset.
Then, continue to China Town, walk through a bustling night market before heading to 19th street. Famous for its barbeques, 19th street is a lively place to enjoy meat and vegetable satays, washed down with Myanmar Beer that you enjoy the finishing of the day. Transfer back to your hotel.
Overnight stay in Yangon.
Meals Included:
Breakfast: Hotel
Lunch: Shan noodle light lunch
Dinner: Local barbecues  & stays with 1 bottle of Myanmar Beer
Day 3
Yangon - Mandalay (AM Flight)
Breakfast at hotel. Transfer to the airport for a domestic flight to Mandalay.
Upon arrival, welcomed by your guide in Mandalay and enjoy a comprehensive tour of Mandalay, a highlight of which is the Mahamuni Pagoda, home to a spectacular Buddha image covered with thick layers of gold leaves. Mandalay's cottage industries, such as gold leaf being beaten into wafer thin pieces and famous Mandalay Htoe Mont & Hla Mont making.
Take a break from sightseeing to discover another uniquely Burmese culinary treat: Le Phet Thoke. Stop at Min Thiha tea shop, which is a popular tea house in Mandalay serving two of the city's most famous dishes: Mandalay monte and khotaung monte. Tea houses in Mandalay are always full of local people, serving not only as a place for having tea, but also as a hub for socializing and doing business. For example, a car or real estate broker may sit at a tea shop for an entire day in the hope of finding potential new customers. Enjoy this typical Mandalay atmosphere while filling up on a delicious traditional lunch. Transfer to your hotel.
After a short break, continue experience the sights and sounds of Mandalay including the Shwe Inbin Monastery; the Golden Palace Monastery, a superb example of a traditional wooden building and Kuthodaw Pagoda the world's largest book made of marble. Then proceed to Mandalay Hill for sunset.
Overnight stay in Mandalay.
Meals Included:
Breakfast: Hotel
Lunch: Min Thiha Tea Shop
Dinner: -
Day 4
Mandalay - Mingun - Sagaing - Amarapura
After breakfast, an excursion by boat on the Ayeyarwaddy River to Mingun, about 11 km (1 hour) upriver from Mandalay. Visit the unfinished Mingun Paya, which was meant to become the largest stupa in Myanmar constructed by King Bodaw Paya; one of the world's largest bells and the 90 ton weighing Mingun Bell and Hsinbyume Paya. Return back to Mandalay. Lunch at Mya Nandar riverside local restaurant.
In the afternoon, visit picturesque Sagaing, perhaps the living centre of Buddhist faith in Myanmar today. The hills here are dotted with numerous pagodas and monasteries. Continue to Amarapura, to visit to Shan Kalay Kyun Village, located south west of Mandalay on an island. Walking around the village, we can observe the famers and fishermen's way of life, the seasonal farming plots where they grow peanuts, corn, water melon, cucumber and many other vegetables. Take a sunset stroll on U Bein Bridge, which at over a kilometre is believed to be the longest teak bridge in the world.
Overnight stay in Mandalay.
Meals Included:
Breakfast: Hotel
Lunch: Mya Nandar Restaurant
Dinner : -
Optional:  Early morning face washing ceremony -
You are picked up by car at 04:00 to observe the traditional ritual of the daily face-washing ceremony at Mahamuni Pagoda, the most important pilgrimage site for local people. 
Day 5
Mandalay - Yandabo (by car)
After breakfast, drive to Yandabo Village (110 Km, about 3 hours) Yandabo is a village on the Ayarwaddy River in central Myanmar, where The Treaty of Yandabo (which ended the First Anglo-Burmese War) was signed on 24th of February 1826. It is also a well known destination for the pottery making ability of its habitants: when visiting the village the guests will be able to see pots like the ones in this picture made out of the river bank clay. For Yandabo villagers pottery making is also fundamental to store water and food supplies and for this reason one person can make from 30 up to 70 pots.
Upon arrival, check in at Yandabo Home, overlooking the shores of the Ayarwaddy River, nestles among the local houses of the charming Yandabo village. Lunch at hotel restaurant, with its marvelous wooden deck overlooking the river.
Afternoon, visit ashore for a walk stopping at some pot-making workshops and to visit the school and the monastery. Enjoy sunset time by walking along the river bank of Ayarwaddy River.
Overnight stay in Yandabo Home.
Meals Included:
Breakfast: Hotel
Lunch: Yandabo Home
Dinner: -
Day 6
Yandabo – Myingyan - Bagan (by car)
After breakfast, drive to Bagan (106 Km – around 3 hours) through Myingyan small town. Arrive Bagan and lunch at Art at Bagan Restaurant, a nice restaurant overlooking Ayeyarwaddy River serving delicious Asian food. Transfer to hotel for check-in.
Afternoon, visit to famous temples and pagoda of Bagan such as Shwezigon Pagoda, built by King Anawrahta in the early 11th century. See 13th Century frescoes adorning the corridors of Kyansittha 'Cave' Temple. Next stop is Htilominlo, the last Bamar style temple built in Bagan and then to Ananda Temple, a whitewashed masterpiece of Mon architecture with four standing Buddhas. Continue to Sunset Hill (an elevated viewpoint) to watch an unforgettable sunset over the plains. Then, proceed to Nandar Restaurant, mostly known for its traditional puppet shows, for dinner.
Overnight stay in Bagan.
Meals Included:
Breakfast: Hotel
Lunch: Art at Bagan restaurant
Dinner: Nandar restaurant with puppet show
After breakfast, drive to Wet Kyi Inn village where you will learn the cooking process of typical Myanmar dishes at Acacia Cooking Class. Before start cooking, you will be led to the Nyaung U market and buy the goods you would need for cooking. Helped by the chef, prepare ingredients using traditional techniques such pestle and mortar, and cook several Burmese favourites. This class will be an extremely insightful introduction of Burmese cuisine and the typical eating habits of local people. After having prepared local dishes, time to sit down and enjoy a feast of freshly prepared delights.
In the afternoon, an excursion to the nostalgic Nat Htaung Kyaung, a monastery famous for woodcarvings, built in 1781 by a group of monks. Admire the monastery's collection of ancient Buddha statues and lacquer boxes. As the sun begins to set, return by boat on the Ayeyarwaddy River, enjoying magnificent views of the temples and riverside villages while slowly sipping cocktail on board.
Overnight stay in Bagan.
Meals Included:
Breakfast: Hotel
Lunch: Acacia Cooking Class
Dinner: -
Optional: Early morning Balloon Ride in Bagan
Experience the magic of Bagan and a thousand years of history from the enchanting platform of a hot air balloon, for the first time ever. Balloons in Bagan offers visitors exclusive sunrise champagne flights over the ancient pagodas of Bagan from late October to April.
Day 8
Bagan – Heho (AM Flight) - Inle Lake
After breakfast , transfer to airport. Flight to Heho.
Upon arrival, welcomed by your guide in Shan State and drive (25km – 1 hour) to Nyaung Shwe, the gate way town to Inle Lake. Stopping on the way to visit Shwe Yan Pyay Monastery.  Continue drive to the Red Mountain Estate Vineyards and Winery, which is located at the northeastern part of Inle Lake. Here, you can enjoy magnificent views of Inle Lake and its stilted villages while tasting the local wines and observing the Old World grape varieties grown in the estate. Lunch at Red Mountain Restaurant.
Continue to Nyaung Shwe jetty. Board a private  local boat and head out to Inle Lake, one of Myanmar's most spectacular sights. Pass villages built on stilts over the lake, inhabited by local Intha people. Observe the leg-rowing fishermen and see their floating gardens built up from strips of water hyacinth and mud and anchored to the bottom with bamboo poles.
Overnight in stay Inle Lake.
Meals Included:
Breakfast: Hotel
Lunch: Red Mountain Winery
Dinner: -
After breakfast, visit the daily market on the lake, which rotates every five days between villages surrounding the lake. Proceed to Inthar Heritage House, which serves as a restaurant, vocational training center, organic garden and even a home for Burmese cats. 
After a welcome drink (Shan tea, fresh juices), the staffs will show you the cooking area. Next the chef will present you the menu, give details about the class, ingredients and cooking methods. After this introduction, they will show the vegetable gardens and pick the ingredients for the meal. Back to the kitchen, it's time to begin preparing a series of traditional Inthar and Burmese dishes.  The head chef will explain each step while students from the vocational training centre assist with the cooking.  Typical dishes include mint fish soup, long bean salad, fried spring onion and Burmese chicken and potato curry. Once the dishes are prepared, you can sit down and enjoy the meal you just cooked yourself (Coffee/tea and one free soft drink, juice or beer are included).
After lunch, enjoy boat trip on Inle Lake - a photographer's dream. Proceed to the village of Inpawkhone to observe the traditional silk weaving techniques of the Intha people. Then visit a cheroot factory where local Burmese cigars are rolled by hand, before continuing by boat to Phaung Daw Oo Pagoda, the lake's main sanctuary, which contains five sacred Buddha images covered in gold leaf.
If time permit, visit Khaung Daing Village on the northwest shore of the lake. This village is famous for its traditional Shan tofu - fried tofu crackers and folded, triangular tofu treats. Watch and even participate in the process of sifting soy beans, boiling them, mashing them into balls and then forming tofu cakes to dry in the sun. This is a fabulous taste of local life on Inle Lake.
Overnight in stay Inle Lake.
Meals Included:
Breakfast: Hotel
Lunch: Intha Heritage House cooking class
Dinner: -
Optional: Balloons Over Inle
Shan state is one of Myanmar's most beautiful and culturally diverse areas. This exclusive balloon ride is a truly remarkable experience allowing you to venture off the beaten path and gain a unique perspective of the country and people. To fly over the lake in a balloon, has to be one of the most beautiful ways to see this wonder. You will see the morning fishermen looking for the first catch of the day, and boats laden full of produce on their way to the market by the immense labyrinth of canals. At higher altitude you will be amazed to see thousands of village houses seemingly floating on the lake.
Day 10
Inle - Heho - Yangon (AM Flight) – Depart Yangon
After breakfast, transfer to Heho airport for domestic flight to Yangon. Upon arrival, welcomed by your guide  for last minute shopping or sightseeing in Yangon. Lunch will be served at Aung Thukha Restaurant, enjoy an authentic Myanmar food at a typical local restaurant. Very busy place with many kind of delicious dishes are displayed. No menu but you can just point out what you want to eat.
Your guide and car will remain at disposal, till transfer to airport for departure.
Meals Included:
Breakfast: Hotel
Lunch: Aung Thukha Restaurant
Dinner: -