Half Day Yangon Local Adventure Tour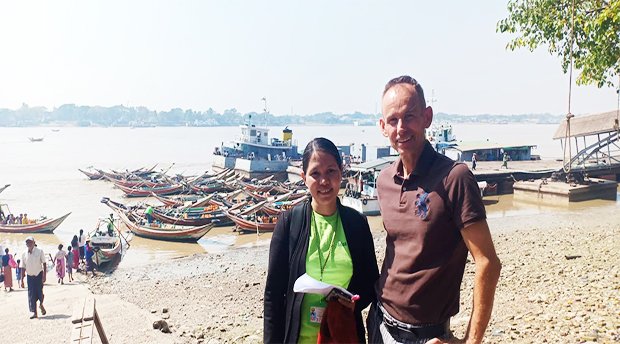 Discover a glimpse of Yangon's beauty and gorgeous with this Half Day Tour. Surely, this tour will gives you experience every place you visit feel like a genuine local.
Remark: This tour is just an example and can be customized to your preferences.
Gallery
Itinerary
13h00 - 18h00
Meeting point is on Strand Road, opposite Strand Hotel entrance
Head to Nanthida Jetty where you can watch the busy life on the Yangon River and to see the daily communication of people from sub-urban area to the city center. From there, get on the local public transport bus to Bagayar Jetty. Be prepared to be thrown into the midst of local life and if chance, chat to curious travelers nearby. At Bagayar jetty observe the arrays of local lives; stroll through the Banana Market, where you will be intrigue about some of the trishaw drivers cart Bananas onto their trishaws and full of banana bazaars along the tiny river side street. 
Walk about 15 minutes to the Kyee Myindaing Market for a true taste of township life in Yangon. Most townships in Yangon have their own markets tucked within the folds of their communities like Kyee Myindaing's market – so perfectly packed with everything Burma. Fresh fruits, vegetables and flowers flaunt their colors and fragrances as locals zigzag through. Clothing stores, grocers, greengrocers, butcher, baker, fish mongers, etc… can also be seen.
Continue walk about another 15 minutes on township streets to explore a series of Buddhist Supply Stores where accessories of Buddhist shrines are locally produced. Continue a few minutes to Koe Htat Gyi Pagoda meaning the Nine Story Buddha Image, with a gigantic sitting Buddha image and also small shops selling books, beads, wooden or bronze Buddha images and are also some palmist and fortune tellers. Fortune tellers and superstitions play important role in Myanmar society and are found all over the country. As a local, meet with a fortune teller and learn about your future.
After that, a trishaw will take you along the busy tiny streets of Sanchaung to Myaynigone. Continue, visit on foot to the People's Park through plenty of pleasant such as flower gardens and ponds; fountains, including one made of concentric rings of white elephants; and treetop observation platforms linked by fun swinging bridges. And also visit an Art Gallery at the end of park.
Continue to a local tea shop for a chance to experience an integral part of Burmese life: drinking tea! Select from an array of snacks and enjoy a coffee or tea while sitting amid local friends and families who gather at the tea shop to socialize or conduct business.
Proceed walk to the Pyay Road Railway Station for another adventure, a train ride on the Circle Line. Opened in 1961, the train carries an estimated 15,000 to 20,000 people a day in a loop around the city. This is life the way the locals live it - a unique, fun and authentic experience. While waiting for the train, you can stroll around to see the interesting city's backyard scene. Enjoy train ride about 15 minutes and get off at Yangon Central Railway Station, located in downtown, largest railway station in Myanmar, where your local exploration comes to end.
What's included
What's excluded
Hotel accommodation
Meals
Tips
Services, which are not mentioned in above