Unforgettable Boat Trip to Sunken Stupas Sagar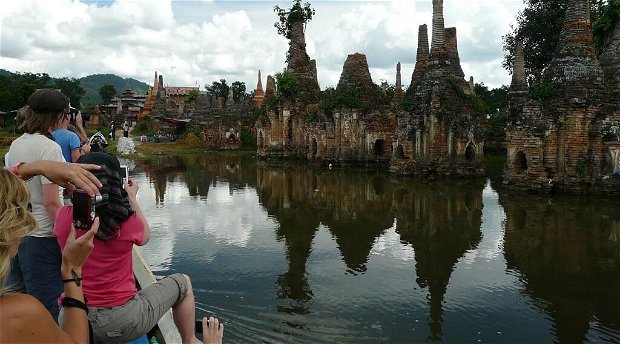 The private Sagar boat trip is one of the fantastic ways to explore Inle Lake and Sagar. Sagar offers a taste of the 'real' Inle Lake. The main attraction in Sagar is the Sunken Stupas, 108 old stupas often flooded by water. Natural beauty, friendly people, local lifestyles and serene waterways that make this day trip an unforgettable adventure.
Gallery
Itinerary
INLE LAKE / SAGAR
At 08.00, take a boat and proceed to SAGAR, also called SAMKAR, a rarely visited area so far south of Inle Lake, past the sugarcane plantations, Bamboo forests. Enjoy scenic views on the lake with frolicking pigs and buffaloes along the journey. Upon arrival in Sagar, stroll through the village and explore the unspoiled culture and traditional life-styles of the ethnic groups of Pa-O and Intha inhabited around Sagar. Learn more about the earthenware pots production and handicraft centers where monk robes are woven from lotus plants.
You will also see rice mill, bullock cart wheels making workshop in the village. Stop in the village nursery to greet children, very shy and curious to meet the visitors and greet the patient and grateful ethnic teachers teaching and caring their pupils kind-heartedly. Then, visit the Sagar's ancient temple site and enjoy the vista of the numerous pagodas. The beautiful landscaping, flowering trees and settlements dotted on both sides of the canal could be a delight on your return to Inle.