Trekking in the Hills of Pindaya - 3 days / 2 nights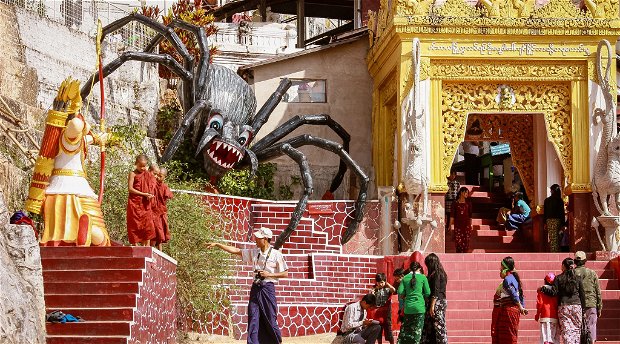 As everybody knows Shan state is famous for plantation, adventure trekking, ways of life of the very traditional people and their workshops. Here on this tour, you will visit the famous Pindaya Cave, Traditional Umbrella and Bamboo paper workshop. Passing through some villages, along the way you can see the Danu people and Palaung people who are planting or harvesting the tea leaf and other crops. Warmly welcome villager smiles will touch your heart. Getting a chance to enjoy the beautiful overlooking view of the region, meet with local people and eat a traditional home cook will give you an experience you'll never forget.
Remark: This tour is just an example and can be customized to your preferences.
Gallery
Itinerary
Day 1
Inle Lake - Pindaya
Drive to PINDAYA (63.4km, 1hr 33min), and visit PINDAYA CAVE, a unique site housing thousands of Buddha images placed there by pilgrims and devotees over the centuries. Continue to visit the Traditional Umbrella and bamboo paper workshop.
Overnight stay in Pindaya.
Day 2
Pindaya Trekking - Htut Ni - See Kya Inn - Yazakyi
After breakfast, hiking to Htut Ni village (1.5 hrs). You will see the life style of Danu People (one of the ethnic minority of Myanmar) living on growing tea leaf as their main business and other crops. Proceed to SEE KYA INN Village (meaning the village of misty lake) located in the forested mountain (1 hr) passing through tea leaf plantations. Traditional home cook lunch will be served at one of the local family house. After lunch proceed to YAZAKYI Village (1 hr) which belongs to Palaung people (one of the earliest settlers in Myanmar scattering around the mountains of Shan State) meet the local Palaung people and enjoy the village life.
Dinner and overnight stay at the monastery of the village.
Day 3
Taung Paw Gyi - Pindaya
After simple breakfast at the monastery (prepared by your trekking guide) proceed to Lin Lai Inn and Taung Paw Gyi village (2hrs). While walking enjoys the beautiful overlooking view of the region and arrive back to Pindaya (2hrs), around at 12:00.
                                                                       End of Program !
Note: Walking time and place may change subject to weather and unforeseen situation.The villages you will be passing through are very traditional. Conservative dress will be appreciated.