The Other Side of Yangon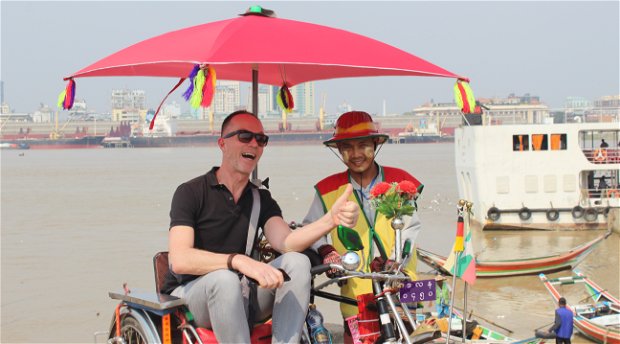 Deep dive into the untouched countryside where to wonder the real rural beauty just at the other side of Yangon. Take a local ferry boat to cross the Yangon River to an almost car-free island and everything you will see there might be much of a difference with the big city like Yangon. Enjoy the quiet and peaceful area of Dala and study the local life style of people.
Remark: This tour is just an example and can be customized to your preferences.
Gallery
Itinerary
08h30 - 11h30 (or) 12h30 (Approx.)
Meeting point is near Nan Thida Ferry Terminal in front of Junior Duck restaurant
Meeting point is near Nan Thida Ferry Terminal in front of Junior Duck restaurant. Your guide wearing green T-shirt holding signboard " Asian Tour - The Other Side of Yangon "
Meet with your guide and get briefing about the whole tour. After that take a local ferry boat to cross the Yangon River and into the small town of Dala. The ferry that crosses the Yangon River is used every day by thousands of local commuters going to and from work. The scenery quickly changes once you cross the river, from the busy streets of Yangon to the quiet countryside of Dala. After reaching Dala, travel by trishaw through the scenic town with its trees, local neighborhoods and quiet side streets. Stop at a tea shop to experience a daily staple of life in Myanmar and taste the Burmese typical breakfast. While in Dala, visit the market and have plenty of opportunities to stop and interact with the friendly locals.
Trishaw drivers will take you on country roads through local villages to a monastic school. Here you can meet the children and talk to the teachers (with help of your guide). The head monk does all he can with very limited funds to create a good life for the children, and if you care to make a donation while you are here it will be welcomed for the purchase of school books, blankets, rice, clothing etc. The children are delighted to meet foreigners, and these encounters can be very rewarding for visitors.
Next visit is to Chu Chu Workshop; you will see how the plastic bags from the garbage are turned into useful products. Chu Chu members gather plastic bags from the dumping sites and markets in Yangon and work to develop new designs that meet the local and international market demand.
 On your way back to the ferry enjoy the views of real local rural life - nothing like the busy streets of Yangon on other side of the river. Return by ferry boat to Yangon, observing life along the river and reflecting back on the excursion to Dala.
Arrive back to Nan Thida Ferry Terminals where your day excursion comes to the end.
What's included
Dala ferry
English speaking guide
Dala trishaw
Tea and snack at local tea shop in Dala
Activities as mentioned
What's excluded
Meals (Lunch / Dinner)
Gratuities
Personal expenses
Travel insurance