Mystery of Kachin State - 6 days / 5 nights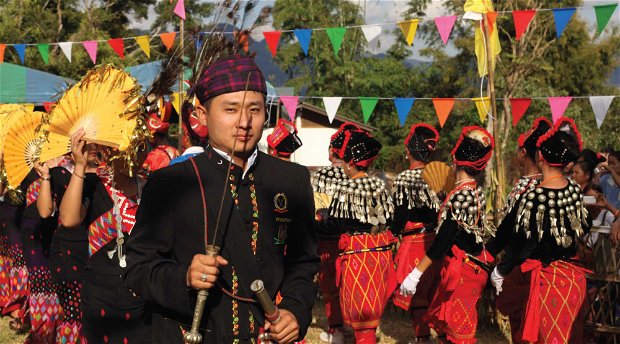 Get far away from the normal touristic trail with one of our special tribal tour packages to the intriguing Kachin State.
Fly to Myitkyina, the State's sleepy capital; head to the countryside where beautiful views abound. Experience the cultural, ethnic and religious diversity before visiting Myitsone, the source of the Irrawaddy River. Extend your trip to Putao, a small and picturesque town in the Himalayan foothills, with a mostly ethnic Kachin and Lisu population. There is Fort Hertz, a remote British Military outpost during the late British colonial era, near Putao. This last frontier town in northern Myanmar will accomodate multiple interests such as hiking, photography and bird-watching etc.
Enjoy travelling through thickly forested canyons with exciting rapids, and enjoy the combination of scenery with introspective spots along the beauty of river banks. Trekking and hiking activities will take you through local settlements where most of the people have never seen a foreigner before. You'll get a glimpse at the real face of tribal communities as you walk through.
This tour is worth to visit in January due to the famous Manaw Festival in Myitkyina.
Remark: This tour is just an example and can be customized to your preferences.
Gallery
Itinerary
Day 1
Fly from Yangon / Mandalay to Myitkyina
Meet and greet by your guide in MYITKINA and transfer to hotel. After a short refreshment, start to explore Myitkyina and surrounding. Such visits will include Aung Ze Yan Aung Paya, a pagoda noteworthy for its arching ranks of about 1000 little buddhas sitting in the grounds; and Kachin State Cultural Museum which displays Kachin and Shan costumes and other traditional instruments, farming tools and ethnological artifacts with English captions.
Continue with the 1.5 hour drive to Myit Sone. Literally meaning 'confluence', this town 38km from Myitkyina is the place where the Maykha and Malikha Rivers join to form the Irrawaddy River. The area is spectacularly beautiful and played a key role in Myanmar's history. Enjoy lunch (on own account) at one of restaurants scattered on the bank of Myit Sone.  After lunch, take a boat trip along the waterways, exploring the Maykha and Malikha River and enjoying the natural beauty and unique tradition of local people in Kachin State. Then transfer back to Myitkyina late this afternoon.
Overnight stay in Myitkyina.
Day 2
Myitkyina - Day excursion to Winemaw
After breakfast, start your tour in Produce Market, a riverside market specialising in colourful heaps of Chinese fruit and local vegetables.  Visit a traditional weaving industry and learn how traditional Kachin costumes are made in intricate designs and patterns.
Then, cross the Irrawaddy River via Bala Min Htin Bridge to the town of WAINE MAW (about 45 minute drive). On the way, make a stop at Hnant Myin Kha Village which is noted for its vibrant flower beds and picturesque scenery. Upon reaching Waing Maw, visit a blacksmith workshop where traditional Kachin swords are made. Lunch break will be at a local restaurant.
This afternoon continue to Wa Shaung, 32 km from Waine Maw. The small village is home to a hydropower station, yet surrounded by pristine natural scenery. Along the way stop to visit more tribal villages. Return to Myitkyina in the early evening.
Overnight in Myitkyina.
Day 3
Fly from Myitkyina to Putao
Transfer to airport and flight to PUTAO.
Be welcomed by your guide in Putao and transfer to hotel or local guest house (of your choice). Putao, situated 1499 feet above sea level, lies in a flat valley and serves as a starting point for trekkers who want to explore the region's deep forests, wildlife sanctuaries and snow-capped mountains. After small refreshments, take a walk around Putao for the orientation.
Overnight stay in Putao.
Day 4
Putao - Excursion Macahnbaw To Kaungmulon
Early in the morning walk to Putao Market often busy with local ethnic tribes. Return for breakfast. Depart by jeep or local truck through the vast Putao plain on pebbled road to Naungkhine (20 km, 1 hour). There we walk through a suspension bridge span across Malikha River to Machanbaw, a charming administrative town in British colonial style. Visit in and around town.
Then get on the jeep and travel along the Malikha river bank to Namkham (approx. 30 minute). Namkham, a large Rawan village, situates at the bottom of Namhti mountain range which in rich with biodiversity of flora and fauna. Name after a Hkamti Shan name meaning "Golden River" has become the center of cultivation place for the fruits that Father Robert Moss has introduced thus to day famous for its sweet fruits production. Here we explore the village, social and cultural interaction with its friendly people and continue travel by jeep to the site of famous Kaungmulon Pagoda, said to be one of the 84000 pagodas built by Thiri Dhamma Thawka, the great king. We spend some time at this peaceful environment and later drive back to Putao via a suspension bridge across Malikha River (14 km, one hour).
Overnight stay in Putao.
Day 5
Putao - Excursion To Mulashidi
Breakfast and depart by jeep to Mulashidi Lisu village (13 km, approx 30 minutes) through well paved road across part of the Putao plain. On the way, visit another market near Putao airport. Mulashidi, meaning in Lisu "the village stands in the thatch field along Mula River" has been over 50 year since it built by the missionary. Walk around this unique village and enjoy scenery from Mulashidi suspension bridge which spends across Mula River. Here visit the Church and remaining of the home belong to Father Robert Moss, who introduce not only Rawan and Lisu tribe to the region but also fruit like Grapefruit, Washington Naval, Vlincha Orange, Ruby Oranges, King Orange and King Mandarin and American Lime.
Lunch stop and trek uphill to Yekyawdi (2 mile, approx. 1'bd hour). Enjoy view of the Mulashidi plain along with snake like Mula river crawling slow in the Malikha River. Later, visit suspension bridge and enjoy views of the Putao plain having backdrop of snow- capped mountain far in the horizon. Afternoon return back to Putao.
 Overnight stay in Putao.
Day 6
Putao - Return To Mandalay / Yangon
Breakfast and perhaps a last minute shopping at Putao market and further visit in and around Putao with suggestion by guide. Afternoon transfer to airport for your onward departure flight to conclude this unique experience.