Myanmar To Thailand Overland Tour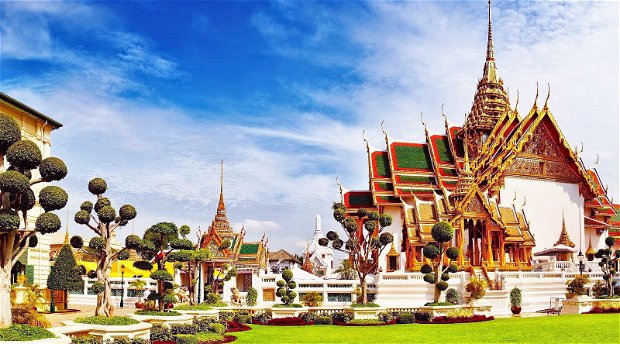 This amazing program, which can be tailored to your own interests and needs, covers Myanmar, Northern Thailand / Golden Triangle and Bangkok. Tour starts from YANGON, with its picturesque colonial architecture, atmospheric markets and glittering pagodas. Take first flight to BAGAN to explore the incomparable thousands of stupas and pagodas. Second flight to MANDALAY, Myanmar's cultural capital before proceeding to Shan State for it's amazing sites, PINDAYA and INLE LAKE. Then, take the last domestic flight in Myanmar to KAING TONG, is known for its scenic beauty and many colorful ethnic tribes. You can observe their way of living on these mountainous regions around Kyaing Tong. Start overland trip to TACHILEIK, the border town; connect with Northern Thailand, Golden Triangle Region. Border cross to CHIANG SAEN through Myanmar-Thailand Friendship Bridge and enjoy visits at Golden Triangle and Northern Thailand. Continue to CHIANG MAI is famous for its elephant care parks. Last flight to BANGKOK, the capital city of Thailand, a center of cultural, religion, trade and historical places.
Remark: This tour is just an example and can be customized to your preferences.
Gallery
Itinerary
Upon arrival at YANGON airport, welcomed by your guide and transferred to hotel (Remark: Official hotel check-in time is at 14.00). Then, depart for a heritage tour start at YANGON CITY HALL, located  at the heart of the colonial-era city. Nearby is the former Immigration Department. This building was designed in 1910 to be the country's most upmarket department store, Rowe & Company. Proceed to the High Court, a 1911 brick building designed by the architect John Ransome. Continue walking down to PANSODAN STREET enjoying impressive colonial buildings and have a stop at HLA DAY, a non-profit social enterprise shop, offers quality contemporary and traditional handicrafts sourced from local producers often struggling to overcome disability, exclusion and poverty. You'll find colorful women's and kids' clothing, soft toys, stationery, jewellery, home wares and more there. Continue to Strand Road, home to the three-story former New Law Courts. Next stop is the 1916 Custom House, a large building with an elegant white tower and double-faced clock above the entrance. Walk past the red brick General Post Office to the luxurious Strand Hotel, built in 1901 by the Sarkies brothers, Armenian hoteliers. And also see the bustling life at the NANTHIDA JETTY. Visit and stroll through the BOGYOKE (SCOTTS) MARKET (closed on Monday and Gazette Holiday), a compound of hundreds of stalls and shops, that gives you the opportunity to see Myanmar's wide range of handicrafts. After a photo stop at the KARAWEIK HALL, a "hamsa-bird-shaped" floating barge on Kandawgyi (Royal) Lake, visit the magnificent reclining Buddha CHAUK HTAT GYI. Evening, visit to one of the world's most spectacular monuments, the SHWEDAGON PAGODA for sunset viewing.
Overnight stay in Yangon.
Day 2
Yangon - Bagan (By AM Flight)
After early breakfast you will be transferred to the airport for a domestic flight to BAGAN. Upon arrival to Bagan, stroll through the colorful local market and continue the day with visits to the most significant pagodas and temples of Bagan: including SHWEZIGON PAGODA, built by King Anawrahta in the early 11th century as a religious shrine; HTILOMINLO TEMPLE, noted for its plaster carvings and KHAY MIN GA TEMPLE, noted for its panoramic view of the area's numerous monuments.
In the afternoon learn of manufacturing Myanmar's most treasured handicrafts and visit a lacquer ware craftsmen's workshop in nearby MYINKABA village. Later continue to MANUHA TEMPLE, built in Mon style in 1059 and explore the MYINGABA GU BYAUKGYI TEMPLE, a temple known for its famous UNESCO protected mural paintings. After visit to ANANDA TEMPLE, with four standing Buddha images finish the day of sightseeing at SHWE SAN DAW PAGODA.
Overnight stay in Bagan.
Optional: Experience the magic of Bagan and a thousand years of history from the enchanting platform of a hot air balloon, for the first time ever. Balloons in Bagan offer visitors exclusive sunrise champagne flights over the ancient pagodas of Bagan from late October to April.
After early breakfast, drive to MOUNT POPA, an extinct volcano with spectacular views. Mount Popa is a popular pilgrimage destination for Myanmar's. The local people travel here from far away to worship various animist spirits known as "nats". 777 steps lead up to the shrine placed on top of the steep Popa peak. Return back to Bagan.
Bagan is not only the site of thousand year old temples and pagodas, but also home too many villages scattered around the surrounding plains. Leave to TAUNG BI VILLAGE, and visit the noodle makers, a Myanmar-style movie theatre, the village hairdresser and a local tea shop. Proceed to visit traditional family business including blacksmiths, brick makers, dry snack workshops and bamboo roof producers.
Overnight stay in Bagan.
Day 4
Bagan - Mandalay (By AM Flight)
After breakfast transfer to airport and flight to MANDALAY. Upon arrival, welcomed and drive to MAHAGANDAYON MONASTERY where more than a thousand monks live and study. Time permitting you will have the opportunity to observe the monks having their last meal of the day in total silence. Then, visit also one of the most revered religious monuments of Myanmar, the MAHAMUNI PAGODA. Mandalay is also a major arts and crafts center. Visit a Kalaga tapestry craftsmen's shop before proceeding to hotel for check-in. (OPTIONAL ACTIVITY: Make a marionette - Join local craftsmen at their workshop and create a unique traditional puppet. A hands-on way to learn about the local culture and create a memorable, personalized souvenir! ). In the afternoon, experience the sights and sounds of Mandalay including the GOLDEN PALACE MONASTERY, the only Royal Palace building to survive World War II bombing. This grand teakwood building is known for its exquisite woodcarving. Next is the KUTHODAW PAGODA, whose 729 marble stone slabs of Buddhist scriptures have earned it the title being home to the 'World's Biggest Book'. Then proceed to MANDALAY HILL for sunset. It time permit, visit Shwe Kyin Monastery to observe student monks start their evening prayers before return your hotel.
Overnight stay in Mandalay.
Optional: Experience Day/1nights/2nights/3nights/4nights cruise between Mandalay and Bagan by exclusive vessels.
Day 5
Mandalay / Mingun / Sagaing / AVA
After breakfast, transfer to the Mandalay jetty and board a private local boat for travel upstream on the Ayeyarwady River from Mandalay to MINGUN (11 Km, about an hour). The river is always busy - small long tail boats, bamboo rafts and ferries carry goods up and down the river. Visit the unfinished MINGUN PAYA, huge brick structure that was left unfinished after an astrologer predicted the King would die should the temple be completed in the 1800s, an earthquake left several large cracks in the structure. Continue to the beautiful Hsinbyume (Mya Thein Tan) Paya and the MINGUN BELL which, weighing in at more than 90 tons is considered the world's largest uncracked ringing bell. Return back to Mandalay. After lunch at a local restaurant (on your own account), embark for a short boat ride over a river and start exploring the former Royal Capital INWA (AVA) by horse carts. Visit NANMYINT WATCH TOWER, the remains of the ancient palace building, also known as "the leaning tower of Ava"; MAHA AUNGMYE BONZAN MONASTERY, built of brick and stucco; BARGAYAR MONASTERY, famous for its impressive ornate woodcarvings and teak posts. Continue to visit SAGAING. Covered with numerous white-painted pagodas and monasteries, Sagaing Hill is widely regarded as the religious center of Myanmar. It is home to more than 3,000 monks and 100 meditation centers. Visit Swan Oo Pon Nya Shin and U Min Thone Sae Pagodas for a glimpse into the unique environment of this area. Return back to your hotel.
Overnight stay in Mandalay.
Day 6
Mandalay - Heho (By AM Flight) - Pindaya - Inle Lake
After breakfast, transfer to airport for domestic flight to HEHO. Upon arrival, proceed by road to PINDAYA (60 km – 2 ½ hour) and visit to PINDAYA CAVE, a unique site housing thousands of Buddha images placed there by pilgrims and devotees over the centuries. Continue to visit the Traditional Umbrella and bamboo paper workshop before heading to NYAUNG SHWE (90 km – 4 hours). Boat transfer to your hotel in INLE LAKE.
Overnight stay in Inle Lake.
After breakfast, day excursion by boat on the Inle Lake will include sights of the famous leg rowers, typical floating gardens, local methods of fishing, village life and magnificent scenery. Begin with Local Market (if possible according to market day schedule); the PHAUNGDAW OO PAGODA, one of the most sacred shrines in Myanmar, dating back to the 18th century; SILVER SMITH, BLACK SMITH AND WEAVING WORKSHOPS in YWA-MA and INPAWKHON.
Afternoon proceed to the Western Shore of Inle Lake, where you will find the beginning of a stair path leading to the well hidden INDEIN PAGODA complex. And also visit the NGA PHE KYAUNG MONASTERY wonderfully carved wooden floating monastery in the lake.
Overnight stay in Inle Lake.
Day 8
Inle Lake - Heho - Kyaing Tone (By Flight)
After breakfast, transfer to airport for domestic flight to KYAING TONG. Upon arrival, transfer to hotel. Then visit in the city including MAHA MYAT MUNI PAGODA (WAT PHA JAO LUNG) the most glorious temple of Kyaing Tong; the Khun Shan monastery of WAT ZOM KHAM, the most impressive among all the Shan temples in the city with the interior walls filled up with gold leaves on lacquer Jatakas. Also visit a lacquer ware workshop where the unique Shan lacquer wares are produced in a very delicate way.
Overnight stay in Kyaing Tong.
Day 9
Kyaing Tone / Hyo Kyin
After breakfast, visit to the Central Kyaing Tong Market, to see colorful ethnic tribes come to exchange goods from their home in the surrounding hills. Then, excursion to HO KYIN. Drive about approximately 1 hour to PAN KWAI village. Then walk about 1 and half hours to HO KYIN (AKHA) village .You have chance to learn about the Akha cultures, religions, (Buddhist, Christian, and Animist). Before you arrive to the village, you will walk through a tea plantation and enjoy a beautiful landscape from the rice paddies in the lower area to the terraces further up in the mountain.
Overnight stay in Kyaing Tong.
Day 10
Kyaing Tone / Loi Mwe
After breakfast, excursion to LOI MWE. Drive about 1 ½ hours, on a bumpy narrow road will take you to LOI MWE located on a mountain plateau. En-route visit the WA village of NAUNG CHO known as the birth place of one of the earliest ethnic tribes of Shan country. In Loimwe visit the Old Catholic Church built by the Italian mission early in the 19th century and see some of the colonial houses built as summer residences during the British colonial era.
Overnight stay in Kyaing Tong.
Day 11
Kyaing Tone - Tachileik (By Car) - Mae Sai - Chiang Sean
After breakfast, drive to TACHILEIK (about 4 hrs) and depart to Mae Sai after immigration formalities.
Welcomed by your Thailand guide and continue to CHIANG SAEN for overnight.
Overnight stay in Chiang Saen.
Day 12
Chiang Saen - Gloden Triangle - Chiang Rai
Breakfast at hotel.
After city tour and a short cruise DON SAO ISLAND, drive to Chiang Rai. Stroll through the region and visit WAT RONG Temple.
Overnight stay in Chiang Rai.
Day 13
Chiang Rai - Chiang Mai
Breakfast at hotel.
Climb narrow mountain roads with stunning views and visit several villages and DOI MAE SALONG, a settlement founded by Kuomintang soldiers who fled China in 1949.
Continue to Chiang Mai along with country side.
Visit the Elephant training center.
Overnight stay in Chiang Mai.
Day 14
Chiang Mai - Bangkok (By Flight)
Breakfast at hotel.
After city tour including WAT DOI SUTHEP, WAT PHRATHAT DOI SUTHEP, WAT SUAN DOK and WAT CHEDI LUANG, flight to Bangkok.
Overnight stay in Bangkok.
Breakfast at hotel.
Full day city tour including Royal Palace, Wat Traimit, Wat Pho, China Town, Pak Klong Talat. Optional dinner with music on Chao Praya River.
Overnight stay in Bangkok.
Breakfast at hotel.
Day is free and transfer to airport for departure.
Itinerary is subject to changes depending on flights, road conditions and availability of rooms.