Myanmar Magical Relaxation - 14 days / 13 nights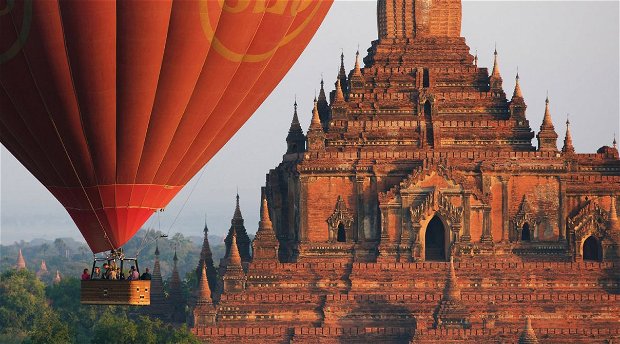 Take a break from your restless life and join this tour on an exciting wellness and inner peace holiday that provide not only spoil your eyes with the majestic views through excursions, but also rejuvenate your body with Yoga, Meditation and Mindfulness experience. At the end, relax at crystal water and on the beautiful white sands of Ngapali beach.
Remark: This tour is just an example and can be customized to your preferences.
Gallery
Itinerary
Upon arrival at Yangon Airport, welcomed by your guide in Yangon and transferred to hotel (Remark : Official hotel check-in time is 14.00 noon).
After refreshment at hotel, drive to Yangon Colonial City Center and take a short walk to explore the atmospheric colonial-era streets. Continue visit and stroll through the Bogyoke (Scotts) Market (closed on Monday and Gazette Holidays), a compound of hundreds of stalls and shops, that gives you the opportunity to see Myanmar's wide range of handicrafts. Then visit the magnificent reclining Buddha Chauk Htat Gyi. 
Evening, take a take a photo stop at the Karaweik Hall, a 'hamsa-bird-shaped' floating barge on Kandawgyi (Royal) Lake and stroll through the Kandawgyi Relaxation Park.
By night fall, head to Chinatown which is one of the city's cultural and gastronomical epicentres. Teeming with locals, walk through a bustling night market and browse through the side street shops. Transfer back to your hotel.
Overnight stay in Yangon.
Meals Included: None
Day 2
Yangon - Meditation Break
Meditation Break : Duration – 4/5 hours
After Breakfast, head to one of the prominent Meditation Center in Yangon.  It is a place for retreat especially if you need to rest your mind from life's chaos and worries.  Many Vipassana Meditation Centers based on Buddha's teaching are widely taught throughout the country.  Arrive to the Meditation Center, at the time you will get a unique chance to discuss roll of Meditation with a meditation teacher, also a monk, will give you guideline how to meditate.  And then, practice yourself and make a moment of peaceful mind.  Move into the meditation hall and slip away into a deep meditative state, relaxing in the quiet, peaceful setting of the meditation center. With a clear mind and deeper connection to traditional Buddhist culture, return to the hotel for a short break.
In late afternoon, we take you through the back door and show you the full history of the Shwedagon Pagoda. Starting from the bottom of the hill and passing the workshops, markets and monasteries which will be useful to understand more of the country. Continue to walk along the pagoda platform clockwise, as is tradition, around the main Pagoda.  Follow your guide's lead while touring this massive complex and learn why it's so revered among locals.
Overnight Stay in Yangon.
Meals Included:
Day 3
Yangon - Mandalay (AM flight) / Amarapura
Breakfast at hotel. Transfer to the airport for a domestic flight to Mandalay. Upon arrival, welcomed by your guide in Mandalay and drive to Mahagandayon Monastery where more than a thousand monks live and study. Time permitting you will have the opportunity to observe the monks having their last meal of the day in total silence. Transfer to hotel and get refreshment.
In the afternoon, visit also one of the most revered religious monuments of Myanmar, the Mahamuni Pagoda. Mandalay is also a major arts and crafts center. Visit a Kalaga tapestry craftsmen's shop. Continue experience the sights and sounds of Mandalay including the Shwe Inbin Monastery; the Golden Palace Monastery, a superb example of a traditional wooden building and Kuthodaw Pagoda the world's largest book made of marble. Then proceed to Mandalay Hill for sunset.
Overnight stay in Mandalay.
Meals Included:
Day 4
Mandalay - Bagan (2 Days 1 Night RV Paukan Cruise, Main Deck)
RV Paukan Program: Day 1
Mandalay (Sagaing) – Yandabo
The embarkation time is 10.00 hrs at Sagaing Jetty and cast off after half an hour.
Welcome Cocktail and briefing in the Saloon or Sundeck followed by Lunch.
Cruise all day long. In the late afternoon we stop at Yandabo, a village specializing in pot making, where the peace treaty of the First Anglo-Burmese war was signed on Feb. 24, 1826. We visit the Pot workshops, the monastery and the school.
Moor overnight near the village of Shwe Nann Tint.
Overnight Stay on RV Paukan.
Meals Included:
Breakfast: Hotel
Lunch: On board
Dinner: On board
Day 5
Arrive Bagan - Sunset Horse Cart (ETA: around 09h30)
RV Paukan Program: Day 2
Arrive Bagan
Early in the morning we continue downstream to Bagan. After breakfast (if time permits) we visit another typical river village. Enjoy the sunrise near Bagan. Passengers will disembark at Bagan Aye Yar jetty by 09h30 hrs.
Welcomed by your guide in Bagan at Jetty. Transfer to hotel by car.
Late afternoon, a horse cart will take you through some off the beaten track among ancient temples of Bagan to an elevated viewpoint to watch an unforgettable sunset over the plains.
Overnight stay in Bagan.
Meals Included:
Breakfast at hotel. Visit the Colorful Local Market and continue the day with visits to the most significant pagodas and temples of Bagan including Shwezigon Pagoda, built by King Anawrahta in the early 11th century as a religious shrine; small monastic school at Zay Ta Wun Monastery; Gu Byanuk Gyi, a temple with superb murals of Jataka scenes. Next stop is Htilominlo, the last Bamar-style temple built in Bagan, which boasts old murals and friezes. Continue to Ananda Temple, with four standing Buddha images and a photo stop at Bagan's tallest temple; 61 metre-high Thatbyinnyu, known as the 'temple of omniscience'. For lunch break (on your own account) your guide may arrange at Ayeyarwaddy River Terrace Restaurant or depending on your wish.
Afternoon visit a Lacquer ware workshop where you'll learn how to produce in artistic way even a small piece of souvenir. Turn back to hotel for a small break.
Then, we depart for Hatha Yoga session at Sunset Island. Hatha yoga is about finding balance. Through working with the physical body, releasing tensions and traumas stored in the body, you create space in yourself and, through that space and balance, the opportunity for spiritual growth. It combines meditation, postures, breathing techniques and energy locks.
First, transfer to Fantasia Jetty. By small boat we sail to Sunset Island located on the Irrawaddy River. Practice the Hatha Yoga about one hour with the amazing view to the sunset. Return to your hotel.
Overnight stay in Bagan.
Meals Included:
Day 7
Bagan - Heho (AM flight) - Green Hill Valley Elephant Camp -Kalaw
After breakfast, transfer to airport for domestic flight to Heho. Upon arrival, drive (59 km - 1 ½ hours) to visit Green Hill Valley Elephant Camp. Then embark on a short walk to the river, passing through a reforestation project set up by the camp and villagers. Arrive to elephant village and see the life of mahouts with their families. Meet the elephants – the guide will explain their name, age, and how they ended up retiring at the camp. Trays of bananas and sugar cane will be brought out and spend some enjoyable time feeding the elephants. The elephants will likely be enjoying a refreshing swim in the stream and you can join the mahouts to bath these gentle animals if you wish. Return to the main camp for lunch. If there is time in the afternoon to explore more on foot with the local trekking guide or interact with the elephants.
Then drive to Kalaw (27 Km, 1 hour drive), a fresh and delightful hill station town featuring British-style bungalows, situated on the rim of the Shan Plateau. Upon arrival, hop in at a local day spa for relaxing 45 minute foot reflexology before transfer to hotel.
Overnight stay in Kalaw.
Meals Included:
Breakfast: Hotel
Lunch: Green Hill Valley Elephant Camp
Breakfast at hotel. Kalaw is a lively market town where many ethnic minority people of the surrounding areas buy and trade their goods. Enjoy strolling through Kalaw, visiting the local market, the tiny railway station and perhaps walking up the hill to see the old Catholic church (if open). Then, drive to Nyaung Shwe (62 km, around 2 hours), gate way town to Inle Lake. 
Continue day excursion by boat on the Inle Lake will include sights of the famous leg rowers, typical floating gardens, local methods of fishing, village life and magnificent scenery. You will visit the Phaungdaw Oo Pagoda, one of the most sacred shrines in Myanmar, dating back to the 18th century; Silver Smith, Black Smith And Weaving Workshops in Ywa-Ma and Inpawkhon. And also visit the Nga Phe Kyaung Monastery wonderfully carved wooden floating monastery in the lake.
Overnight Stay in Inle Lake.
Meals Included:
Day 9
Inle Lake - Cooking Class With Lunch - Indein
After breakfast, visit the daily market on the lake, which rotates every five days between villages surrounding the lake. Proceed to Inthar Heritage House, which serves as a restaurant, vocational training center, organic garden and even a home for Burmese cats.   
After a welcome drink (Shan tea, fresh juices), the staffs will show you the cooking area. Next the chef will present you the menu, give details about the class, ingredients and cooking methods. After this introduction, they will show the vegetable gardens and pick the ingredients for the meal. Back to the kitchen, it's time to begin preparing a series of traditional Inthar and Burmese dishes.  The head chef will explain each step while students from the vocational training centre assist with the cooking.  Typical dishes include mint fish soup, long bean salad, fried spring onion and Burmese chicken and potato curry. Once the dishes are prepared, you can sit down and enjoy the meal you just cooked yourself (Coffee/tea and one free soft drink, juice or beer are included).
Then continue by boat to the Western Shore of Inle Lake, where you will find the beginning of a stair path leading to the well hidden Indein complex.  Visit one of the most amazing historical sights on the shore of the lake consisting of hundreds of small stupas overgrown by moss and green vegetation.
Return back to hotel.
Overnight Stay in Inle Lake.
Meals Included:
Breakfast: Hotel
Lunch: Cooking class at Inthar Heritage House
Day 10
Inle Lake – Heho (AM flight) – Thandwe – Ngapali Beach
After breakfast, transfer you to airport for domestic flight to Thandwe, the gateway to Ngapali Beach. Upon arrival to Thandwe, transfer to your hotel (provided by the hotel). Rest of the day is free.
Overnight stay in Ngapali Beach.
Meals Included:
Breakfast at hotel. Day at leisure to enjoy the crystal clear waters and un-spoilt paradise beaches of Ngapali. You can swim, snorkel or take leisurely strolls along the ocean. Board a boat to explore the offshore islands (available at hotel) or rent a bicycle for a trip to the fishing villages and colorful markets nearby. Watch the breathtaking sunset above the Bay of Bengal. (Activities are not included in our package)
Overnight stay in Ngapali Beach.
Meals Included:
Leisure at the Beach.
Overnight stay in Ngapali Beach.
Meals Included:
Day 13
Ngapali Beach - Thandwe – Yangon (AM flight)
After breakfast, transfer to airport by hotel shuttle bus. Flight to Yangon. Welcomed by your guide and transfer to hotel.
Then, onward to Inya Day Spa, nestle in green garden oasis complete with fish ponds, which is the perfect hideaway to relax and rejuvenate. Inya Day Spa offers you a full range of world-class spa treatments, delivered to the highest levels of quality and service at unbeatable prices. Since 2010, Inya Day Spas have consistently delivered the very best in foot and body massages, facials and nail treatments. Choose a treatment with the assistance of experienced spa therapists and enjoy the journey's end relaxation, depending on your wish. (Spa treatments are not included in our package)
Then, with your guide, continue for last minute shopping or sightseeing in Yangon, before returning to hotel.
Meals Included:
Breakfast at hotel. Day at leisure. Transfer to airport for International Departure.
Meals Included: