Myanmar Highlights - 10 days / 9 nights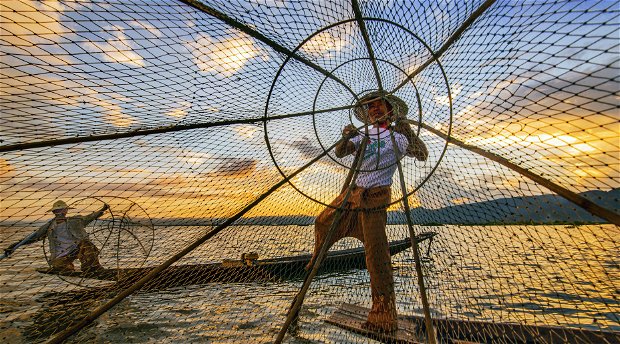 A ten day, small group tour starting in Mandalay and ending in Yangon, staying in hotels along the way.
This Myanmar holiday is a ten day small group tour, fully guided by local experts, and covering a large part of the country, using private transfers and one domestic flight between Nyaung Shwe (Inle Lake) and Yangon at the end of the trip. We pride ourselves on offering an itinerary that really taps into the country's culture, with Mandalay getting it all off to an exciting start, as it is considered by many to be Myanmar's cultural capital. It is also a sacred city, with many monasteries and pagodas to visit, and our guests get a chance to walk up Mandalay Hill, a place of pilgrimage for many. It is also a wonderful place to experience a Myanmar sunset.
Our next stop is Monywa, a picturesque stop off en route to the more famous town of Bagan, but a very pretty and typical Myanmar town on the Chindwin River. Monywa is famous for its magnificent Thambuddhe Pagoda but also for the fact that it is bedecked with neem trees, and has the nickname Neem City. From here, we take a 2.5 hour boat trip on the Ayerarwaddy River to Bagan, which is a wonderful way to arrive in this city that literally glistens with cultural magnificence, with thousands of temples and pagodas stretching to the horizon.
A very different cultural side can be seen at Kalaw, a former British hill-station but where the surrounding mountains are home to the Palaung, Danu and Pa-O tribes. On this part of the journey you also get a fantastic view of Mount Popa, where pilgrims climb 777 steps to the top of this extinct volcano to worship at the summit's shrine.
One of the final highlights on this trip is at Inle Lake, famous for its floating villages and markets, and where we will get a chance to see local artisans at work, visit the stunning wooden floating monastery and also see the famous 'leg rowing' fishermen. Your final day is in our formal capital and still very much the heart of the country, Yangon, with many stunning sites to visit including Shwedagon Pagoda, as well many aspects of daily life in this vibrant city.
Remark: This tour is just an example and can be customized to your preferences.
Gallery
Itinerary
Day 1
Arrive Mandalay and sightseeing
Upon arrival at Mandalay Airport, welcomed by your guide and transferred to hotel (hotel check-in time is 14h00).
In the afternoon, experience the sights and sounds of Mandalay including the Shwe Inbin Monastery; the Golden Palace Monastery, a superb example of a traditional wooden building and Kuthodaw Pagoda the world's largest book made of marble. Then proceed to Mandalay Hill for sunset.
 Overnight stay at Shwe Ingyinn Hotel (Superior Room) or Similar in Mandalay.
Meals Included: None
Day 2
Mandalay visit to Amarapura and Mingun
After breakfast, drive to Mahagandayon Monastery where more than a thousand monks live and study. Time permitting you will have the opportunity to observe the monks having their last meal of the day in total silence. Continue to 200-year-old U Bein teak bridge, built in 1782 during the era when Amarapura was the Royal capital. Then, visit also one of the most revered religious monuments of Myanmar, the Mahamuni Pagoda. Mandalay is also a major arts and crafts center. Visit a Kalaga tapestry craftsmen's shop.
Afternoon, an excursion by boat on the Ayeyarwaddy River to Mingun, about 11 km (1 hour) upriver from Mandalay. Visit the unfinished Mingun Paya, which was meant to become the largest stupa in Myanmar constructed by King Bodaw Paya one of the world's largest bells; the 90 ton weighing Mingun Bell and Hsinbyume Paya. Return back to Mandalay by enjoying sunset on boat.
Overnight stay at Shwe Ingyinn Hotel (Superior Room) or Similar in Mandalay.
Meals Included:
Day 3
Mandalay, visit Sagaing and to Monywa (by car)
Morning drive to visit Sagaing including Sagaing Hill. Continue to Monywa (150 km - 4 hours) including visit to the villages and small towns en route. Arrive to Monywa and check-in at your hotel.
Afternoon cross the Chindwin River by ferry boat and proceed by pick-up (40 km - 1 hour) to Po Win Taung, a network of impressive sandstone caves containing Buddha statues, wood carvings and fine mural paintings, some dating back to the 15th century. Dozens of large and small caves with about 450,000 images are hidden in the area of the Hpo Win Hills. Return back to Monywa. If time permit, visit Kyaukkar Village and Shweguni Pagoda. Take a photo stop at Htan Zalote Water Fall before returning to hotel.
Overnight stay at Hotel Chindwin (Superior Room) or Similar in Monywa.
Meals Included:
Day 4
Monywa to Pakokku (by car) and Pakokku to Bagan (by boat)
After breakfast, visit Thanboddhay Pagoda; where 845 small stupas surround and rise up to the richly decorated central stupa. The pagoda is built to remind of Mt Meru and has some similar characteristics to Borobudur of Java. Take a walk through the nearby banyan tree grove Boddhi-Tataung where thousand Buddha images rest at the feet of the trees. Enjoy the panoramic view from Aung Setkaya Pagoda, standing 130 meter high on the Po Khaung hills.
Drive to Pakokku (110 km – 4 hours), a port city set south of the Chindwin confluence with en-route visit to Ma-U Village. After visiting Pakokku, continue by boat on the Ayeyarwaddy River, to Bagan. This down river trip takes approximately 2 hours. Upon arrival to Bagan, transfer to your hotel.
Overnight stay at Floral Breeze Hotel (Superior Room) or Similar in Bagan.
Meals Included:
We depart to visit stroll through the Colorful Local Market and continue the day with visits to the most significant pagodas and temples of Bagan including Shwezigon Pagoda, built by King Anawrahta in the early 11th century as a religious shrine; Gu Byanuk Gyi, a temple with superb murals of Jataka scenes; Khay Min Ga Temple, noted for its panoramic view of the area's numerous monuments and Ananda Temple, with four standing Buddha images.
Afternoon, visit one of Myanmar's and Bagan's most famous lacquer ware workshops, and see craftsmen, in Myinkaba village. You will continue to Manuha Temple, built in Mon style in 1059; Nanbaya Temple, a unique sandstone monument and according to legends a former palace site of King Manuha. Next you will explore the UNESCO protected Myingaba Gu Byaukgyi Temple, a temple known for its mural paintings. Enjoy a short horse cart ride among the temples. Proceed to Sunset Hill (an elevated viewpoint) to watch an unforgettable sunset over the plains.
Overnight stay at Floral Breeze Hotel (Superior Room) or Similar in Bagan.
Meals Included:
Day 6
Highway drive to Kalaw with en-route Mt. Popa visit
Today we depart early to visit Mt. Popa. Short stops at a toddy-palm climber's hut to see how to tap toddy wine from the fronds, how jaggery, liquor is made from palm sugar, how to make ox-pressed edible sesame, peanut oil, making toys from toddy leaves. After enjoying local tea and snack with the fresh air, continue visit Mt. Popa, an extinct volcano with spectacular views. Mt. Popa is a popular pilgrimage destination for Myanmar.
The local people travel here from far away to worship various animist spirits known as "nats" 777 steps lead up to the shrine placed on top of the steep Popa peak. Continue to highway drive to Kalaw around 7 – 8 hours (280 Km). The journey continues on a narrow, winding and bumpy road through the Shan Hills. You will reach Kalaw, a fresh and delightful hill station, situated on the rim of the Shan Plateau, and transfer to hotel.
Overnight stay at Dream Villa Hotel (Superior Room) or Similar in Kalaw.
Meals Included:
Day 7
Kalaw to Nyaung Shwe (Inle Lake)
Kalaw is a lively market town where many ethnic minority people of the surrounding areas buy and trade their goods. Visit Kalaw Market and town before drive to Nyaung Shwe (62 km, 2 ½ hours).
Day excursion by boat on the Inle Lake will include sights of the famous leg rowers, typical floating gardens, local methods of fishing, village life and magnificent scenery. Start visit to the Phaungdaw Oo Pagoda, one of the most sacred shrines in Myanmar, dating back to the 18th century; Silver Smith, Black Smith, Cigar And Weaving Workshops in Ywa-Ma and Inpawkhon. And also visit Padaung Family (If the Padaung Family is still in Inle Lake) and the Nga Phe Kyaung Monastery wonderfully carved wooden floating monastery in the lake. Return back to hotel in Nyaung Shwe. Overnight stay at Inle Apex Hotel (Superior Room) or Similar in Nyaung Shwe.
Meals Included:
Day 8
Village life on Inle Lake and Indein Complex (Cooking class with lunch)
After breakfast, the visit begins with the local market in the Inle Lake region (Remark : on market days only). Then proceed to the Western Shore of Inle Lake, where you will find the beginning of a stair path leading to the well hidden Indein complex. Visit one of the most amazing historical sights on the shore of the lake consisting of hundreds of small stupas overgrown by moss and green vegetation.
Continue to an Intha family's house or local restaurant and join them in preparing lunch. Using local produce, herbs and freshly caught fish, prepare a feast of traditional dishes handed down from generation to generation of Intha families. Sit down around a large wooden table, local-style, and enjoy a delicious lunch in the company of a warm, hospitable local family.
After lunch, continue on foot to a village nearby where several crops are grown in traditional ways. Walk in an easy pace along one of the many creeks passing through rice fields to the village of SAE MA. Visit the primary school of the village and possibility to meet the children and teachers to observe their way of learning and teaching. Return back to Nyaung Shwe.
Overnight stay at Inle Apex Hotel (Superior Room) or Similar in Nyaung Shwe.
Meals Included:
Breakfast: Hotel
Cooking class with lunch
After breakfast, transfer to airport for domestic flight to YANGON.
Upon arrival, welcomed and transfer to hotel. Then, drive to visit Yangon's colonial-style city center. Enjoy the Yangon Heritage Walking Tour start at Mahabandoola Park from where you have the perfect view on Colonial Buildings, City Hall and High Court. Have a stop at Hla Day, a non-profit social enterprise shop, offers quality contemporary and traditional handicrafts sourced from local producers often struggling to overcome disability, exclusion and poverty. You'll find colorful women's and kids' clothing, soft toys, stationery, jewellery, home wares and more there. Then, visit and stroll through the Bogyoke (Scotts) Market (closed on Monday and Gazette holidays), a compound of hundreds of food, garment, handicraft and gem stores.
After a photo stop at the Karaweik Hall, a 'hamsa-bird-shaped' floating barge on Kandawgyi (Royal) Lake, visit the magnificent reclining Buddha Chauk Htat Gyi. Evening, visit to one of the world's most spectacular monuments, the Shwedagon Pagoda by enjoying sunset.
Overnight stay at Central Hotel (Superior Room) or Similar in Yangon.
Meals Included:
Breakfast at hotel. Day at free to enjoy in Yangon before transfer to airport for departure.
Meals Included: