Insights of Myanmar - 14 days / 13 nights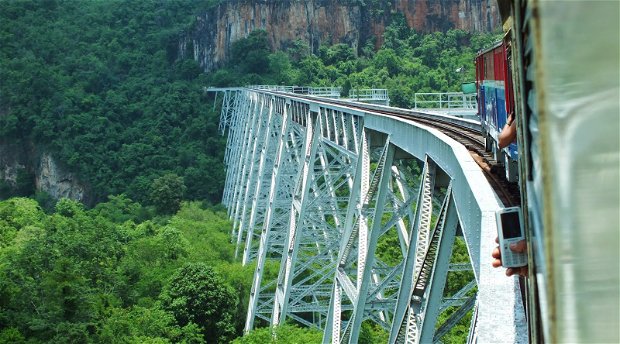 If you're looking for culture, this two-week tailor-made tour of Myanmar has it in spades, combining spectacular historic monuments with community visits and a cooking class.
This two-week tailor-made tour of Myanmar is a cultural odyssey that will introduce you to the country's unique history, get you closer to some of its most fascinating ancient monuments and introduce you to warmly welcoming local communities.
Starting in Mandalay, the cultural heart of Myanmar, and finishing in bustling Yangon, you'll have the chance to travel along the historic Burma Road to the former British hill station of Pyin Oo Lwin (Maymyo), travel by train over the spectacular Gokteik Bridge, watch the iconic leg-rowers plying their trade among the floating villages on Inle Lake, and take in the spectacular sight of Bagan's 2000 pagodas and stupas.
However, holiday is not just about sitting back and enjoying the view. You'll have the chance to get hands-on during cooking class with a local Intha family on the shores of Inle Lake. After cooking up a veritable feast with local ingredients and recipes passed down through generations, you'll all sit down together in traditional Burmese style to share stories and enjoy the fruits of your labour.
Finally, you'll finish your trip with some well-earned rest on beautiful Ngwe Saung beach, a spectacular slice of sand a world away from hustle of South East Asia's busy coastal resorts.
This itinerary can be tailor made throughout the year to suit your specific interests and requirements.
Remark:This tour is just an example and can be customized to your preferences.
Gallery
Itinerary
Upon arrival at Mandalay Airport, welcomed and transferred to hotel (hotel check-in time is 14h00). Rest of the day is free at leisure.
Overnight stay at Shwe Ingyinn Hotel (Superior Room) or Similar in Mandalay.
Meals Included: None
Day 2
Mandalay - Amarapura
After breakfast, meet your guide at hotel lobby. Drive to visit Mahagandayon Monastery where more than a thousand monks live and study. Time permitting you will have the opportunity to observe the monks having their last meal of the day in total silence. Continue to 200-year-old U Bein teak bridge, built in 1782 during the era when Amarapura was the Royal capital. Then, visit also one of the most revered religious monuments of Myanmar, the Mahamuni Pagoda. Mandalay is well-known for its skilled craftsmen and, while touring traditional workshops, learn more about the city's cottage industries.
Observe the production of wood carvings, kalaga tapestries, and gold-leaf, where the techniques remained unchanged from those used centuries ago to craft items for the Royal Court. (Optional Activity: Make a marionette- Join local craftsmen at their workshop and create a unique traditional puppet. A hands-on way to learn about the local culture and create a memorable, personalized souvenir! ).
In the afternoon, experience the sights and sounds of Mandalay including the Golden Palace Monastery, the only Royal Palace building to survive World War II bombing. This grand teakwood building is known for its exquisite woodcarving. Next is the Kuthodaw Pagoda, whose 729 marble stone slabs of Buddhist scriptures have earned it the title being home to the 'World's Biggest Book'. Then proceed to Mandalay Hill for sunset. If time permit, visit Shwe Kyin Monastery to observe student monks start their evening prayers before return your hotel.
Overnight stay at Shwe Ingyinn Hotel (Superior Room) or Similar in Mandalay.
Meals Included:
Day 3
Mandalay - Mingun - Ava - Sagaing
After breakfast, transfer to the Mandalay jetty and board a private local boat for travel upstream on the Ayeyarwady River from Mandalay to Mingun (11 Km, about one hour). The river is always busy - small long tail boats, bamboo rafts and ferries carry goods up and down the river. Visit the unfinished Mingun Paya, huge brick structure, that was left unfinished after an astrologer predicted the King would die should the temple be completed. In the 1800s, an earthquake left several large cracks in the structure. Continue to the beautiful Hsinbyume (Mya Thein Tan) Paya and the Mingun Bell which, weighing in at more than 90 tons, is considered the world's largest uncracked ringing bell. Return back to Mandalay.
After lunch at a local restaurant (on your own account), embark for a short boat ride over a river and start exploring the former Royal Capital Inwa (Ava) by horse cart. Visit Nanmyint Watch Tower, the remains of the ancient palace building, also known as "the leaning tower of Ava"; Maha Aungmye Bonzan Monastery, built of brick and stucco; Bargayar Monastery, famous for its impressive ornate woodcarvings and teak posts. Continue to visit Sagaing. Covered with numerous white-painted pagodas and monasteries, Sagaing Hill is widely regarded as the religious center of Myanmar. It is home to more than 3,000 monks and 100 meditation centers. Visit Swan Oo Pon Nya Shin and U Min Thone Sae Pagodas for a glimpse into the unique environment of this area. Return back to your hotel.
Overnight stay at Shwe Ingyinn Hotel (Superior Room) or Similar in Mandalay.
Meals Included:
Day 4
Mandalay - Pyin Oo Lwin (by car)
After breakfast, a scenic two-hour drive to the former British hill station of Pyin Oo Lwin (Maymyo). Now the town is heavily inhabited by Nepalese and Indians, and their crafts and cultures predominate. Stop en-route at a locally owned winery in Pyin Oo Lwin called Ngwe Nan Taw (Silver Palace Wine), where the winemaker takes a rather experimental route by producing damson wine. Damson is a stone fruit which resembles a plum and the resulting wine has a higher level of acidity than grape wines.
Arrive Pyin Oo Lwin and visit to the local market near the clock tower in the centre of the town. Continue to visit Peik Khyin Myaung Caves, an extensive cave complex about 22 km from town. A rushing stream flows through the caves to cascade down a beautiful series of steps - one of several beautiful waterfalls in the vicinity. Have a stop (may be lunch or coffee break) to check out the famous strawberry field and dairy farm at December Farms. This is a fantastic place to sample some of the delicious local food and homemade ice cream as well. Continue to see the Pwe Kyauk Falls, a favorite picnic spot for local people. Evening visit the Botanical Kandawgyi Gardens and Chinese Temple that soothes our spirit.
Overnight stay at Kandawgyi Hill Resort (Deluxe Room) or Similar in Pyin Oo Lwin.
Meals Included:
Day 5
Pyin Oo Lwin- Gokteik Viaduct- Naung Pain (by train)
Breakfast at hotel. Transfer to the railway station and board the Lashio - Mandalay train departing at 08h30. This train used to be infamous black-market train in the past transporting goods to and from China. You will travel past pretty hills and scenery. The train will cross the famous 700m long Gokteik Bridge, built in 1900 by the American Pennsylvania Steel Co. The impressive height from the bridge to the bottom of the valley is nearly 300m. After crossing the bridge the train will stop at a small station. You will get the chance to have a better look at the bridge. Take good note though that it is not permitted to Photograph/video bridges in Myanmar. Upon arrival at Naung Pain station, get off the train and drive to Hsipaw (60 Km, 1½ hour). Arrive in Hsipaw mid-afternoon. From the train station, visit a few other sights around town such as Bamboo Buddha, "Little Bagan" and a very colourful Nat shrine.
Overnight stay at Mr. Charles' Hotel (Superior Room) or Similar in Hsipaw.
Meals Included:
Explore Hsipaw and sail.
If you wish, wake up early morning and visit 'candlelight market' of selling and buying local products.
After breakfast at hotel, start river journey along the Dokehtawaddy River. After a few minutes walk to the jetty and take private long tail boat. Start upstream sail for around 30 minutes to a fruit plantation and a walk through the plantation, village and then up to a 150-year old monastery (40 minutes walking time). After visiting the monastery, return to the boat and continue sail to the confluence of the Dokehtawaddy River. Break for photos. Continue to a Shan village and take a stroll around the village to meet with the locals and learn more about their culture, traditions and lifestyles. Then return by boat to Hsipaw. The whole journey takes around 5 hours.
After lunch (on your own account) head over to the former palace of the last sky prince of Hsipaw, which is also called Shan Palace. The modest house is kept up by the prince's niece and nephew, who will share the tragic history of the last sky prince who is known with Film "Twilight Over Burma". Continue explore around the town and enjoy the sunset views over the river from the hill.
Overnight stay at Mr. Charles' Hotel (Superior Room) or Similar in Hsipaw.
Meals Included:
Day 7
Hsipaw - Lashio - Heho (by flight) – Nyaung Shwe
After breakfast, drive to Lashio (74 Km, around 2-3 hours). Arrive Lashio and stroll through the busy local market where modern gadgets as well as local produce can be found. If time permit, continue to Quan Yin San, one of the largest Chinese temples in Myanmar that bears testimony to Lashio's thriving Chinese community.
Then, transfer to airport and flight to Heho. Upon arrival, drive to Nyaung Shwe (25 km - 1 hour), the gateway town for Inle Lake, and transfer to hotel.
Overnight stay at Inle Apex Hotel (Superior Room) or Similar in Nyaung Shwe.
Meals Included:
Day 8
Nyaung Shwe - Inle Lake - Indein (Cooking class with lunch)
After breakfast, day excursion by boat on the Inle Lake will include sights of the famous leg rowers, typical floating gardens, local methods of fishing, village life and magnificent scenery. The visit begins with the local market in the Inle Lake region (Remark : on market days only). Then proceed to the Western Shore of Inle Lake, where you will find the beginning of a stair path leading to the well hidden Indein complex. Visit one of the most amazing historical sights on the shore of the lake consisting of hundreds of small stupas overgrown by moss and green vegetation.
Continue to an Intha family's house or local restaurant and join them in preparing lunch. Using local produce, herbs and freshly caught fish, prepare a feast of traditional dishes handed down from generation to generation of Intha families. Sit down around a large wooden table, local-style, and enjoy a delicious lunch in the company of a warm, hospitable local family.
After lunch, continue boat excursion in Inle Lake including the Phaungdaw Oo Pagoda, one of the most sacred shrines in Myanmar, dating back to the 18th century; Silver Smith, Black Smith, Weaving Workshops and Traditional Burmese Cigar Workshops in Ywa-Ma and Inpawkhon. Also visit the Nga Phe Kyaung Monastery wonderfully carved wooden floating monastery in the lake. Return back to Nyaung Shwe and enjoy evening walk to hotel.
Overnight stay at Inle Apex Hotel (Superior Room) or Similar in Nyaung Shwe.
Meals Included:
Breakfast: Hotel
Cooking class with lunch in Intha house
Day 9
Nyaung Shwe - Heho - Bagan (AM Flight)
After early breakfast you will be transferred to the airport for a domestic flight to Bagan.
Upon arrival visit the Colorful Local Market and continue the day with visits to the most significant pagodas and temples of Bagan including Shwezigon Pagoda, built by King Anawrahta in the early 11th century as a religious shrine; small monastic school at Zay Ta Wun Monastery; Gu Byanuk Gyi, a temple with superb murals of Jataka scenes; Khay Min Ga Temple, noted for its panoramic view of the area's numerous monuments and Ananda Temple, with four standing Buddha images. Transfer to hotel.
Afternoon, visit one of Myanmar's and Bagan's most famous lacquer ware workshops, and see craftsmen, in Myinkaba village. You will continue to Manuha Temple, built in Mon style in 1059; Nanbaya Temple, a unique sandstone monument and according to legends a former palace site of King Manuha. Next you will explore the UNESCO protected Myingaba Gu Byaukgyi Temple, a temple known for its mural paintings. Enjoy a short horse cart ride among the temples. Proceed to Sunset Hill (an elevated viewpoint) to watch an unforgettable sunset over the plains.
Overnight stay at Floral Breeze Hotel (Superior Room) or Similar in Bagan.
Meals Included:
Day 10
Bagan - Salay - Tamarind Lake Village (Lunch at Village House)
After breakfast, we depart to explore the countryside around Bagan. Drive along the banks of the Ayeyarwady River through Chauk, where you will see old Burma Oil installations ('nodding donkeys'). Continue to Kyaukpadaung Small Town To Visit Local Market And Bustling Heart Of The Town. Continue To Sale. Visit Yokesome Monastery, which is the oldest surviving wooden monastery hall built on 154 teak posts with beautiful wood carvings decorating the outer walls.
Continue to Payathonzu, a complex of three brick shrines with mural paintings from the Bagan period, and see Man Paya - a large lacquer Buddha image, said to date from the 13th century. Continue to drive to Mageekan Tamarind Lake village located near Salay, an ancient town. Visit around the village and enjoy the home cooked meal at the village house and experience the authentic local life. Return back to Bagan. If time permit, enjoy sunset at one of the temple.
(Optional Activity: Experience the magic of Bagan and a thousand years of history from the enchanting platform of a hot air balloon, for the first time ever. Sunrise Balloon Rides offers visitors exclusive sunrise champagne flights over the ancient pagodas of Bagan from late October to April !).
 Overnight stay at Floral Breeze Hotel (Superior Room) or Similar in Bagan.
Meals Included:
Breakfast: Hotel
Lunch: Tamarind Lake village home
Day 11
Bagan - Yangon (AM flight)
After breakfast, you will be transferred to the airport for a domestic flight to Yangon.
Upon arrival, welcomed and transfer to hotel. Then, depart for a heritage tour start at Yangon City Hall, located at the heart of the colonial-era city. Nearby is the former Immigration Department. This building was designed in 1910 to be the country's most upmarket department store, Rowe & Company. Proceed to the High Court, a 1911 brick building designed by the architect John Ransome. Continue walking down to Pansodan Street enjoying impressive colonial buildings and have a stop at Hla Day, a non-profit social enterprise shop, offers quality contemporary and traditional handicrafts sourced from local producers often struggling to overcome disability, exclusion and poverty.
You'll find colorful women's and kids' clothing, soft toys, stationery, jewellery, home wares and more there. Continue to Strand Road, home to the three-storey former New Law Courts. Next stop is the 1916 Custom House, a large building with an elegant white tower and double-faced clock above the entrance. Walk past the red brick General Post Office to the luxurious Strand Hotel, built in 1901 by the Sarkies brothers, Armenian hoteliers. And also see the bustling life at the Nanthida Jetty.
Visit and stroll through the Bogyoke (Scotts) Market (closed on Monday and Gazette Holiday), a compound of hundreds of stalls and shops, that gives you the opportunity to see Myanmar's wide range of handicrafts. After a photo stop at the Karaweik Hall, a 'hamsa-bird-shaped' floating barge on Kandawgyi (Royal) Lake, visit the magnificent reclining Buddha Chauk Htat Gyi.
Evening, visit to one of the world's most spectacular monuments, the Shwedagon Pagoda for sunset viewing.
Overnight stay at Central Hotel (Superior Room) or Similar in Yangon.
Meals Included:
Day 12
Yangon - Ngwe Saung Beach (by car)
After breakfast, drive to Ngwe Saung beach (232 Km, 5 hours) with car and driver. This car journey will pass through green paddy fields, villages and forested area. And also, drive through Pathein, the capital of delta region, where you may have lunch break. Arrive Ngwe Saung Beach and check in at hotel.
Overnight stay at Eskala Hotel (Silver Deluxe, Garden View Room) or Similar in Ngwe Saung Beach.
Meals Included:
Free day at the beach.
Overnight stay at Eskala Hotel (Silver Deluxe, Garden View Room) or Similar in Ngwe Saung.
Meals Included:
Day 14
Ngwe Saung Beach – Yangon (by car) - Yangon Departure
After breakfast, meet your car and driver at hotel lobby. Drive back to Yangon.
Upon arrival, transfer to airport for departure.
(Please note : Your departure flight should be in the evening.)
Meals Included:
Breakfast: Hotel