Inle Kayak And Bike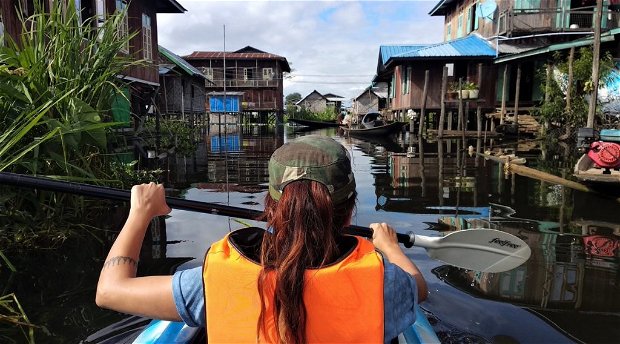 This tour is designed for all travelers who want to explore Inle Lake by kayaking and biking. Enjoy Kayak though the local house, narrow canal and floating farm and bike along the authentic local village. Discover the distinct experience the cultures, ways of life, traditions and others with this amazing tour.
Gallery
Itinerary
Kayak and Bike around Inle
At 08.30, pick you up from your hotel or another meeting point of your choice and start exploring Inle Lake by Kayak. Begin the day by rowing through the peaceful settings surrounding Mar Lat Khout Village to Shwe Wa Gyi Village. We'll provide binoculars so you can observe some of the lake's native birds. Next, explore the well-known floating tomato gardens. You will get the chance to meet and talk to local farmers and learn about their daily life on the lake. This will be followed by more kayaking through the lake's quiet and unexplored villages, with time to stop by a monastery and local family homes if you desire. For lunch, you will enjoy delicious, authentic Inthar food at the village hut with a view over the floating garden.
After lunch, you'll continue by boat about 30 minutes to start the biking.
Start biking to Myae Ni Kone Village which is known for their rice crackers and have a chance to learn about how they make these delicious treats and of course, taste them. Next, get back on the bike for a tour of rural life. Along the way, you will see the farm where betel leaves, Arica Nuts, peanuts, rice, flowers, zucchini and sugar-cane are grown. Depending on the season, you'll have the option to join the farmers in the harvesting! And then, continue through some off-route villages, ending in Tone Lae Village.
End the day excursion with cocktails and a chance to see Inle's Famous one - leg rowing style that is still practiced by the local fisherman.