Golden Triangle - Myanmar to Laos Tour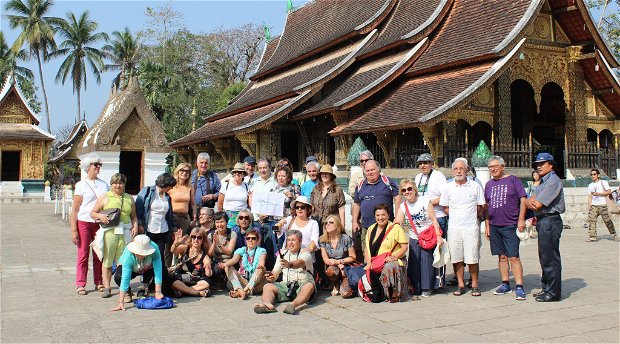 Golden Triangle, the confluence of three countries – Myanmar, Thailand and Laos – is one of the most beautiful in Southeast Asia, with emerald mountains pouring down to deep river valleys. Travelling by land and water through the region, encountering colourful cultures, rich history and spectacular landscapes on the way.
This amazing program, which can be tailored to your own interests and needs, covers Myanmar, Northern Thailand / Golden Triangle and Laos.
Tour starts from Yangon, with its picturesque colonial architecture, atmospheric markets and glittering pagodas. Take first flight to Mandalay, Myanmar's cultural capital. Continue by full day river journey to Bagan. Take second domestic flight in Myanmar and visit Pindaya before to Inle Lake.
Then, take the third Myanmar domestic flight to Tachileik, the border town; connect with Northern Thailand, Golden Triangle Region. Border cross to Chiang Saen through Myanmar-Thailand Friendship Bridge and enjoy visits at Golden Triangle and Northern Thailand. Continue by car to Chiang Khong, the Thailand Border town and pass the Thailand-Laos Border Bridge to Huay Xai. Take a relaxing two-day cruise along the mighty Mekong River as it drifts downstream, soaking in the beautiful surroundings and stopping to explore small villages and caves to Luang Prabang where the tour comes to end.

Remark: This tour is just an example and can be customized to your preferences.
Gallery
Itinerary
Upon arrival at Yangon airport, welcomed by your guide and transferred to hotel (hotel check-in time is 14h00). Then, depart for a heritage tour start at Yangon City Hall, located at the heart of the colonial-era city. Nearby is the former Immigration Department. This building was designed in 1910 to be the country's most upmarket department store, Rowe & Company. Proceed to the High Court, a 1911 brick building designed by the architect John Ransome. Continue walking down to Pansodan Street enjoying impressive colonial buildings and have a stop at Hla Day, a non-profit social enterprise shop, offers quality contemporary and traditional handicrafts sourced from local producers often struggling to overcome disability, exclusion and poverty. You'll find colorful women's and kids' clothing, soft toys, stationery, jewellery, home wares and more there. Continue to Strand Road, home to the three-storey former New Law Courts. Next stop is the 1916 Custom House, a large building with an elegant white tower and double-faced clock above the entrance. Walk past the red brick General Post Office to the luxurious Strand Hotel, built in 1901 by the Sarkies brothers, Armenian hoteliers. And also see the bustling life at the Nanthida Jetty.  Visit and stroll through the Bogyoke (Scotts) Market (closed on Monday and Gazette Holiday), a compound of hundreds of stalls and shops, that gives you the opportunity to see Myanmar's wide range of handicrafts. After a photo stop at the Karaweik Hall, a 'hamsa-bird-shaped' floating barge on Kandawgyi (Royal) Lake, visit the magnificent reclining Buddha Chauk Htat Gyi.  Evening, visit to one of the world's most spectacular monuments, the Shwedagon Pagoda for sunset viewing.
Overnight stay at Central Hotel (Superior Room) or Similar in Yangon.
Meals Included: None
Day 2
Yangon - Mandalay (AM Flight) / Amarapura
After early breakfast or with breakfast box transfer to airport. Flight to Mandalay.
Upon arrival, welcomed and drive to Mahagandayon Monastery where more than a thousand monks live and study. Time permitting you will have the opportunity to observe the monks having their last meal of the day in total silence. Then, visit also one of the most revered religious monuments of Myanmar, the Mahamuni Pagoda. Mandalay is also a major arts and crafts center. Visit a Kalaga tapestry craftsmen's shop before proceeding to hotel for check-in.
(Optional: Make a marionette- Join local craftsmen at their workshop and create a unique traditional puppet. A hands-on way to learn about the local culture and create a memorable, personalized souvenir! )
In the afternoon, experience the sights and sounds of Mandalay including the Golden Palace Monastery, the only Royal Palace building to survive World War II bombing. This grand teakwood building is known for its exquisite woodcarving.  Next is the Kuthodaw Pagoda, whose 729 marble stone slabs of Buddhist scriptures have earned it the title being home to the 'World's Biggest Book'. Then proceed to Mandalay Hill for sunset. It time permit, visit Shwe Kyin Monastery to observe student monks start their evening prayers before return your hotel.
Overnight stay at Shwe Ingyinn Hotel (Superior Room) or Similar in Mandalay.
Meals Included:
Day 3
Mandalay - Mingun - Ava - Sagaing
After breakfast, transfer to the Mandalay jetty and board a private local boat for travel upstream on the Ayeyarwady River from Mandalay to Mingun (11 Km, about one hour). The river is always busy - small long tail boats, bamboo rafts and ferries carry goods up and down the river. Visit the unfinished Mingun Paya, huge brick structure that was left unfinished after an astrologer predicted the King would die should the temple be completed  In the 1800s, an earthquake left several large cracks in the structure. Continue to the beautiful Hsinbyume (Mya Thein Tan) Paya and the Mingun Bell which, weighing in at more than 90 tons, is considered the world's largest uncracked ringing bell. Return back to Mandalay.
After lunch at a local restaurant (on your own account), embark for a short boat ride over a river and start exploring the former Royal Capital Inwa (Ava) by horse cart. Visit Nanmyint Watch Tower, the remains of the ancient palace building, also known as "the leaning tower of Ava"; Maha Aungmye Bonzan Monastery, built of brick and stucco; Bargayar Monastery, famous for its impressive ornate woodcarvings and teak posts.
Continue to visit Sagaing. Covered with numerous white-painted pagodas and monasteries, Sagaing Hill is widely regarded as the religious center of Myanmar.  It is home to more than 3,000 monks and 100 meditation centers. Visit Swan Oo Pon Nya Shin and U Min Thone Sae Pagodas for a glimpse into the unique environment of this area. Return back to your hotel.
Overnight stay at Shwe Ingyinn Hotel (Superior Room) or Similar in Mandalay.
Meals Included:
Day 4
Mandalay - Bagan (by scheduled boat)
Early this morning transfer to the jetty to board joint in schedule boat to Bagan. The 7- to 8-hour journey offers an insightful exploration of life on the Irrawaddy. Along the way explore a local village before continuing to Bagan. Simple Breakfast and Lunch will be served onboard. Upon arrival at Bagan' s jetty, welcomed and transfer to hotel. If time permit, enjoy sunset at one of the temple.
Overnight stay at Sincere Smile Hotel (Superior Room) or Similar in Bagan.
Meals Included:
Breakfast: Hotel
Lunch: Simple lunch onboard
Please note: From June to September the Mandalay to Bagan scheduled boat trip will be replaced by car and driver (not including lunch).
After breakfast, depart to visit the Colorful Local Market and continue the day with visits to the most significant pagodas and temples of Bagan including Shwezigon Pagoda, built by King Anawrahta in the early 11th century as a religious shrine; small monastic school at Zay Ta Wun Monastery; Gu Byanuk Gyi, a temple with superb murals of Jataka scenes; Khay Min Ga Temple, noted for its panoramic view of the area's numerous monuments and Ananda Temple, with four standing Buddha images.
Afternoon, visit one of Myanmar's and Bagan's most famous lacquer ware workshops, and see craftsmen, in Myinkaba Village. You will continue to Myinkaba Village, built in Mon style in 1059; Nanbaya Temple, a unique sandstone monument and according to legends a former palace site of King Manuha. Next you will explore the UNESCO protected Myingaba Gu Byaukgyi Temple, a temple known for its mural paintings. Enjoy a short horse cart ride among the temples. Finish the day of sightseeing by watching the unforgettable sunset on the plains from an elevated view point.
Overnight stay at Sincere Smile Hotel (Superior Room) or Similar in Bagan.
Meals Included
Day 6
Bagan - Mt. Popa - Village Life
Today we depart to visit Mt. Popa (46 Km, about 1 hour), an extinct volcano standing 1,518 meters high. Mount Popa has played an important role in Burmese culture, religion and history since earliest times. Its shrine is dedicated to the worship of the 37 Nats, the Burmese ancient animist spirits. At Mt. Popa, walk up to Taungkalap, the 777 steps to the top, provide an energetic climb rewarded by fabulous views from the top. Also visit the market at the foot to Taungkalap.
Then, drive backward to Bagan and stop at a toddy-palm climber's hut to see how to tap toddy wine from the fronds, how jaggery, liquor is made from palm sugar, how to make ox-pressed edible sesame, peanut oil, making toys from toddy leaves. Enjoy the locally-made lunch at the village house.
Continue to visit one of the villages, that are scattered around the surrounding plains of Bagan. Leave to Taung Bi Village, and visit the noodle makers, a Myanmar-style movie theatre, the village hairdresser and a local tea shop. Proceed to visit traditional family business including blacksmiths, brick makers, dry snack workshops and bamboo roof producers. If the time permits, enjoy the sunset at one of the temples.
Overnight stay at Sincere Smile Hotel (Superior Room) or Similar in Bagan.
Meals Included:
Breakfast: Hotel
Lunch: Simple lunch at village house
Day 7
Bagan - Heho (AM Flight) - Pindaya – Nyaung Shwe / Inle Lake
After breakfast, transfer to airport for domestic flight to HEHO. Upon arrival, proceed by road to Pindaya (60 Km, about 2 hour) an attractive drive up into the hills and across the Shan Plateau, through fields of mountain rice. Visit magnificent Pindaya Caves, set in a limestone ridge overlooking a picturesque lake. The cave consists of many chambers filled with hundreds of Buddha statues.
Enjoy a short trek through the hills to the village of the Danu tribe. You will pass through the farming where the Danu cultivates cheroot, tea, damsons and mangoes on the hillsides. Stroll along the village. Then, visit one of the tea plantation gardens to observe how they produce the famous Shan green tea. Enjoy green tea with snack and chat with the villagers. Then, continue to visit a local workshop where craftsmen make umbrellas and bamboo paper from local materials. Afterward, drive to Nyaung Shwe, the gateway town for Inle Lake, and transfer to hotel.
Overnight stay at Inle Apex Hotel (Superior Room) or Similar in Nyaung Shwe.
Meals Included:
Day 8
Nyaung Shwe - Inle Lake - Indein
After breakfast, day excursion by boat on the Inle Lake will include sights of the famous leg rowers, typical floating gardens, local methods of fishing, village life and magnificent scenery.  The visit begins with the local market in the Inle Lake region (Please note: on market days only). Then proceed to the Western Shore of Inle Lake, where you will find the beginning of a stair path leading to the well hidden Indein complex. Visit one of the most amazing historical sights on the shore of the lake consisting of hundreds of small stupas overgrown by moss and green vegetation.
Continue to an Intha family's house or local restaurant and join them in preparing lunch. Using local produce, herbs and freshly caught fish, prepare a feast of traditional dishes handed down from generation to generation of Intha families. Sit down around a large wooden table, local-style, and enjoy a delicious lunch in the company of a warm, hospitable local family.
After lunch, continue boat excursion in Inle Lake including the Phaungdaw Oo Pagoda, one of the most sacred shrines in Myanmar, dating back to the 18th century; Silver Smith, Black Smith, Weaving Workshops and Traditional Burmese Cigar Workshops in Ywa-Ma and Inpawkhon. Also visit the Nga Phe Kyaung Monastery wonderfully carved wooden floating monastery in the lake. Return back to Nyaung Shwe and enjoy evening walk to hotel.
Overnight stay at Inle Apex Hotel (Superior Room) or Similar in Nyaung Shwe.
Meals Included:
Breakfast: Hotel
Cooking class with lunch in Intha house
Day 9
Inle Lake - Heho - Tachileik (by flight) - Border Cross - Mae Sai - Golden Triangle (Chiang Saen)
After breakfast, transfer to airport. Flight to Tachileik, Myanmar border small town.
Upon arrival, welcomed by your assistance and transferred to Myanmar-Thailand border. After completing the border formalities, walk through Myanmar-Thailand Friendship Bridge to Mae Sai in Thailand where your guide in Thailand awaits.
Then, drive to the Golden Triangle, where the borders of Thailand, Myanmar and Laos meet. Visit the ancient Kingdom of Chiang Saen on the steep banks of Mekong River, opposite of Laos. Visit to Golden Triangle View Point and Opium Museum before transfer to hotel.
Overnight stay at Serene at Chiang Rai Hotel (Superior Room) or Similar in Chiang Saen.
Meals Included:
Day 10
Chiang Saen - Chiang Khong (by car) - Border Cross - Huay Xai - Pakbeng (by Mekong Boat)
After breakfast, transfer to Chiang Khong border to cross to Laos. Your Thai Guide will assist with immigration procedures before crossing a bridge to Lao immigration. This is done by shuttle bus and costs 30 baht per person (please bring cash).
(Note: Please bring two passport photos per person and cash in USD for the Lao visa on arrival.)
Upon reaching the Lao border of Huay Xai, meet your guide in Laos and transfer to jetty by tuk tuk. Board a traditional riverboat for a cruise down the Mekong River to Pakbeng (approx. 7 hours depending on the water level). The Mekong River has kept much of its untamed character with impressive rapids and lush jungles along its banks. En route, stop at some hill tribe villages such as the H'Mong village of Ban Houeilampene and the Thai Lu village of Ban Kouaytoune. Lunch will be served onboard.
Arrive in Pakbeng; a rustic town located on a steep hillside offering spectacular views of the Mekong River. Check-in to your hotel.
Dinner and overnight stay at Pakbeng Lodge (Superior Room) in Pakbeng.
Meals Included:
Breakfast: Hotel
Lunch: Onboard
Dinner: Pakbeng Lodge
Day 11
Pakbeng - Luang Prabang (by Mekong Boat)
After breakfast, continue your cruise along the Mekong River to the former Royal capital of Luang Prabang (approx. 6 hours depending on the water level). Lunch will be served on board. On the way, stop at Pak Ou, at the confluence of the Nam Ou and Mekong Rivers, to visit the sacred caves of Tham Ting and Tham Phoum, home to hundreds of Buddha statues. Continue to Ban Xang Hai village where sticky rice wine is distilled.
Upon arrival in Luang Prabang we transfer and check-in to our hotel. Overnight stay at Maison Dalabua Hotel (Deluxe Room) or Similar in Luang Prabang.
Meals Included:
Breakfast: Hotel
Lunch: Onboard
After breakfast, visit Vat Xieng Thong, regarded as the most beautiful temple of Luang Prabang with low sweeping roofs, Vat Visoun Temple with its Singhalese-style stupa, That Makmo, and Vat Aham, one of the city's major teaching shrines housing the puppets of the Lao ancestors. In the afternoon, visit the National Museum (formerly the Royal Palace) with its collection of personal artifacts of the Lao Royal Family. Continue to nearby Vat Mai Temple, which was the residence of a Buddhist patriarch before 1975, before climbing Phousi Hill to enjoy the sunset over the city and the Mekong River. Free time later to stroll through the H'Mong market.
Overnight stay at Maison Dalabua Hotel (Deluxe Room) or Similar in Luang Prabang.
Meals Included:
Day 13
Luang Prabang Departure
After breakfast, free time until your transfer to the airport for your departure flight.
Meals Included: