Experience Inthar Cuisine / Cooking Class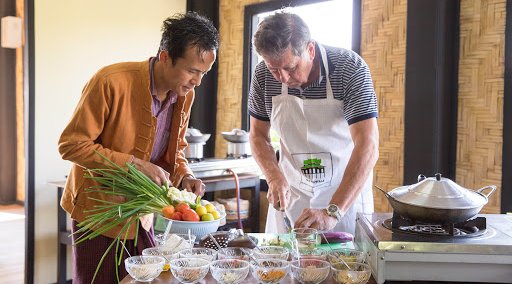 Will be the dishes that the guests have prepared during the cooking class. As well as vegetables, all kind of goods are traded at the markets. As part of the class, assistant chef will take you to these local markets, point out the best ingredients and materials, and coach you in the necessary (and fun) art of haggling with vendors to get the best price. Such trips also present a photographer's dream as a myriad of ethnic hill tribe people in their colorful garb around at these markets.
Gallery
Itinerary
Experience Inthar Cuisine / Cooking Class
At 09:00 - Departure to the market with one of our chefs. who will help the guest discover the market of local goods, and will purchase and explain some of the products that will be used in the class.
At 10:30 -  Distribution of recipes book and aprons. Basic lessons, participation of customers in preparing and cooking of their lunch.
At 13:00 - Aperitif offered on the Viewpoint rooftop
At 13:15 - Private lunch on the Viewpoint rooftop where guests will enjoy eating their own preparation.