Diverse Lifestyles of Myanmar - 16 days / 15 nights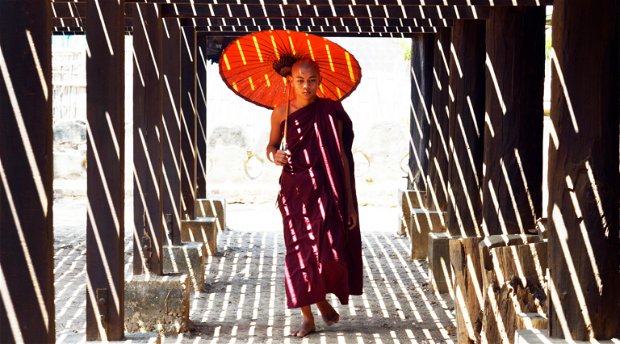 Embrace the wonders of Myanmar and it's people with this 16 days sustainable lifestyle oriented program. Explore uniquely, from icons to rarely visited villages and tribes, while leaving positive impacts to the environment and people living in. Suited with environmental friendly transportation when possible for lesser carbon footprint and support the projects that benefits locals. This is a hearty way to experience Myanmar differently!
Remark: This tour is just an example and can be customized to your preferences.
Gallery
Itinerary
Meet and greet by your guide at Yangon International Airport. Transfer to hotel (Remark – Official hotel check-in time is 14.00 noon).
Depart for first step to Yangon city ceter and stroll through the Bogyoke (Scotts) Market (closed on Monday and Gazette Holidays) where full of hundreds of stalls and shops and will be surprised the way of local life-styles and Myanmar's wide range of handicrafts. Take a short walk along the atmospheric colonial-era streets that will be amazing. Stop at Link Age Restaurant for your lunch (on own account). Link Age Restaurant is a small group of volunteers keen to contribute for the communities. They help marginalized youth to integrate into society through vocational training in the culinary field. They aim to grow as a Social Enterprise, to be sustainable and help more children in the future. If you wish, you can support local communities by purchasing souvenirs and paintings that are created by local artists.
Next, drive to Kandawgyi (Royal) Lake where you can take photos at Karaweik Hall, a 'hamsa-bird-shaped' floating barge. A few minute drive reach you to the magnificent reclining Buddha Chauk Htat Gyi.
Then, we take you through the back door and show you the full history of the Shwedagon Pagoda. Starting from the bottom of the hill and passing the workshops, markets and monasteries which will be useful to understand more of the country. Continue to walk along the pagoda platform clockwise, as is tradition, seeing monks and nuns who are meditating, chanting prayers and Burmese believers in Buddhism. Follow your guide's lead while touring this massive complex and learn why it's so revered among locals. Viewing sunset at Shwedagon Pagoda is one of the best memories.
Accommodation at hotel in Yangon.
Day 2
YANGON – BAGO – GOLDEN ROCK (BY CAR)
After Breakfast, drive (84 Km, 1½ hour)  to one of the richest archaeological sites, Bago City. En route visit a tree shrine dedicated to legendary animist spirits known as 'nats'. Near Htauk Kyant, visit the beautifully-landscaped and peaceful Allied War Cemetery, the last resting place of over 6300 Allied soldiers and home to a memorial of 27,000 more. Visit Bago including local market, Shwethalyaung Temple; a beautiful 55-meter long reclining Buddha and the Mon-style Shwemawdaw Pagoda. Have a stop at handicraft village where produces woven bamboo wares and learning about step by step doing project that will be amazing. Lunch break (on own account) will be at local restaurant on the way.
Head to Kin Pun Base Camp (110 km, 3 ½ hours) and continue by open-air truck along a winding road (about 45 minutes) to drop off point on the mountain, a short five-minute walk from the Golden Rock. On arrival, walk over a large platform to the Golden Rock and watching the beauty of this  pilgrimage site is unforgettable memories. Usually the place is lively with many people coming to spend their precious moments here.
Accommodation at hotel in Golden Rock.
Day 3
GOLDEN ROCK – THATON – HPA AN (BY CAR)
If you wish, early morning visit the Golden Rock again to see the rising sun casting its rays upon the rock. Have a memorable experience that local pilgrims gather by the rock to make offerings in early before dawn.
Later, down to Kin Pun Base Camp taking local open-air truck. Feel the panoramic amazing view, thrilling adventure experience, fresh mountain air along the down way. Proceed your journey drive about (120 km, around 3-4 hours) to Hpa An, the capital of the Kayin State where one of the largest ethnic group Kayin (Karen) are living. En-route stop at Thaton, the former capital of Mon Kingdom and Bayinnyi Cave with a hot spring lake, beautiful views of a temple complex and cave that you will never forget. Have a lunch (on own account) at one of the Kayin restaurant in Hpa An.
Afternoon, visit fascinating Kaw Gun Cave with over 2000 stone tablets with Mon inscriptions and hundreds of Buddha Statues. Also visit the interesting Kyauk Ka Lap Monastery. This monastery is known for its shape and location on a tiny island (access via a bridge).
Check in at hotel. Take a leisurely walk on the road along the Thanlyin River or visit Shwe Yin Myaw pagoda, the perfect spot to watch the sunset across the river.
Remark : Mentioned sightseeing spots may be adjusted depending on time available <today or next day>.
Accommodation at hotel in Hpa An.
After breakfast, visit Hpa An city including local market, Lumbini Garden, Lake Kantharyar etc... Continue to Sadan Cave with full of Buddha images and even a reclining Buddha. The cave is gigantic and can be walked all the way through to the other side, under the mountain. Returning you can take a small wooden boat under the mountain, making for a lovely circuit. (In case of  Sadan cave is closed, visit another beautiful cave in the Hpa An region).
After lunch (on your own account), head to Thamanya Monastery located outside Hpa-An town, standing in honour of its former chief abbot "Thamanya Sayardaw", passed away in 2003. Thamanya Monastery carries the sad burden of being the last resting place of this great monk. He was an abbot well known for his charity work, his counsel in Burmese education and the support he gave to the Burmese democracy hero, Aung San Suu Kyi. His monastery was alive with Buddhist doctrine and pilgrims when he was alive, even after his death, (his body which was interred in a glass tomb in the monastery was robbed in 2008 and it was later revealed that the robbers had burnt it. However the ashes were taken back to the monastery and are currently on display, understandably under lock and key), Monks try to keep up the good name of the place and it is surely worth a visit.
On return, stop at Ein Du weaving village where the distinct Kayin dresses are woven. Continue to Kawkataung cave, passing the red stone monks with their alms bowls line up the street. Many locals come here to have a refreshing swim in an enclosed part of the cool lake and there are some small local restaurants around the lake.
Then, walk around the Lakanar Village, a typical Kayin village with surprisingly green and clean surroundings. Enjoy the spectacular scenery of a lot of plantations and the village itself is surrounded by the picturesque mountain ranges. If you wish, continue the walk (about 45 minute) to another village called Shaung Tone Village. The villagers there are vegetarian and hold unique beliefs, worshipping a local hermit and following his way. Men still wear a knot of hair on top of their heads (Shaung Tone) and both genders wear authentic Kayin costumes. After exploring the villages, return back to Hpa An.
Accommodation at hotel in Hpa-An.
Optional : Hike for Zwekabin Mountain, tallest of the limestone mountains that ring Hpa-an (average 4 hours up/down). Hike to the summit is demanding – but once you're at the top the  rewards are plentiful.
Day 5
HPA AN - MAWLAMYINE
After Breakfast, 1 ½ hours scenic drive to the port town of Mawlamyine. On the way, visit U Nar Ouk Village (Kadoe Kanat Village). During the colonial times, U Nar Ouk ran a local ferry boat company that fell into competition with famous Irrawaddy Flotilla Company. There is a monastery built and donated by U Nar Ouk, where you still can see many ancient arts and crafts for decoration. After visiting the Monastery, continue to Mawlamyine.
Arrive Mawlamyine and check in at hotel on Strand Road among historic buildings from colonial era. After refreshment, enjoy your lunch (on own account) at a local restaurant.
Afternoon, visit the city including Kyaik Ma Yaw Pagoda through the Palm trees road; Mahamuni Pagoda; Seindon Mibaya Kyaung, where King Mindon's queen sought refuge and the first Baptist church.  
Accommodation at hotel in Mawlamyine.
Day 6
MAWLAMYINE – THANBYUZAYET - DAWEI
A long driving today with a trip to biggest Buddha statue in the world and Thanbyuzayat (approximately 1.5 hr). Here you will visit the Death Railway Cemetery. This important site contains more than 3,000 graves of prisoners of war who were set to work under extremely harsh conditions on this international rail link during the Second World War. Continue highway drive (about 6 hours) to Dawei. Lunch break (on your own account) will be at local restaurant on the way. Near Dawei there is Banana Mountain with elaborate hilltop temple and monastery. Climb on to enjoy the Buddha shrine and the view from top (Hiking Banana Mountain -average 45 minutes up/down). Arrive Dawei, check in at hotel and walk around the town if time permit.
Accommodation at Hotel in Dawei.
Day 7
DAWEI / KA LONE HTAR VILLAGE CBT
After breakfast at hotel. Depart to Ka Lone Htar village, an inland, orchard community, nestled in verdant forest and river. Upon arrival, welcomed by local community guide and start exploring a nature trail through orchards, forest and river. Along the way you can hear pleasant sound of birds, wind blowing through trees, flowing water, the smell of the earth out of the forest and so on…..
Community guide will take you to touch with local natives and learning about their livelihoods, cultures, traditional medicine and fascinating relationships with natural world. After exploring, time to swim in the verdant forest and relax at a swimming hole that kind of experience sure you will never imagine that before.
Afternoon, enjoy the local picnic style lunch using banana leaf by the river that offer you feel the new taste, flavors and experience that will be a new happening for your life and sure you will never forget this moment. Continue hike to the local hot spring with the chance to see mineral panning. Next, proceed to amazing simple Barefoot forest spa for new experience which helps you to see the relationship between the forest and community. After exploring and experiencing Ka Lone Htar Village, time to return to Dawei and transfer to your hotel.
Accommodation at hotel in Dawei.
Day 8
DAWEI / MAUNGMAGAN BEACH - YANGON (BY PM FLIGHT)
Morning drive about 45 minute (around 15 Km) to Hmaw Yit Pagoda located on a little island, linked with a bridge to the mainland. This place is perfect for photo shooting and enjoy the scenic view of Andaman Sea. Continue to famous Maungmagan beach with it's beautiful setting of shoreline and hills. Here, most people are locals and bathing practices are somewhat different – you may find the people wading in their jeans and shirts. There are several simple local restaurants serving fresh seafood and some picturesque beer stations. Take some time to relax at the beautiful beach enjoying the views and sea breeze. Or if you wish, walk about 30 minutes to a characterful fishing village with small boats nestled in its harbor.
Then, drive back to Dawei and transfer to airport for your domestic flight to Yangon. Upon arrival, transfer to hotel.
Remark : Mentioned sightseeing spots may be adjusted depending on Dawei-Yangon flight time
Accommodation at hotel in Yangon.
Day 9
YANGON – BAGAN (BY AM FLIGHT)
Breakfast at hotel. Transfer to airport for domestic flight to Bagan.
Upon arrival to visit the colourful local market and continue the day with visits to the most significant pagodas and temples of Bagan including Shwezigon Pagoda, built by King Anawrahta in the early 11th century as a religious shrine and small monastic school at Zay Ta Wun Monastery. Next stop is Htilominlo, the last Bamar-style temple built in Bagan, which boasts old murals and friezes. Continue to Ananda Temple, with four standing Buddha images and a photo stop at Bagan's tallest temple; 61 metre-high Thatbyinnyu, known as the 'temple of omniscience'. Check-in at hotel and have time for short refreshment. For lunch (on your own account) your guide may arrange at Ayeyarwaddy River Terrace Restaurant or depending on your wish.
Afternoon, visit one of Myanmar's and Bagan's most famous lacquer ware workshops and see craftsmen in Myinkaba village. You will continue to Manuha Temple, built in Mon style in 1059; Nanbaya Temple, a unique sandstone monument and according to legends a former palace site of King Manuha. Next you will explore the UNESCO protected Myingaba Gu Byaukgyi, a temple known for its mural paintings. Finish the day, a horse-carriage will take you through some of the more off the beaten track temple sites to an elevated viewpoint to watch an unforgettable sunset over the plains.
Accommodation at hotel in Bagan.
Day 10
BAGAN / VILLAGE TOUR
Experience the different ways of lifestyles in Bagan's country side.
After breakfast, venture out into the country side passing through stunning land scenery, where depending on season peanuts, sesame, soya beans and other crops are planted. Each field is protected by palm trees which give shade to the farmers and which protect the fields from the wind. Stop in Sel Village where wooden slippers are produced that people use for showering or working in the fields.  Enjoy a walk through this wonderful quiet place. Many people here produce Soya Paste (locally called - Pone Yay Gyi), a welcome ingredient to make a tasteful dinner.
From Sel, continue by car to Nga Thayouk village. Walk through this village among many interesting things such as families making cooking pots. Proceed to Sat Sat Yo village, which is famous for the children's hairstyle which is the same like centuries ago where the top hair is not cut and kept in a knot. Children up to teenager age keep this style under the supervision of the head monk of the village. Walk through this village and if chance, talk to the head master of the school and learn about village life in general. Picnic style lunch will be served. In the afternoon, drive (about 1 hour) to visit Kyaukgu Umin Temple. After exploring temple, return to Bagan by boat, a relaxing cruise about 1 hour along Irrawaddy River. Throughout the river cruise, enjoy the fabulous scenes of life on the water: fishermen, local ferry boats, riverside villages and views of the Bagan temples. Arrive Bagan jetty and transfer to hotel.
Accommodation at hotel Bagan.
Optional: Experience the magic of Bagan and a thousand years of history from the enchanting platform of a hot air balloon, for the first time ever. Balloons in Bagan offers visitors exclusive sunrise champagne flights over the ancient pagodas of Bagan from late October to April.
Day 11
BAGAN – MOUNT POPA - KALAW (BY CAR)
Breakfast at hotel. Drive to visit Mt. Popa, an extinct volcano standing 1,518 meters high. Mt. Popa has played an important role in Burmese culture, religion and history since earliest times. Its shrine is dedicated to the worship of the 37 Nats, the Burmese ancient animist spirits. At Mt. Popa, walk up to Taungkalap, the 777 steps to the top, provide an energetic climb rewarded by fabulous views from the top. Also visit the market at the foot to Taungkalap.
Continue to highway drive to Kalaw (240 Km, around 6-7 hour) on a beautiful winding road through the Shan Hills, enjoying local ways of life on the way. Lunch break (on your own account) will be at local restaurant. Kalaw, a charming town featuring British-style bungalows, is a lively market town where many ethnic minority people of the surrounding areas buy and trade their goods. Arrive Kalaw and check in at hotel. If time permit, enjoy strolling through Kalaw including the tiny railway station and Hnee Pagoda, a 500 year old bamboo Buddha statue.
Accommodation at hotel in Kalaw.
Day 12
KALAW – GREEN HILL VALLEY ELEPHANT CAMP – INLE LAKE
After breakfast at hotel set out to Green Hill Valley Elephant Camp (26 Km, around 1 hour). Welcomed by elephant camp team and transfer to the main camp. Enjoy a welcome drink while the guide from elephant camp is explaining on the day's activities, background of the camp and history of elephants.
Then embark on a short walk to the river, passing through a reforestation project set up by the camp and villagers. Arrive to elephant village and see the life of mahouts with their families. Meet the elephants – the guide will explain their name, age, and how they ended up retiring at the camp. Trays of bananas and sugar cane will be brought out and spend some enjoyable time feeding the elephants. The elephants will likely be enjoying a refreshing swim in the stream and you can join the mahouts to bath these gentle animals if you wish. Return to the main camp for lunch. If there is time in the afternoon to explore more on foot with the local trekking guide or interact with the elephants. Then, drive (96 Km, around2 ½ hour) to Nyaung Shwe, a charming small town, gate way to Inle Lake.
Accommodation at hotel in Inle Lake.
After breakfast, set out for your day excursion by boat on Inle Lake. Calm waters are dotted with floating gardens and fishing canoes surrounded by scenic mountain ranges provide the perfect scenery. See the local fishing methods of Inthar fishermen who row standing up with one leg wrapped around a single rower, leaving their hands free to manipulate the cone-shaped fishing net.
Start with a visit to the morning market, which rotates in different locations on a 5-day basis. Local Shan and Inthar people, as well as Pa-O villagers from the surrounding hills, converge to sell their wares and produce; it's a great chance to meet with the locals. Next is Hpaung Daw U Pagoda, one of the most sacred shrines in Myanmar, dating back to the 18th century. Lunch break on your own account will be at Inthar traditional restaurant located on the lake. Continue boat excursion with visit to Ywa-Ma and Inpawkhon villages where to see the traditional weaving workshop and cheroot factory, where Myanmar cigars are rolled by hand. Also visit Nga Phee Kyaung Monastery wonderfully carved wooden floating monastery in the lake. Return back to your hotel.
Accommodation at hotel in Inle Lake.
Day 14
INLE LAKE / SAMKAR VILLAGE CBT
After breakfast, depart for full day excursion to Sagar, also called Samkar, a rarely visited area so far south of Inle lake. The boat journey takes 2.5-3 hours but is full of fabulous views of many unique species of birds, sugarcane plantations and bamboo forests etc.. The main highlight, sunken stupas of Sagar, are 108 stupas from the 16-17th centuries that are partially underwater for a few months a year.
Upon arrival to Sagar, meet with community guide and explore 1.5-hour walking tour of Samkar village to discover the famous stupas and to go 'behind-the-scenes' by trying bamboo weaving at a local workshop. At midday enjoy a home-cooked traditional lunch at a local family's home in Thar Ya Khone village.
After lunch have some free time to explore Thar Kaung Pagoda with your community guide to interact more deeply with local ethnic groups of Pa-O and Intha. Then, board a traditional wooden canoe for a peaceful 45-minute engine-free tour of the floating pagodas near Thar Ya Khone village with a local community guide and pilot – you can even try rowing the canoe yourself !
After experiencing hands on activities at Sagar, it's time to say good bye to your community guide and boat return journey to the main section of Inle Lake. Traveling back in the afternoon the light has shifted and the route looks much different on the return, with different activities occurring on the water and in the villages. Rice noodles can be seen drying in the sun, spun cotton is hung out to dry and kids are returning from school at this time of day.
Accommodation at hotel in Inle Lake.
Day 15
INLE LAKE – HEHO – YANGON (BY AM FLIGHT)
After breakfast at hotel, transfer to airport for domestic flight to Yangon. Car and guide at disposal for last minute shopping or sightseeing in Yangon according to your wish.
Accommodation at Hotel in Yangon.
Breakfast at hotel. Free time till transfer to airport for departure.