Day Trip To Ka Lone Htar Village - Full Day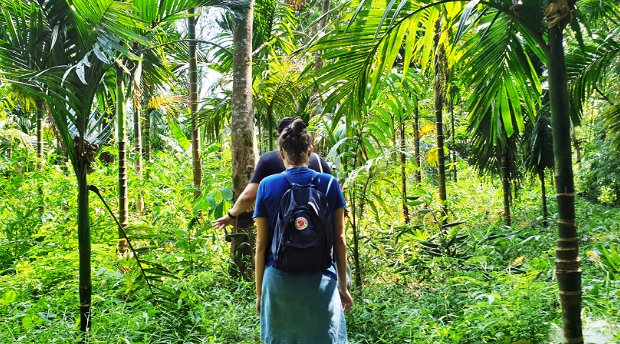 Explore a picturesque Ka Lone Htar Village, nestled in verdant forest and crystal clear river. Trekking around the village, at that time you will have a chance to explore a nature trail into orchard life, livelihoods, learn about forest remedies, love forest picnic style lunch, enjoy swimming in the green river in the verdant forest and relax in simple unique barefoot forest spa. Of all Community Based Tourism experiences, this is undoubtedly one of the best to explore authentic local lifestyles whilst benefiting local community.
Remark: This tour is just an example and can be customized to your preferences.
Gallery
Itinerary
Ka Lone Htar Community
Upon arrival at Ka Lone Htar Village, an inland, orchard community, nestled in verdant forest and river, welcomed by your local community tour guide who will give a quick briefing. Then, head to the forest 'pharmacy', a local initiative to collect and plant a huge variety of traditional herbal medicine. From there, hike past the village monastery and stop outside to learn about the community work initiated by the revered local community monk.
Afterwards, head out of the village and into the local fruit orchards where villagers grow a great variety of fruits and crops including cardamom, betel nut, pineapple, cashew nuts, sweet potatoes and bananas. The forest is also a living repository of traditional herbal medicines. Community guide will stop along route, explaining about these medicines and how they are harvested and used.
Remark : Hiking is not very strenuous but should bring suitable shoes.
On the way to Ka Lone Htar picnic spot you can hear pleasant sound of birds, wind blowing through trees, flowing water, the smell of the earth out of the forest and so on…..When arrived at Ka Lone Htar picnic spot enjoy either a delicious, home cooked picnic lunch with several dishes / or a simple one-dish pack lunch.
There is time to relax at a swimming hole (before lunch) or swim in the cool, green river in the verdant forest (after lunch) that kind of experience sure you will never imagine that before.
Remark : Swimming may depends on weather and local guide recommendation.
After lunch, continue about 1 hour hike along the river to amazing simple Barefoot forest spa for new experience which helps you to see the relationship between the forest and community. Here, you can bath or soak your feet in mineral water at the local hot springs, or rest by the serene river side. The Ka Lone Htar Spa group will serve a healthy snack and herbal drink. You can also try applying Myanmar's most famous natural cosmetic, Thanakha. From there, return back to Dawei.
What's included
Local Community tour guide
Visit to Forest Pharmacy
Hiking in Ka Lone Htar Nature Trail
Special forest picnic (at least 4 different dishes)
Coordination fee of 1000Ks / guest
What's excluded
Transportation to Ka Lone Htar
Licensed, regional, English speaking tour guide
Bottled water, soft drinks or alcohol
Souvenirs
Note: To avoid creating unnecessary waste, should bring your own drinking water in reusable bottles. Free refill stations will be available. Bottled water is also available, for an additional cost.