Dala And Twantay Biking Adventure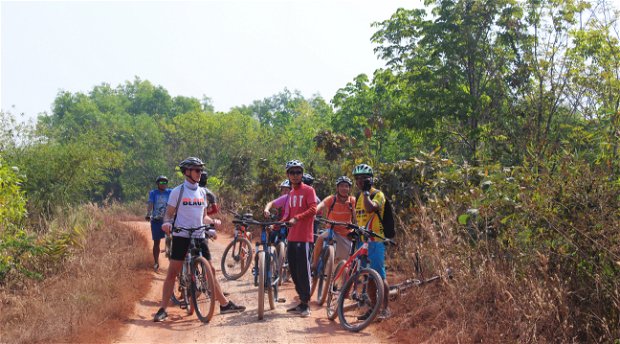 Biking outskirts of Southern Yangon (Dala to Twantay) is the best way to escape from the urban city life. This tour is more suitable for active bikers who want to experience untouched villages, unique pagodas, a lovely countryside area, friendly villagers, beautiful lakes, green paddy fields, a shady road, potters' workshop and recycle souvenir shop just close to Yangon. Moreover, you can feel the amazing sunset on the ferry boat which will impress you to the max.
Remark: This tour is just an example and can be customized to your preferences.
Gallery
Itinerary
Full Day
Meeting point is near Nan Thida Ferry Terminal in front of Junior Duck restaurant
Meeting point is near Nan Thida Ferry Terminal in front of Junior Duck restaurant, where the awaiting your local guide and bikes are ready to serve you. Once the equipment is completely OK, take your bike and across the Yangon River by local ferry-boat (10 Minutes) to Dala Township which is another side of Yangon river where you start biking of the day. Bike in Dala village, experiencing the people lifestyles, a busy jetty, Yangon river front and have a stop at Chu-Chu recycle souvenir shop. Then bike towards Twantay, through Baung Taw Gyoke Pagoda, a unique pagoda arises on a small lake. Along the way, bike through hidden streets, beautiful lakes, village schools, green paddy fields and beautiful countryside. After a few hours biking, you are getting familiar with the rural landscape of Yangon suburb. Have a lunch stop (on your own account) at small local restaurant at Twantay and take some rest.   
Continue your ride through pristine areas such as beautiful farms, easy up/down hills and rural sceneries. There are chances to experiences potters' workshop as pottery is one of their traditional business. Explore around the rural tiny town center and Twantay Market. Continue biking through Twantay Bridge to the other side of Twante Canal. There will be a stop at local restaurant to enjoy fresh drinks and snacks (on your own account) on the way. After snack break, bike along Twantay canal to Seikgyi River Village. Continue biking along to the end of tiny village roads where there is jetty for the boat ride to Yangon. Then, across the Twantay Canal and Yangon River by local boat to Nanthida jetty and enjoy your way back home to Yangon with amazing sunset from the river. Arrive back to Nanthida Jetty and your one day biking adventure comes to the end.
What's included
Mountain bike (One bike per person)
English speaking guide
Dala ferry
Local boat from river village to Nanthida Jetty
What's excluded
Meals (Lunch / Dinner)
Cold Drinks / Snacks
Gratuities
Personal expenses
Travel insurance