Virtual Office Myanmar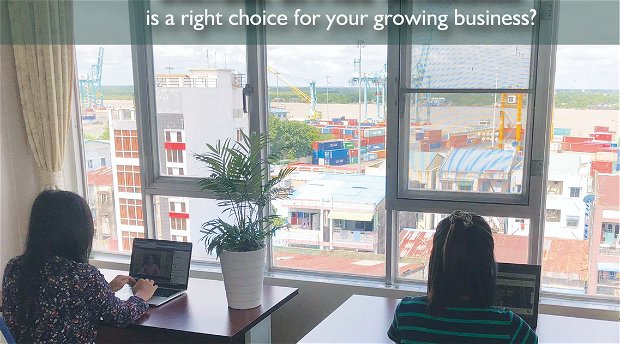 Why a Virtual Office is the right choice for your growing business?
Virtual offices allow for an increase in productivity, a reduction in commuting costs and more flexibility. Virtual offices also significantly lower overheads and technology costs – making for a more cost-efficient solution to modern working.
Generally speaking, virtual offices extend features such as a physical address, 24/7 phone and receptionist services, and access to meeting/conference rooms. Some virtual offices also provide things like document shredding, shipping, networking events, and event space.
So how does a virtual office work for your company? There are 10 advantages of virtual offices for a business. From remote work to business support, the benefits of virtual offices include:
1.  Work from Anywhere 
Another key benefit of a virtual office is the ability to log on from wherever, whenever. Virtual offices are ideal for those who want to work remotely as it gives you the flexibility to work from anywhere – from home, from a beach, from the park, from anywhere you want. If all your business needs is an internet connection then a virtual office is the ideal solution for you.
2.  Saves time
With virtual offices, you'll save time on commuting (or having to leave the house in general) so you can focus on the work at hand. Your employees, too, will be able to make the most of their workday without worrying about the time they lost to traffic or other hold-ups on their commute.
3.  Phone & Email Reception Services
Virtual offices provide telephone answering services which will respond to your calls in a professional manner, take messages and forward calls directly to you. In addition, they will also be able to scan the contents of your physical mail and email it to you. Having access to these reception courtesies can do wonders to your company profile.
4.  Personalized voicemail box
A virtual office gives you the privilege of setting up your preferred voicemail message for calls to communicate clearly and in advance with the customers in cases of your unavailability. Thus, the benefits of having a virtual office increase interaction with your consumers, rigorously.
5.  Work-Life balance
Work-life balance validates your thought of why use a virtual office. The benefits of having virtual offices allow you to work efficiently from your safe space, which reduces stress levels and also gives enough time to spend with your loved ones.
6.  Flexibility of work
Flexibility at work makes you more energetic, enthusiastic and interested in work. Such advantages of virtual offices save not only time but improve overall work attitude.
7.  Cost-effective practice
A real-time office may cost you a huge expense in many aspects. Either you have to rent or lease the commercial space, pay utilities, buy furniture, equipment and technology. The advantages of virtual offices cut down those expenses and help you in saving some cash, which you can invest in future business expansion.
8.  Meet Clients in a Real Office Space
When you need to meet a new client, taking them to coffee is better than meeting them at home. But a real office space with meeting rooms, WIFI, and comfortable chairs is infinitely more credible than any coffee shop meeting.
With virtual office, you can access formal meeting spaces where clients will feel comfortable and relaxed in the business environment they expect.
9.  Research opportunities
Researching new markets is one of the most important elements of business expansion. Before you delve straight into setting up a new branch, it's always a good idea to test the market and determine whether or not it will be beneficial. Virtual offices can be used to establish your company in a particular geographic location without having to move there physically. 
10.  Easy setup 
Virtual offices are easy to set up and easy to shut down as well, without the need to spend anything additional. Traditional office spaces will often require a long-term lease agreement. Virtual office agreements can last for as little or as long as you need. This means if you have a financial shortfall, you can cancel your agreement for as long as you need to. You are also free to change the terms of your contract. For example, if you'd like add or remove anything – such as telephone answering or a mailing address – you can arrange to change the terms of the agreement.