NAGA New Year Festival 2021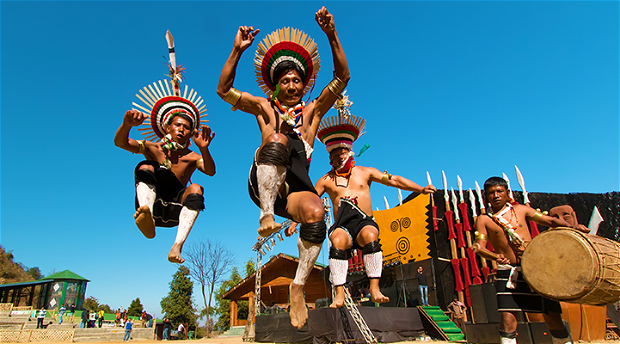 High on the Montains of North West Myanmar are a proud group of people know to the world as NAGA.
Journey to untouched hiding these ancient tribes is specially designed for adventure travellers and photographers who want to explore the authentic cultural of Naga Tribes and want to get amazing photos of real life of Hill Tribes, Naga People.
                                                                            Hidden Naga Tribe
The Naga are a group of tribal people inhabiting the northwestern lull tracks of Myanmar such as the Sagging Division and the Indian state of NAGA LAND. The numerous NAGA languages belong in the Tibeto-Burman languages group of the Sino-Tibetan languages family. Naga traditionally are tribally organized, with a strong warrior tradition. Their villages are Steep slopes and even deeper ravines the land as blue hazy mountains retreat towards the horizon.
Gallery
Itinerary
Day 1 (12-Jan-2020)
Mandalay - Khamti (By Flight) - Lahe
From Mandalay, flight to Khamti, the gateway to Naga Land. Upon Arrival, welcome by your local tour guide and driver.  And then, drive to Lahe, the place where the festival happen. Enjoy your lunch on the way and you will see the beautiful scenic Naga Mountain and have a chance to take a natural look photos along the way.  When arrived at Lahe, transfer to a local guest house and enjoy your traditional dinner prepared by local.
Overnight Stay in local accommodation.
Day 2 (13-Jan-2020)
Lahe Village Excursion
After Breakfast prepared by local, visit Lahe and environs around the village including three villages such as Ma Kyan, San Tone and Kyar Wan for sightseeing and explore some Naga family traditional houses. Enjoy your lunch with traditional meals prepared by local with warm hearts. The lifestyle of Naga people will amaze you with their friendliness and stories, traditions and unique culture. Dinner and overnight at Naga guest house.
Overnight Stay in local accommodation.
Day 3 (14-Jan-2020)
Lahe (The opening ceremony of Naga Festival)
Explore the Opening Ceremony of NAGA TRADITIONAL NEW YEAR FESTIVAL 2020, Native Naga men and women dressed up in their traditional and ancient ethnic costumes a grand head-dress made of a rattan hat topped with monkey fur and two fangs of a wild boar and long hornbill feathers, with a string of tiger claws in his face. You can also enjoy their own unique songs and dances that you may never have seen before. This Naga New Year Festival will give you full of surprises, new discovery and deep impression.
Overnight Stay in local accommodation.
Day 4 (15-Jan-2020)
Lahe (Bonefire of Naga New Year Festival)
The second day of this fantastic festival will give you continuous attractions. Another highlight of today is to participate and enjoy the Bonfire party of Naga people. Watching bonfire party with cool weather, listening to their traditional music and dancing people crazy make your memorable time ever.
Overnight Stay in local accommodation.
Day 5 (16-Jan-2020)
Lahe - Khamti
After morning sightseeing in Lahe, proceed back to Khamti by private car. It will be same way back and visit some rest villages on the way back. In the evening, some more sightseeing by strolling around the town and enjoy the sunset on the bank of the Chindwin River. Dinner at a restaurant and overnight will be at a guest house again in Khamti.
Overnight Stay in local accommodation.
Day 6 (17-Jan-2020)
Khamti - Mandalay (By Flight)
Morning leisure and sightseeing in the small town. Upon to your flight time, transfer to airport and fight back to Mandalay.
Itinerary is subject to changes depending on flights, road conditions and regional conditions.
What's Included
Simple Accommodation
Meals: Breakfast, Lunch & Dinner all are in inclusive of package
Return flight from Mandalay
Transportation by Indian Jeep 4x4 vehicles with drivers and guide
INFORMATION:
1.Electric will be very challenging with limited access to power. Please ensure that you are self – sufficient in terms of charging your application by bringing things like spare batteries, light weight solar panels or power packs to avoid frustrations.
2. Telephone Signal - You're mobile roaming will not working in Khamti / Lahe
3.Guests are requested to carry with you only the essentials such as warm clothes, gadgets, torches, masks to protect dust, and medicines etc along the way.
4. Accommodation - Very basic accommodation, Naga roll house in festival.