Myanmar Photo Expedition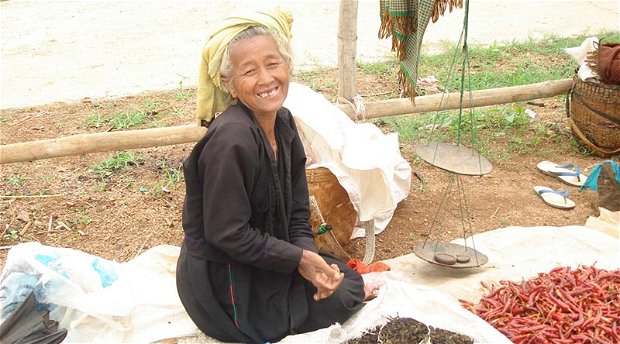 This program starts from Yangon and ends in Mandalay, offers different Photography Themes
with two air travel and cruise along Ayeyarwaddy River.
With your photography guide, get Photography Themes of local life, architecture,
sunset and sunrise, landscapes, handicrafts, fishing, monasteries, temples and pagodas, River-Life, etc.
Tour starts from YANGON, with its picturesque colonial architecture, atmospheric markets and glittering pagodas.
Then, first flight to discover the floating gardens and villages of INLE LAKE,
onward flight to BAGAN to explore the incomparable thousands of stupas and pagodas.
After boat trip along Ayeyarwaddy River to MANDALAY, the trip ends in this Myanmar's cultural capital for your next destination or home.
Recommended travel period: from November to May.
Itinerary
Upon arrival at YANGON airport, welcomed by your Asian Tour guide and transferred to hotel.
After refreshment, your journey begins with an afternoon tour through Yangon's colonial-style city center. A photo stop at the KARAWEIK HALL, a 'hamsa-bird-shaped' floating barge on Kandawgyi (Royal) Lake and start your walking tour at MAHABANDOOLA PARK from where you have the perfect view on SULE PADOGA, CITY HALL and HIGH COURT. Continue walking up to PANSODAN STREET famous for some of Yangon's most impressive colonial buildings. Then walk down to the landmark STRAND HOTEL and then to NANTHIDA JETTY followed by a scenic sunset photo cruise on the Rangoon River.
Drive back to hotel.
Overnight stay in Yangon.
Photography Themes: street-life, architecture, sunset, local life, markets.
Breakfast at hotel.
Stroll through the BOGYOKE (SCOTTS) MARKET (closed on Monday and Gazette holidays), a compound of hundreds of food, garment, handicraft and gem stores. Walk to CENTRAL TRAIN STATION for train journey on the circular 'commuter' train line. The slow local train completes a loop through the suburbs and outlying villages providing an original and 'behind the scenes' view of local life and Rangoon city – a great introduction to Burma. Afternoon drive and visit the magnificent reclining Buddha CHAUK HTAT GYI and complete your day with a visit to one of the world's most spectacular monuments, the SHWEDAGON PAGODA. Enjoy a chance to photograph local families and pilgrims strolling and socializing beneath this extraordinary temple before a photo shoot at a lamp-lighting ceremony.
Overnight stay in Yangon.
Photography Themes: street-life, local life, markets, Shwedagon Pagoda, sunset,
DAY 3
YANGON – HEHO (BY AM FLIGHT) – INLE LAKE
After early breakfast, transfer to airport. Flight to HEHO and travel overland to NYAUNG SHWE (25 km – 1 hour), visiting HEHO market along the way. Board long tail boats and set out across the Inle Lake to floating resort. Enjoy an afternoon on the lake, photographing floating villages and pagodas on shore and capturing the unique sight of fishermen poling their skiffs with one leg.
Proceed to the Western Shore of Inle Lake, where you will find the beginning of a stair path leading to the well hidden INDEIN PAGODA complex and continue to visit NGA PHE KYAUNG MONASTERY; wonderfully carved wooden floating monastery in the lake.
Overnight stay in Inle Lake.
Photography themes: landscapes of the Shan Plateau, local markets, lake-life, local people, ruined city of Indein.
DAY 4
INLE LAKE – NYAUNG SHWE
After breakfast, boat excursion in Inle Lake including Local Market (if possible); the PHAUNGDAW OO PAGODA, one of the most sacred shrines in Myanmar, dating back to the 18th century and SILVER SMITH, BLACK SMITH and WEAVING WORKSHOPS in YWA-MA and INPAWKHON.
In the afternoon we are treated to a boat ride to photograph local fisherman houses on the lake.
Later, boat to Nyaung Shwe town for overnight stop on the land.
Overnight stay in Nyaung Shwe.
Photography themes: local markets, lake-life, handicrafts, traditional industries, fishing and local people
DAY 5
INLE LAKE – HEHO– BAGAN (BY PM FLIGHT)
This day we rise early to photograph monks from the local monasteries, walking through town collecting their daily alms from the local population. Later we have a guided walking tour of Nyaungshwe town including the many monasteries, pagodas and the local market. Those wishing to hike or rent a local bicycle are free to do. Afternoon transfer to Heho airport. Flight to BAGAN.
Upon arrival to Bagan, transferred to your hotel.
Overnight stay in Bagan.
Optional: Balloons Over Inle 
Shan state is one of Myanmar's most beautiful and culturally diverse areas. This exclusive balloon ride is a truly remarkable experience allowing you to venture off the beaten path and gain a unique perspective of the country and people. To fly over the lake in a balloon, has to be one of the most beautiful ways to see this wonder. You will see the morning fishermen looking for the first catch of the day, and boats laden full of produce on their way to the market by the immense labyrinth of canals. At higher altitude you will be amazed to see thousands of village houses seemingly floating on the lake.
Photography Themes: Local peoples, Landscape, street-life, monasteries
During the 11th and 12th centuries, over 10,000 temples and monasteries were built on the Bagan plain. Today, more than 2,200 of these structures—from tiny stupas to towering temples—still dot the landscape. Rise early for a sunrise shoot of this picturesque plain from the vantage of a temple terrace. Then examine 13th-century murals at GUBYAUKGYI Temple, and stop to photograph craftspeople at a lacquerware workshop. Ride a horse-cart to ANANDA Temple, home to four great, gilded Buddha statues, and meet with an archaeologist at the site. Continue to Minanthu village for an elevated viewpoint for an unforgettable sunset over the plains.
Overnight stay in Bagan.
Photography Themes: Temples, landscape, village life, Sunrise
Optional: Experience the magic of Bagan and a thousand years of history from the enchanting platform of a hot air balloon, for the first time ever. Sunrise Balloons in Bagan offer visitors exclusive sunrise champagne flights over the ancient pagodas of Bagan from late October to April.
Breakfast at hotel.
Again, we are up early to catch our horse drawn carriages for a sunrise shoot at temples. Then we go for a day tour to see brown sugar, alcohol and plum juice production, on the way to Mt. POPA. Mt. Popa is a place of pilgimage for Burmese of all walks of life and is home to Burma's nats.
Locals climb the mountain to make offerings to the nats. We'll witness and photograph this spectacle before returning to Bagan.
Overnight stay in Bagan.
Photography Themes: Temples, landscape, village life, Sunrise
DAY 8
BAGAN – MANDALAY (BY BOAT)
Early morning departure by boat up the Irrawaddy River to Mandalay. The trip takes approx. 10 hours upriver, depending on river conditions and water level.
Overnight stay in Mandalay.
Photography Themes: River-Life, Landscapes
Optional: Experience 1night/2nights/3nights/4nights cruise between Mandalay and Bagan by exclusive vessels.
Rise early to witness the morning face-washing ceremony of the MAHAMUNI Buddha, the most revered Buddha image in Mandalay. Focus on the carvings of MANDALAY HILL; the SHWENANDAW Monastery and the 729 chiseled marble slabs of KUTHODAW Pagoda, and go on a special photo shoot at SHWEKYIN Monastery to document monks at prayer. Frame views of Mandalay and its moat from atop the city walls and then head to a gold-leaf workshop to photograph artisans plying their craft. After lunch break, visit the home of a local artist to see his collection of old paintings and tapestries. Travel to the 18th-century capital of Amarapura for a sunset photo walk across U BEIN BRIDGE, a teak structure that spans nearly 4,000 feet, or ride in a canoe on TAUNGTHAMAN Lake below for a different perspective.
Overnight stay in Mandalay.
Photography Themes: Over the city from Mandalay Hill, Street-Life, Monasteries, Arts, wonderful U Bein Bridge
DAY 10
MANDALAY / MINGUN / SAGAING / AVA
After breakfast, an excursion by boat on the Ayeyarwaddy River to MINGUN, about 11 km (1 hour) upriver from Mandalay. Visit the unfinished MINGUN PAYA, which was meant to become the largest stupa in Myanmar constructed by King Bodaw Paya one of the world's largest bells; the 90 ton weighing MINGUN BELL and HSINBYUME PAYA. Return back to Mandalay.
In the afternoon, drive to SAGAING and visit KHAUNGMUDAW PAGODA. Then embark for a short boat ride over a river and explore the former Royal Capital INWA (AVA) by horse cart. Visit NANMYINT WATCHTOWER, the remains of the ancient palace building, also known as "the leaning tower of Ava"; MAHA AUNGMYE BONZAN MONASTERY, built of brick and stucco; BARGAYAR MONASTERY, famous for its impressive ornate woodcarvings and teak posts.
Overnight stay in Mandalay.
Photography Themes: River-Life, Ruined Temples
Breakfast at the hotel. Transfer to airport for International departure. 
Itinerary is subject to changes depending on flights, road conditions and availability of rooms.