Myanmar Cruise and Boutique - 11 days / 10 nights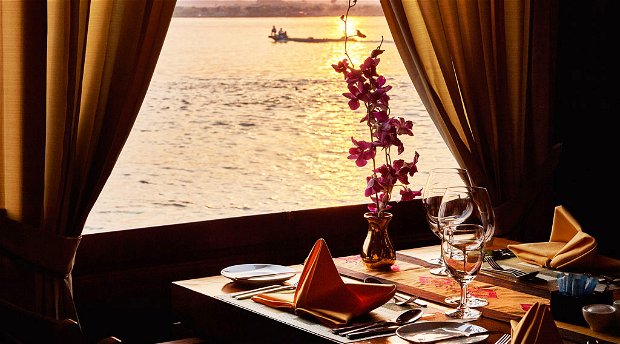 Exclusively for 3 Days / 2 Nights cruise along Irrawaddy River and
beach break in Ngapali at the end, this program is designed with major highlights.
Recommended travel period: Throughout the year according to cruise schedule.
Remark: This tour is just an example and can be customized to your preferences.
Gallery
Itinerary
Upon arrival at YANGON airport, welcomed by your guide and transferred to hotel (Remark : Official hotel check-in time is 14.00 noon). Then, depart for a heritage tour start at YANGON CITY HALL, located at the heart of the colonial-era city. Nearby is the former Immigration Department. This building was designed in 1910 to be the country's most upmarket department store, Rowe & Company. Proceed to the High Court, a 1911 brick building designed by the architect John Ransome. Continue walking down to PANSODAN STREET enjoying impressive colonial buildings and have a stop at HLA DAY, a non-profit social enterprise shop, offers quality contemporary and traditional handicrafts sourced from local producers often struggling to overcome disability, exclusion and poverty. You'll find colorful women's and kids' clothing, soft toys, stationery, jewellery, home wares and more there. Continue to Strand Road, home to the three-story former New Law Courts. Next stop is the 1916 Custom House, a large building with an elegant white tower and double-faced clock above the entrance. Walk past the red brick General Post Office to the luxurious Strand Hotel, built in 1901 by the Sarkies brothers, Armenian hoteliers. And also see the bustling life at the NANTHIDA JETTY. Continue visit and stroll through the BOGYOKE (SCOTTS) MARKET (closed on Monday and Gazette Holidays), a compound of hundreds of stalls and shops, that gives you the opportunity to see Myanmar's wide range of handicrafts. After a photo stop at the KARAWEIK HALL, a 'hamsa-bird-shaped' floating barge on Kandawgyi (Royal) Lake, visit the magnificent reclining Buddha CHAUK HTAT GYI. Evening, visit to one of the world's most spectacular monuments, the SHWEDAGON PAGODA for sunset viewing.
Overnight stay in Yangon.
Day 2
Yangon - Mandalay (by am flight)
Breakfast at hotel. Transfer to the airport for a domestic flight to MANDALAY. Upon arrival, drive to MAHAGANDAYON MONASTERY where more than a thousand monks live and study. Time permitting you will have the opportunity to observe the monks having their last meal of the day in total silence. Transfer to hotel.
In the afternoon, visit also one of the most revered religious monuments of Myanmar, the MAHAMUNI PAGODA. Mandalay is also a major arts and crafts center. Visit a Kalaga tapestry craftsmen's shop. Continue experience the sights and sounds of Mandalay including the SHWE INBIN MONASTERY; the GOLDEN PALACE MONASTERY, a superb example of a traditional wooden building and KUTHODAW PAGODA the world's largest book made of marble. Then proceed to MANDALAY HILL for sunset.
Overnight stay in Mandalay.
Day 3
Cruise, 3 Days / 2 Nights, (By RV Paukan) - Mingun (L/D)
Transfer for boarding cruise. Check-in Time: At 12:00 AM, embark on the cruise at Gawein pier and have welcoming cocktail in the Saloon.
Upstream to Mingun: At 12:30 PM, start to set sail and have lunch at 13:00 PM. It will take about 2 hours sailing. Dinner and stay the night at a sandbank midstream. May also have opportunity to enjoy a drama and dance performance by the Mandalay School of Arts on the sundeck.
Overnight stay on RV Paukan.
Day 4
Mingun - Sagaing - River Village (B/L/D)
Downstream to Sagaing: In the early morning, take a 2-hour sailing downstream and enjoy the scenic views of the river, life near the riverbanks, and the sunrise sights over Sagaing Hill.
Visit Sagaing: After having breakfast, we travel to Sagaing with the guidance from our Cruise Manager or your guide.
Downstream to Bagan: Set sail at 10:30 AM and have lunch at 13:00 PM. In the late afternoon, reach Yandabo well known for both its special potteries craftsmanship and its historical aspect. In 1826, the Royal Burma and British Burma signed the peace treaty of the First Anglo-Burmese War here. Later on, we spend the day sailing and stay the night near the river village of Shwe Nann Tint.
Overnight stay on RV Paukan.
River Village: In the early morning, cruise downstream to Bagan.
Check-Out Time: Relax and watch the sunrise near Bagan and get off the cruise around 9:30 AM.
Visit the colorful local market and continue the day with visits to the most significant pagodas and temples of Bagan: including SHWEZIGON PAGODA, built by King Anawrahta in the early 11th century as a religious shrine; HTILOMINLO TEMPLE, noted for its plaster carvings and KHAY MIN GA TEMPLE, noted for its panoramic view of the area's numerous monuments. Transfer to hotel.
In the afternoon learn of manufacturing Myanmar's most treasured handicrafts and visit a lacquer ware craftsmen's workshop in nearby MYINKABA village. Later continue to MANUHA TEMPLE, built in Mon style in 1059 and explore the MYINGABA GU BYAUKGYI TEMPLE, a temple known for its famous UNESCO protected mural paintings. Continue to an elevated viewpoint for an unforgettable sunset over the plains.
Overnight stay in Bagan.
Day 6
Bagan / Village Tour
After breakfast, visit to TAYOKEPYAY TEMPLE in Min Nan Thu Village; PHAYA THONE ZU and NANDAMANYA TEMPLES noted for their exquisite murals of 13th century; KYAT KAN CAVE monastery, a famous meditation and DHAMMAYANGYI TEMPLE.
Bagan is not only the site of thousand year old temples and pagodas, but also home to many villages scattered around the surrounding plains. Leave to TAUNG BI VILLAGE, and visit the noodle makers, a Myanmar-style movie theatre, the village hairdresser and a local tea shop. Proceed to visit traditional family business including blacksmiths, brick makers, dry snack workshops and bamboo roof producers.
Visit ANANDA TEMPLE, with four standing Buddha images and horse-carriage will take you through some of the more off the beaten track temple sites.
Overnight stay in Bagan.
Day 7
Bagan - Heho (by am flight) - Inle Lake / Indein
After early breakfast, transfer to airport. Flight to HEHO.
Upon arrival at Heho Airport, drive (25km – 1 hour) to NYAUNG SHWE Jetty for boat ride to INLE LAKE. Day excursion by boat on the Inle Lake will include sights of the famous leg rowers, typical floating gardens, local methods of fishing, village life and magnificent scenery. Then, proceed to the Western Shore of Inle Lake, where you will find the beginning of a stair path leading to the well hidden INDEIN PAGODA complex.
Overnight stay in Inle Lake.
After breakfast, day excursion by boat on the Inle Lake will include sights of the famous leg rowers, typical floating gardens, local methods of fishing, village life and magnificent scenery. Begin with Local Market (if possible according to market day schedule); the PHAUNGDAW OO PAGODA, one of the most sacred shrines in Myanmar, dating back to the 18th century; SILVER SMITH, BLACK SMITH AND WEAVING WORKSHOPS in YWA-MA and INPAWKHON. And also visit the NGA PHE KYAUNG MONASTERY wonderfully carved wooden floating monastery in the lake.
Overnight stay in Inle Lake.
Day 9
Inle Lake - Heho (by am flight) - Thandwe - Ngapali Beach
After breakfast, transferred you to airport for domestic flight to THANDWE, the gateway to Ngapali Beach. Upon arrival to Thandwe transfer to your hotel (provided by the hotel). Rest of the day is free.
(Note : From May to September, there might not be direct flight, and may need to stop over in Yangon and supplement might be occurred.)
Overnight stay in Ngapali Beach.
Day at leisure to enjoy the crystal clear waters and un-spoilt paradise beaches of Ngapali.
You can swim, snorkel or take leisurely strolls along the ocean. Board a boat to explore the offshore islands (available at hotel) or rent a bicycle for a trip to the fishing villages and colorful markets nearby. Watch the breathtaking sunset above the Bay of Bengal.
(Activities are not included in our package)
Overnight stay in Ngapali Beach.
Day 11
Ngapali Beach - Thandwe (by am flight) - Yangon Departure
Breakfast at the hotel. Flight back to Yangon.
Itinerary is subject to changes depending on flights, road conditions and availability of rooms.