Myanmar Adventure, Trekking From Chin Hill to Mrauk U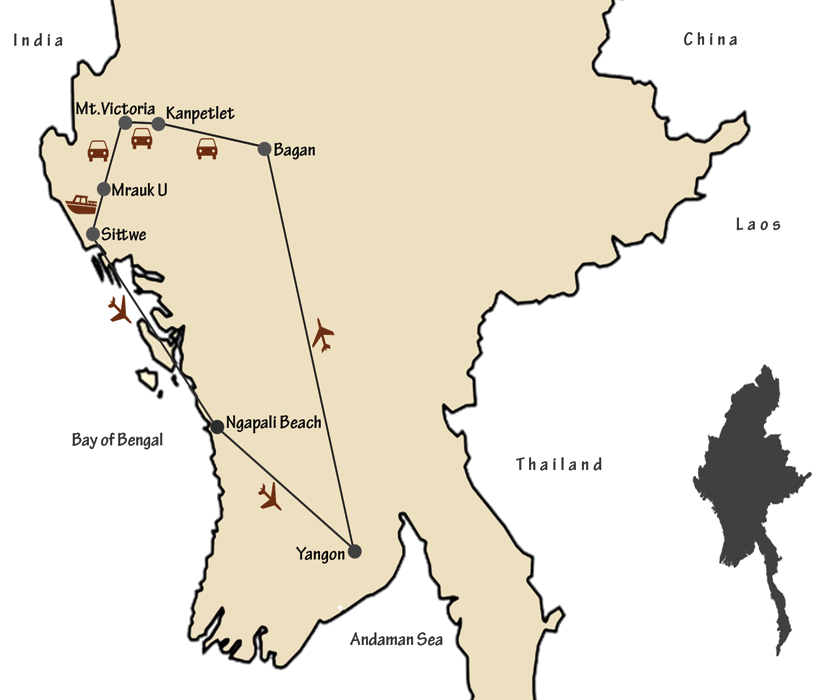 Although it is now well and truly open to tourism, Myanmar remains a mysterious destination, and epic hikes into the unknown are still possible.
This unforgettable journey carves through Myanmar taking in a range of highlights including remote villages, idyllic landscapes and the fascinating ruins of Mrauk-U, the one-time capital of Burma and once one of the richest cities in Asia.
You will pioneer tour operator selling this adventure tour. Beach break the end makes perfection of the program.
Itinerary
Upon arrival at YANGON airport, transfer to hotel.
After refreshment, depart for a heritage tour start at Yangon City Hall, located at the heart of the colonial-era city. Nearby is the former Immigration Department. This building was designed in 1910 to be the country's most upmarket department store, Rowe & Company. Proceed to the High Court, a 1911 brick building designed by the architect John Ransome. Continue walking down to Pansodan Street enjoying impressive colonial buildings and have a stop at Hla Day, a non-profit social enterprise shop, offers quality contemporary and traditional handicrafts sourced from local producers often struggling to overcome disability, exclusion and poverty. You'll find colorful women's and kids' clothing, soft toys, stationery, jewellery, home wares and more there. Continue to Strand Road, home to the three-story former New Law Courts. Next stop is the 1916 Custom House, a large building with an elegant white tower and double-faced clock above the entrance. Walk past the red brick General Post Office to the luxurious Strand Hotel, built in 1901 by the Sarkies brothers, Armenian hoteliers. And also see the bustling life at the Nanthida Jetty. Continue visit and stroll through the Bogyoke (Scotts) Market (closed on Monday and Gazette Holidays), a compound of hundreds of stalls and shops, that gives you the opportunity to see Myanmar's wide range of handicrafts. After a photo stop at the Karaweik Hall, a 'hamsa-bird-shaped' floating barge on Kandawgyi (Royal) Lake, visit the magnificent reclining Buddha Chauk Htat Gyi. Evening, visit to one of the world's most spectacular monuments, the Shwedagon Pagoda for sunset viewing.

Overnight stay in Yangon.
DAY 2
YANGON – BAGAN (BY FLIGHT)
Flight to BAGAN. Tour by car to the best known temples of the area including Ananda, Dhammayangyi, Sulamani, and Thatbyinnyu that will certainly impress you.
Afternoon explore the village life around Bagan - Leave to Taung Bi Village, and visit the noodle makers, a Myanmar-style movie theatre, the village hairdresser and a local tea shop. Proceed to visit traditional family business including blacksmiths, brick makers, dry snack workshops and bamboo roof producers. Continue to an elevated viewpoint for an unforgettable sunset over the plains.
Overnight stay in Bagan.
Leave for adventure trip with 5-hour scenic drive to Kanpettlet. There are many opportunities to take landscapes along the way. Having lunch on the way and continue our journey through Myanmar's 'dry zone' to Kanpetlet. Situated high in the Burmese hills this small town has an alpine feel and provides us with our final shopping opportunity before we start trekking tomorrow.
Overnight stay in Kanpetlet.
DAY 4
KANPETLET – MT.VICTORIA – PIN LAUNG VILLAGE
Trekking: up to 7 hours, Difficulty: Hard
Today trekking adventure begins. Take a short transfer to the base camp of Mt. Victoria and we set off in the direction of Pinn Laung, our overnight village.
The trek to the peak of Mt Victoria will take up to two hours, the scenery is breathtaking, winding through endless Rhododendrons and high altitude evergreen forests with sweeping views of the surrounding Chin Mountains. The forests feature a variety of flora and fauna including many rare species of birds. The ascent is continuous but not severe and gradually flattens out. Lunch at the summit of Mt. Victoria.
As we continue to descend we will notice the change in climatic zones and the effect on the flora. Today we descend from high altitude evergreen forest to primary rain forest.
The village is situated at 1,200 m and makes a welcome stop for the night.
Overnight stay in Pin Luang village.
DAY 5
PIN LAUNG VILLAGE – KHA YAING VILLAGE
Trekking: up to 9 hours, Difficulty: Hard
This morning we start early to enjoy the cool mountain air as we trek towards the remote village of Kha Yaing, one of few villages where the local women have tattoos on their faces, an ancient Chin tradition.
The scenery again changes as we continue to descend down towards the village of Hel Phon, situated in an idyllic location by the river, making a perfect spot for us to enjoy lunch.
In the afternoon we face a steep ascent with plenty of time to enjoy the beautiful views over the rice paddy fields far below.
Overnight stay in Kha Yaing village.
DAY 6
KHA YAING VILLAGE - MULONG
Trekking: up to 9 hours, Difficulty: Hard
In the morning we bid farewell to our village hosts and strike out towards the remote Chin village of Mulong. Today we hike the mixture of up hills and downhill with unforgettable sceneries. Chin people are well known for their colorful fabrics, as well as the tattooed faces of their women.
A legend states that a Burmese King from the central plains used to explore the state looking for Chin women, as they are the most beautiful among the minorities. Chin girls as young as 13 had to tattoo their faces to make them less desirable and prevent from being taken to the Burmese palace. The practice was outlawed a generation ago, so now only the elderly women have tattooed faces.
Overnight stay in Mulong village.
DAY 7
MULONG - MAKYAR EINU
Trekking: up to 8 hours, Difficulty: Hard
After breakfast, we start our scenic trek on rarely used trails to the very remote Chin Village of Makyar Einu. Although a Christian village the way of life has changed little in generations and animist beliefs still hold strong to this day.
Once again the scenery is totally changing from the lowland areas, which are used for rice cultivation to the towering jungle clad mountain covered with primary rainforest.
The trail undulates throughout the day and we will have ample opportunity to enjoy this incredible panorama, a truly un-spoilt wilderness.
Overnight stay in Makyar Einu village.
DAY 8
MAKYAR EINU – WAR CHAUNG
Transfer by Boat: up to 4 hours, Trekking: up to 4 hours, Difficulty: Medium
Our final day trekking starts after a wholesome breakfast. We depart the small village of Makyar Einu and head towards the hamlet of Pi Sung, beautifully located on the banks of the river Laymyo. This important waterway has served as a transport link and lifeline for the many Chin villages in the local area and beyond.
The trail today descends gradually towards the river and as we get closer the view changes from rice paddies and agriculture land to bamboo fields, before we finally descend towards the river valley below.
From Pin Sung village, one and a half day river adventure will take place with local small boat along the Laymyo River until Mrauk U. The boats we use have to be small and nimble in order to navigate the difficult waters of the Lay Myo River.
This river trip gives us the opportunity to observe local village life at first hand and also the chance to spot the many different birds that make the river their home, including the elusive hornbill.
Overnight stay in Laymyo Riverside War Chaung Village.
DAY 9
WAR CHAUNG – MRAUK U
Transfer by Boat: up to 5 hours
Today we depart early by a long tail fishing boat, in order to reach the fabled city of Mrauk-U, home to the capital in the 15th century and at its peak was one of the richest cities in all of Asia.
Our journey today could take up to 5 hours dependent on the current and water level. The Laymyo River is wider and you can see more Chin and Rakhine villages along the banks. In the early afternoon, we disembark at the jetty of Mrauk U. Say goodbye to your local trekking guide, porters and boatman before you leave for Mrauk U to overnight in hotel.
Overnight stay in Mrauk U.
Today tour by car through ancient city, MRAUK U. Drive to VESALI (Wethali), a former 2.7 square mile size city built by the King Mahataing Chandra during the reign of Vesali Dynasty which lasted until the 8th century. Visit the 'Wethali Great Image' from 327 AD, a huge sitting Buddha image made out of one piece of sandstone, as well as the remaining ruins of the palace site. Continue by car to DANYAWADDY. See the MAHAMUNI PAGODA, built during the period of the Dhanyawaddy Dynasty. It once housed the famous Mahamuni image made of bronze, which was according to a legend cast during Buddha's visit to Rakhine. Nowadays this famous image can be seen in Mandalay. Return to Mrauk-U.
After lunch break, walk through the maze-like SHITTAUNG Temple, a shrine of 80,000 Buddha images; the adjacent ANDAW THEIN ORDINATION HALL and to HTUKKAN THEIN TEMPLE and the 17th century temple of KOETHAUNG.
Overnight stay in Mrauk U.
DAY 11
MRAUK U – SITTWE (BY BOAT)
After breakfast, transfer to the jetty for the boat journey back to SITTWE. On the way stop to visit one of the MYO VILLAGES, famous for their natural Khami Cloth. Upon arrival to Sittwe, transfer directly to the town's old commercial area. Stroll along the STRAND ROAD, lined with a fascinating variety of stores and enjoy watching the hustle and bustle of local business activities.
Overnight stay in Sittwe.
DAY 12
SITTWE – NGAPALI BEACH (BY FLIGHT)
After breakfast, set off by car to visit the main market of Sittwe, where fishermen, town and rural people come to buy and sell fish and general supplies.
Transfer to the airport for the flight back to Ngapali Beach.
Overnight stay in Napali Beach.
Free & Easy stay in beach.
Overnight stay in Napali Beach.
Free & Easy stay in beach.
Overnight stay in Napali Beach.
DAY 15
NGAPALI BEACH - YANGON (BY FLIGHT) DEPARTURE
Flight back to Yangon and international departure.
Note: Please note that tour program and itinerary and stops may change at the discretion of the assigned guide in the event of circumstances beyond our control.
Itinerary is subject to changes depending on flights, road conditions and availability of rooms.
Quick FAQs for Trekking
Toilet facility in trekking trials?
There is no proper toilet along the hiking and trekking path to the peak of the mountain. You are advised to bring your own toiletries.
Do we need to carry our baggage on our trek?
We do recommend you just to carry a small size day backpack for your essential medicine, camera, water, sunglasses or sunscreen, rain cover/wind breaker and etc.
All lunch will be carried and prepared by your local experience guide. We do request to leave all other things not needed for your trekking.
Clothing?
We do recommend warm clothes such as long trousers, long sleeve shirt. Insulation T Shirt, light warm sweater, Scarf, Warm jacket/ windbreaker, Good hiking shoes/ a pair of slippers, Hat. We do recommend good shoes for soft and short trekking, and a pair of slipper will be needed for trekking peak trips.
Shopping on the trek?
On your trek, it is very low opportunity to buy soft drinks, beer, snacks and souvenirs.
But you can buy all of these in the Kanpalet or Bagan or Yangon. If you want to take your own beverage, should let us know in advance.
What we will need on trek?
The list of basic equipment you will need on your trek:
1. Good trekking shoes
2. Walking stick for adventure expedition and trekking peak trek (if necessary)
3. Rain coat and windbreaker for adventure expedition
4. Lighter (just in case)
5. Insect repellent
6. Sun cream, moisturizer and sunglass are also recommended
7. Hat and wool hat
8. Personal important pharmacy
9. Warm Clothes (Oct – Feb)
10. 
Battery & external power bank for electronic equipment
11. Good camera
12. Mosquito Net
13. If you think you are not inconvenience to have local blanket, you are advised to bring your personal sleeping bag.
Internet and mobile?
Internet and mobile are not available on your trekking days but it is available in Kanpelet & Mindat town.
Bringing electronic devices for the trip?
Travelers are advised to leave laptops and unnecessary electronic devices, as Internet as well as electricity is limited to supply power. Mobile coverage is also limited in Kanpelet Town as well as along your trek.