Myanmar 2 Week Itinerary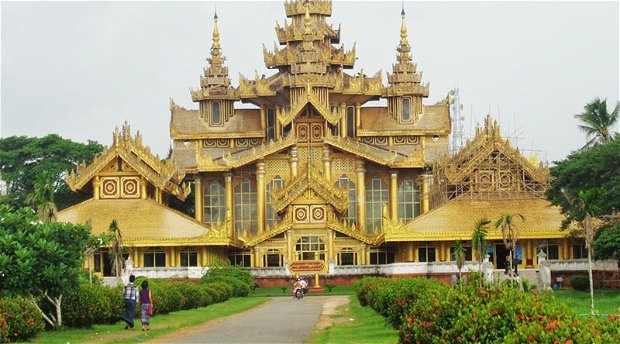 This tasteful program starts and ends in Yangon with its different activities and multi-transport, two air travels, river and overland travels, and trekking. Tour starts from Yangon, with its picturesque colonial architecture,
atmospheric markets and glittering pagodas follow by two days journey to the Golden Rock, one of the holiest sites in Myanmar, and Bago, an ancient Mon capital. Return back to Yangon for first flight to Mandalay, Myanmar's cultural capital. Continuing overland tour from Mandalay to Bagan with one night stop en route, in Monywa, a picturesque town on the Chindwin River and famous with her monuments and lime Stone Caves.
After 2½ hrs boat trip, arrive to Bagan and explore the incomparable thousands of stupas and pagodas. Start overland trip to Kalaw with the spectacular view of Mt. Popa en route and explore the beauty of Kalaw with its colorful tribes in surrounding along overnight trekking leads to Inle Lake. Discover the floating gardens and villages of Inle Lake and back to Yangon, where you're thrilling Myanmar travels will come to end.
Recommended travel period: Throughout the year.
But trekking route from Kalaw to Inle Lake will be muddy from June to September.
DESCRIPTION
This two-week tailor-made tour of Myanmar offers an insight into some of the country's most spectacular and engaging cultural sites. But this holiday is not just about sightseeing; you'll have the opportunity to meet an array of local people, support a local community tourism initiative and shop for traditional handicrafts in vibrant local markets.
Starting and finishing in Yangon, you will visit the holy Golden Rock, wander Mandalay's historic streets, travel by boat to spectacular Bagan to explore its sea of pagodas and stupas, and meet the traditional, colourful tribal communities that call Kalaw home.
Undoubtedly a highlight of this holiday is a two-day, overnight trek from Kalaw to the beguiling Inle Lake. Known in the region as a Community Involved Tourism program, this trek will take you away from other tourists and into the heart of rural Myanmar. Passing traditional farmers along the way, you'll enjoy breath-taking views and the warm hospitality of a night spent in a local village house or monastery.
This holiday can be tailor made throughout the year to suit your interests and requirements, however it is worth noting that the trekking route from Kalaw to Inle Lake will be muddy and wet from June to September.
ENVIRONMENT
This tour program is designed to ensure every traveller has authentic interactions with local people, businesses, transportation, and food and drink. As we know, "Flying" is one of the fastest growing sources of CO2, we include only two essential air travel in this program. Travel by land, water transport and Community Involved Trekking Program, the passengers can taste more deeply to natural beauties, scenery, villages, ways of life, local culture and also have more chance to interact with local people whilst maintaining and/or improving the environment.
All our tours and activities are run by local experts, who are trained on initiatives of Sustainability Management and Responsible Travel practices. We also educate local community and raise awareness about the environmental issues and responsible behavior.
We distribute useful information sheet to our passengers which provides tips to travellers on best practices while travelling (codes of conduct / guidelines for sensitive excursions or activities). And well inform to our clients about sustainable offers such as sustainable accommodations and excursions, activities etc..
All the hotels we used are locally owned and are strong in implementing the Code of Conduct. These hotels strive to take measures in order to reduce damage to the environment. This includes measuring, monitoring and reducing our consumptions.
Regarding energy reduction, we strive to use sustainable energy whenever possible and to reinforce our light and office equipment "switch-off" policy. Water usage is to reduce by replacing toilet water tanks and shower heads to low volume units. Office paper usage to reduce by adopting a sustainable printing policy, to optimize daily printing efficiency and two sided printing policy.
We provide our guests with refillable BPA free water bottles and reusable Myanmar Traditional Bags to be green travellers. We set up a waste management system to reduce, reuse and recycle waste produced. Therefore we commit to measure our recyclable and non-recyclable, reduce the amount of packaging materials and plastic water bottles and finally to recycle batteries. In our hotels and vehicles, the trash containers are set up with the labels of Glass, Metal, Paper, Plastic and Wet Waste etc. Our travellers are well informed of our waste management system and clients are happy to dispose the waste accordingly.
Here below are some points of our promise on environmental sustainability and improvement :
- Yangon Heritage Walk highlights the historical importance of the colonial-era heritage buildings and the need for their preservation.
- River journey up the Irrawaddy River from Mandalay to the riverside village of Mingun, enjoying the picturesque scenery of this river and the lifestyles of the local people who live and work on these waters. Unlike Ava and Amarapura, Mingun was not a royal capital yet has many interesting sites to see. The entry fee we pay in this area is used for maintaining the area and environment.
- Innwa (Ava) visit by local boat and horse cart, are conducted by local people, contribute to the local economy and reducing the environmental impact on this area.
- In Monywa, cross the Chindwin River by ferry and proceed to Po Win Taung by local open-air jeep. This extraordinary complex consists of 947 sandstone caves dug out of the hills and contains what is considered by archaeologists to be the richest collection of mural paintings and Buddhist statues in Southeast Asia. We make donations and co-operations with local authorities for sustainability of sandstone caves, mural paintings and the area.
- In Bagan area, visit a rural villages and enjoying lunch at village house supports the local economy and preserves the local environment.
- 2 Days 1 night trekking in Inle Lake, as a Community Involved Tourism (CIT) program, conducted by local people of the area, uses locally-sourced products, sustaining the environment and contributing to the local economy.
COMMUNITY
Our guides inform travellers about the best places to consume from local sources during the visit. We introduce our passengers to local artists, productive projects and social cooperatives, promoting fair trade. All of the projects that are included in our tours and trips find another fundraising source in responsible tourism. Moreover, our passengers are invited to make additional donations and purchases to the social projects we visit, as a way of showing gratefulness for receiving us and in order to contribute to their mission and sustainability.
Furthermore, our trips contribute to diversify the local economies, to give employment to local communities as well as motivations for younger people.
As a company, we mainly support orphanages at present. We work with our local suppliers closely, encouraging them to implement to our Code of Conduct. We trust in these local suppliers do their utmost to respect and achieve the standards we set out. We have a responsibility towards society to be a good corporate citizen, from a sustainable supply chain to ethical human rights.
Here below are some points of our promise on community and community development:
- Hla Day Gift shop is Yangon provide a sustainable market place, business and design training to support the livelihoods of local producers, many of whom are struggling to overcome disability, exclusion and poverty. It is a non-profit social enterprise and work together with Myanmar artisans, disadvantaged groups and small local businesses to design, develop and sell quality handmade products with a contemporary twist.
- Visiting Mahagandayon Monastery in Mandalay, and offering a monk is contributing to local education and the monastery.
- Enjoying lunch at village house in Bagan effect mainly benefit to local community whilst clients can learn more deeply to local ways of live.
- Visiting local workshops in Mandalay, Bagan and Inle lake are where your contribution will directly help the local economy.
- Boat trip in Mingun, Inle Lake and Pakokku to Bagan are conducted by local people. Enjoying this activities is contributing for development of local community directly.
- Two days 1 Night Kalaw to Inle Lake Community Involved Trekking helps directly to support local community economic development, whilst clients can learn more deeply to locals ways of life and culture, without any negative impact to environment.
Itinerary
Upon arrival at Yangon airport, welcomed by your guide and transferred to hotel. Then, depart for a heritage tour start at Yangon City Hall, located at the heart of the colonial-era city. Nearby is the former Immigration Department. This building was designed in 1910 to be the country's most upmarket department store, Rowe & Company. Proceed to the High Court, a 1911 brick building designed by the architect John Ransome. Continue walking down to Pansodan Street enjoying impressive colonial buildings and have a stop at Hla Day, a non-profit social enterprise shop, offers quality contemporary and traditional handicrafts sourced from local producers often struggling to overcome disability, exclusion and poverty. You'll find colorful women's and kids' clothing, soft toys, stationery, jewellery, home wares and more there. Continue to Strand Road, home to the three-story former New Law Courts. Next stop is the 1916 Custom House, a large building with an elegant white tower and double-faced clock above the entrance. Walk past the red brick General Post Office to the luxurious Strand Hotel, built in 1901 by the Sarkies brothers, Armenian hoteliers. And also see the bustling life at the Nanthida Jetty. Continue visit and stroll through the Bogyoke (Scotts) Market (closed on Monday and Gazette Holidays), a compound of hundreds of stalls and shops, that gives you the opportunity to see Myanmar's wide range of handicrafts. After a photo stop at the Karaweik Hall, a 'hamsa-bird-shaped' floating barge on Kandawgyi (Royal) Lake, visit the magnificent reclining Buddha Chauk Htat Gyi. Evening, visit to one of the world's most spectacular monuments, the Shwedagon Pagoda for sunset viewing.
Overnight stay in Yangon.
DAY 2
YANGON – BAGO – GOLDEN ROCK (KYAIKHTIYO)
Early morning, drive to Bago (84 Km, 1½ hour). En route visit a tree shrine dedicated to legendary animist spirits known as 'nats'. Then visit the impressive and moving Allied War Graves cemetery near Htauk Kyant, the last resting place of over 6300 Allied soldiers and home to a memorial to 27,000 more. A stop is made in the handicraft village that produces woven bamboo wares. Continue to Kin Pun (110 km, 3½ hours) where you start in the trucks and on foot for Kyaikhtiyo (the 'Golden Rock'). On arrival, walk over a large platform to the Golden Rock and watch the beauty at this important pilgrimage site. Usually the place is lively with many people coming to spend precious moments here.
Overnight stay in Golden Rock.
NOTES:
The road from the base camp up to the Golden Rock has to be done by special dedicated trucks. You are not allowed to drive up there with your own vehicle. These open trucks are equipped with narrow benches on the back.
During the raining season, the platform around the Pagoda can be slippery due to rain or mist.
It is advisable to carry a torch light as there are frequent power cuts.
You are advised to only carry a light duffle bag or hand carry as your big luggage will stay in the car/bus at the base camp.
The Golden Rock Pagoda does regular gilding in a three year cycle. During this time, the rock will be covered in bamboo scaffolding. Prior notice and exact schedule may not be given.
DAY 3
GOLDEN ROCK - YANGON
Drive to Kin Pun where you start in the trucks and on foot for Kyaiktiyo (the 'Golden Rock').
Return to Yangon (194 km - 5 hours) with a stop in Bago. Here you visit the Shwemawdaw Pagoda, which is over a thousand years old, and whose tip is even taller than that of Yangon's Shwedagon Pagoda. Continue to the 55-metre-long reclining Shwe Thalyaung Buddha image, one of the country's most revered objects. Visit the Maha Kalayani Sima (ordination hall) and Mahazedi (Great Stupa), offering panoramic views. Lastly, continue to Yangon, with a brief stop at Kyaik Pun Pagoda, famous for its four giant Buddha figures.
Overnight stay in Yangon.
DAY 4
YANGON – MANDALAY (BY AM FLIGHT)
Breakfast at hotel. Transfer to the airport for a domestic flight to Mandalay. Upon arrival, drive to Mahagandayon Monastery where more than a thousand monks live and study. Time permitting you will have the opportunity to observe the monks having their last meal of the day in total silence. Transfer to hotel.
In the afternoon, visit also one of the most revered religious monuments of Myanmar, the Mahamuni Pagoda. Mandalay is also a major arts and crafts center. Visit a Kalaga tapestry craftsmen's shop.
Continue experience the sights and sounds of Mandalay including the Shwe Inbin Monastery; the Golden Palace Monastery, a superb example of a traditional wooden building and Kuthodaw Pagoda the world's largest book made of marble. Then proceed to Mandalay Hill for sunset.
Overnight stay in Mandalay.
DAY 5
MANDALAY / MINGUN / AVA
After breakfast, an excursion by boat on the Ayeyarwaddy River to Mingun, about 11 km (1 hour) upriver from Mandalay. Visit the unfinished Mingun Paya, which was meant to become the largest stupa in Myanmar constructed by King Bodaw Paya; one of the world's largest bells and the 90 ton weighing Mingun Bell and Hsinbyume Paya. Return back to Mandalay.
Afternoon, embark for a short boat ride over a river and start exploring the former Royal Capital Inwa (Ava) by horse cart. Visit Nanmyint Watch Tower, the remains of the ancient palace building, also know as "the leaning tower of Ava"; Maha Aungmye Bonzan Monastery, built of brick and stucco; Bargayar Monastery, famous for its impressive ornate woodcarvings and teak posts. Continue to 200-year-old U Bein teak bridge, built in 1782 during the era when Amarapura was the Royal capital, for sunset viewing.
Overnight stay in Mandalay.
Option Tour - Early morning face washing ceremony 
You are picked up by car at 04:00 to observe the traditional ritual of the daily face-washing ceremony at Mahamuni Pagoda, the most important pilgrimage site for local people.
DAY 6
MANDALAY – SAGAING - MONYWA (BY CAR)
After breakfast, drive to Monywa (150 km - 4 hours) including visit Sagaing Khaung Mudaw Pagoda and the villages en route. Arrive to Monywa and check-in at your hotel.
Afternoon cross the Chindwin River by ferry boat and proceed by pick-up (40 km - 1 hour) to Po Win Taung, a network of impressive sandstone caves containing Buddha statues, wood carvings and fine mural paintings, some dating back to the 15th century. Dozens of large and small caves with about 450,000 images are hidden in the area of the Hpo Win Hills. Return back to Monywa.
If time permit, visit Kyaukkar Village and Shweguni Pagoda. Take a photo stop at Htan Zalote Water Fall before returning to hotel.
Overnight stay in Monywa.
DAY 7
MONYWA – PAKOKKU (BY CAR) PAKOKKU – BAGAN (BY BOAT)
After breakfast, visit Thanboddhay Pagoda; where 845 small stupas surround and rise up to the richly decorated central stupa. The pagoda is built to remind of Mt. Meru and has some similar characteristics to Borobudur of Java. Take a walk through the nearby banyan tree grove Boddhi-Tataung where thousand Buddha images rest at the feet of the trees. Enjoy the panoramic view from Aung Setkaya Pagoda, standing 130 meter high on the Po Khaung Hill.
Drive to Pakokku (110 km – 4 hours), a port city set south of the Chindwin confluence with en-route visit to Ma-U Village. After visiting Pakokku, continue by boat on the Ayeyarwaddy River, to Bagan. This down river trip takes approximately 2 hours. Upon arrival to Bagan, transfer to your hotel.
Overnight stay in Bagan.
A full day tour by car to the best known temples of the area including Ananda, Dhammayangyi, Sulamani, and Thatbyinnyu that will certainly impress you.
Afternoon explore the village life around Bagan - Leave to Taung Bi Village, and visit the noodle makers, a Myanmar-style movie theatre, the village hairdresser and a local tea shop. Proceed to visit traditional family business including blacksmiths, brick makers, dry snack workshops and bamboo roof producers. Continue to an elevated viewpoint for an unforgettable sunset over the plains.
Overnight stay in Bagan.
DAY 9
BAGAN / VILLAGE TOUR
In the morning, we will visit to Shwe San Daw which was built by King Anawrahta in A.D 1057. Continue to Nyaung Hla Village (30 minutes' drive), which is the roost location for the giant flying fox (Pteropus giganteus). The spectacular colony is home to some 3500 individuals, which live in vast rain trees located in the heart of the village and adjacent to the river. Due to seasonal variations, there are more bats in rainy season. The colony started in 1998 and, so far, is increasing in numbers. We ask you to observe these bats but please never disturb them by clapping or making loud noises. They are a natural treasure for the village and for Myanmar. From the village, return to Bagan. Visit Lawkananda Wildlife Sanctuary which has been planted with teak, a non-native species to this dry zone area. It was established in 1997 and covers an area of 47 sqm. The sanctuary is a home to captive breeding populations of the Burmese star tortoise, Eld's deer and other rare species. After our park visit, we will take a walk to nearby Lawkananda Pagoda. It is located on the bank of Ayeyarwaddy which was built by King Anawrahta in AD 1059. The sunset across the river and gilded stupa will create a marvelous picture.
Around 4pm we continue the tour by private car to jetty to take a sunset boat ride.
Overnight stay in Bagan.
Optional: Experience the magic of Bagan and a thousand years of history from the enchanting platform of a hot air balloon, for the first time ever. Balloons in Bagan offers visitors exclusive sunrise champagne flights over the ancient pagodas of Bagan from late October to April.
DAY 10
BAGAN – MT. POPA – KALAW (BY CAR)
After early breakfast, a 300 km drive (7 hours) will take you to Kalaw. En-route visit Mt. Popa, an extinct volcano with spectacular views. Mt. Popa is a popular pilgrimage destination for Myanmar. The local people travel here from far away to worship various animist spirits known as "nats" 777 steps lead up to the shrine placed on top of the steep Popa peak.
After lunch break, the journey continues on a narrow, winding and bumpy road through the Shan Hills. You will reach Kalaw, a fresh and delightful hill station, situated on the rim of the Shan Plateau, early evening time. Kalaw is a lively market town where many ethnic minority people of the surrounding areas buy and trade their goods.
Overnight stay in Kalaw.
Day 11
KALAW TREKKING (DAY 1) : BAW HNIN KONE – HTEE TEIN
After breakfast at hotel, explore the hill town with the local market, the tiny train station and the Old Catholic church (if open). Drive to Baw Hnin Kone Village.
From Baw Hinin Kone Village you will walk 3 hours before arriving to Kone Hla village for lunch. The route offers fabulous views and passes through fields where farmers in the morning will be harvesting, planting or tending to their crops of wheat, potatoes, ginger or other vegetables.
After simple lunch at village house, trek 2½ hours through Pack Tu Pouk Village to Htee Tein, your overnight stop. The route is filled with the panoramic views of the Shan Mountain Range and surrounded by unspoiled natural beauty.
In the late afternoon we'll reach Htee Tein. Our overnight stay is in the village monastery or village house, a special place to spend the evening and although the accommodation is basic, it is comfortable. Dinner will be prepared on spot and served later this evening.
Overnight at village monastry or village house. 
Walking time and place may change subject to weather and unforeseen situation.
The villages you will be passing through are very traditional. Conservative dress will be appreciated.
Recommended things to be bring: light weight trekking shoes (jungle boot and rain coat for rainy season), mosquito repellent, long sleeves sweaters and pants, small flashlight.
Day 12
KALAW TREKKING (DAY 2) : HTEE TEIN – ARRIVE INDEIN
Depart from Htee Thein monastery after your breakfast around 07.00. After a long (going down) walk, you will reach Indein Village on the shore of Inle Lake. On the way you may be pass the tour villages of Inthar and Pa-O races. There are many plantation of cheroot leaf. Arrive to Indein around at 12.00.
In Indein village, you can see the ancient Pagodas from the XVI century and quiet places; take your time for visiting the village.
Your boat is waiting at Indein village and boat transfer to hotel.
Overnight stay in Inle Lake.
After breakfast, day excursion by boat on the Inle Lake will include sights of the famous leg rowers, typical floating gardens, and local methods of fishing, village life and magnificent scenery. Begin with Local Market (if possible according to market day schedule); the Phaungdaw Oo Pagoda, one of the most sacred shrines in Myanmar, dating back to the 18th century; Silver Smith, Black Smith and Weaving Workshops in Ywa-Ma and Inpawkhone. And also visit the Nga Phe Kyaung Monastery wonderfully carved wooden floating monastery in the lake.
Overnight stay in Inle Lake.
Optional: Balloons Over Inle 
Shan state is one of Myanmar's most beautiful and culturally diverse areas. This exclusive balloon ride is a truly remarkable experience allowing you to venture off the beaten path and gain a unique perspective of the country and people. To fly over the lake in a balloon, has to be one of the most beautiful ways to see this wonder. You will see the morning fishermen looking for the first catch of the day, and boats laden full of produce on their way to the market by the immense labyrinth of canals. At higher altitude you will be amazed to see thousands of village houses seemingly floating on the lake.
DAY 14
INLE LAKE – HEHO – YANGON (BY AM FLIGHT) DEPART YANGON
After breakfast, transfer to Heho airport (25km – 1 hour) for domestic flight to Yangon. Take refreshment in Yangon before international departure.
Itinerary is subject to changes depending on flights, road conditions and availability of rooms.