Hot Air Balloon Festival in Taunggyi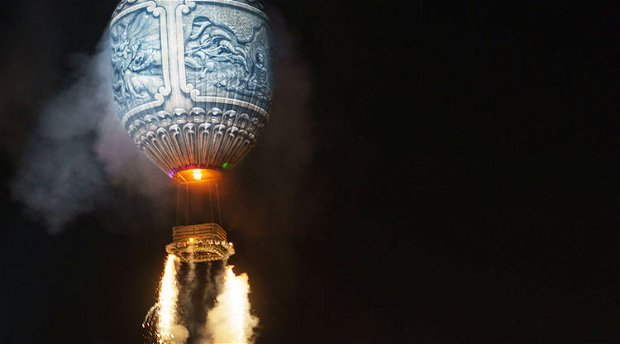 Celebrations and Competitions Adorned with Lanterns & Fire in the Sky
One of the very renowned Festivals in Myanmar!
The traditional of various shapes hot air balloon, fireworks, explosions, and human-powered Ferris Wheels are fantasitc.
If your ideas of fun are about color and explosion and also if you'd like to splendid experience a true festival in Burma-style, then Taunggyi Hot Air Balloon Festival might meet your expectation.
During a week, thousands of people gather to enjoy the show, live music, traditional foods, amusement parks and merriment by holding firework-launching competitions. The firework is in the form of rockets. There is also hot air balloons competitions on all day long and until late at night, allowing different villages and families from all over the area to show their home-made hot air balloons. During the daylight, balloons are usually in the form of Pagodas and animals such as elephant, dragon, birds, tigers and ducks. And the sky is filled with hot-air balloons, mostly representing traditional Myanmar and cartoon figures, popular among kids and adults. In the evening, atmosphere is getting hotter with the amazing contest of main hot-air balloons. Balloons are decorated with hundreds of candles and once in the sky, fireworks attached at the bottom are lighted! It is a unique show, for the eyes and ears.
But night time festivities that are the most noteworthy. The festival ground attracts huge crowds. One might think that the 9m tall hot air balloons are just for fun, if it's for the first time. The hot-air balloons competitions are the most precious for the local people. Locals prepare their hot-air balloons 5 or 6 months prior to the competition, spending a great deal of time and money on decorations including fireworks, lights and painting. Their team work can see on the balloons and how they love their culture spirit. And hot-air balloons are made of Shan-paper and designed and constructed by the participants. The candles, painting and even the fireworks are all made by hand. There are two types of hot-air balloons at the festival. They are Sein Na Pan (decorate with candles) and Nya Mee Gyi (with fireworks).
There are two categories – balloons that are beautifully lit up and ascend serenely into the sky, and ones attached to fireworks. The paper balloons are decorated on the outside with colorful lanterns made of cellophane. Lights are also attached to the lanterns, giving the balloons a different pattern. The hot air balloons rise quickly because of the flame heating the air inside the balloon. The firework balloons feature 3-5 meters long trail with various fireworks, which burst into extraordinary, multi-colored showers lasting up to 15 minutes.
 The annual festival with the extraordinary explosions light and color attracts local and foreign visitors. In fact, the visitors are dangerous to see the hot air balloons attached with explosives, but it was great.
What You Need To Know If You Go
If you're going to head to the Hot Air Balloon Festival in Taunggyi, here are some tips to make it the most enjoyable and safe experience for you.
1) Bring a guide, and listen to them
It is absolutely worth bringing a guide, both to help make sense of all that is happening and to keep you safe. While your jaw is dropping in awe of what you're experiencing, they will know what to expect and be keeping an eye on the surroundings. They know how the balloons behave, where you should go, and when you need to move away.
2) Stay out of the way
Chances are, you'll want to be getting a close-up look of the action. That's all well and good, but remembers that these people have been preparing for months for this competition, and do not want you getting in their way. Oh yeah, people are walking around with massive flaming torches. It's really important to be aware of what's happening around you.
3) Wear long pants and clothes made of natural fabrics
It's often chilly at night up in the mountains around Taunggyi, so dress appropriately. Given that you're potentially in an environment around fire, natural fabrics are best in case a rogue firework comes your way.
4) Be aware of your surroundings
The festival grounds are busy, most nights with tens of thousands of people attending each night. When you arrive, take a look around to see the lay of the land so you know how to get back to your guide / driver in case you get split up. Know where the fire station crew is as well as the covered viewing area, and don't take anything you can't afford to lose.
5) The weather matters
It's typically not that windy this time of the year in the evenings, but the slightest breeze will dictate which direction the balloon will float. The breeze may shift often as well, so be aware of the changes.
Where to Stay
While the festival itself takes place in Taunggyi, the fairly mediocre local hotels increase in price several times over for the duration of the festival and you may want to book elsewhere.
Nyaung Shwe has a good variety of hotels and is only about an hour away, which is no big deal if you're going to go for a night. You can hire a car and driver and they will stay the entire evening with you until you are finished.
Other Hot Air Balloon Festivals in Myanmar
While the largest festival by far is in Taunggyi, you can still witness Hot Air Balloons in other parts of Myanmar.
Pyin Oo Lwin has the next largest festival, happening around the same time (full moon in the month of Tazaungmon).
The lovely hill station town of Kalaw also has its own festival which includes hot air balloons and other fire-related madness.
Shan New Year festival is celebrated across Shan State, with the main festivity-hosting city changing each year. This takes place about 2 weeks after the full moon in the month of Tazaungmon).
Taunggyi Festival is renowned for not only locals but also the travelers, who attended the event, who are all impressed by the dramatic festival loaded with hot-air balloons and fireworks. From now on, schedule your trip to Taunggyi of Shan State to watch the fire in the sky!
Contact our experts to add this splendid experience, spice up to your itinerary, and immerse yourself in the local culture of a true Myanmar festival.