Half Day U Bein Bridge and Amarapura Tour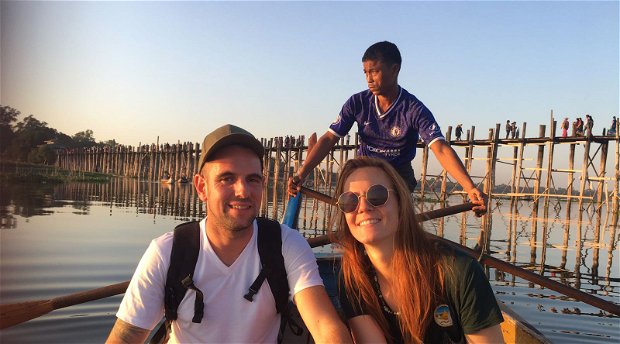 U Bein is a crossing that spans the Taungthaman Lake near Amarapura in Myanmar. The 1.2-kilometre (0.75 mi) bridge was built around 1850 and is believed to be the oldest and (once) longest teakwood bridge in the world. Construction began when the capital of Ava Kingdom moved to Amarapura, and the bridge is named after the mayor who had it built. It is used as an important passageway for the local people and
has also become a tourist attraction and therefore a significant source of income for souvenir sellers. The construction was started in 1849 and finished in 1851. Myanmar construction engineers used traditional methods of scaling and measuring to build the bridge. According to historic books about U Bein Bridge, Myanmar engineers made scale by counting the footsteps. The bridge was built in curved shape in the middle to resist the assault of wind and water. The main teak posts were hammered into the lake bed seven feet deep. The other ends of the posts were shaped conically to make sure that rain water would fall down easily. The joints of the bridge are intertwined. Originally, there were 984 teak posts supporting the bridge and two approach brick bridges. Later the two approach brick bridges were replaced by wooden approach bridge. There are four wooden pavilions at the same interval along the bridge. By adding posts of two approach bridges and four pavilions, the number of posts amounts to 1089. There are nine passageways in the bridge, where the floors can be lifted to let boats and barges pass. There 482 spans and the length of the bridge is 1,209 metres.
Remark: This tour is just an example and can be customized to your preferences.
Gallery
Itinerary
Half Day
Half Day U Bein Bridge and Amarapura Tour
At 08.00 or 14.00, drive and visit including one of the most revered religious monuments of Myanmar, the MAHAMUNI PAGODA and local handicraft workshops - marble stone carving, gold leaf, tapestry, etc. Continue to 200-year-old U BEIN teak bridge, built in 1782 during the era when Amarapura was the Royal capital. Enjoy at the bridge (sunset at evening) and go back to hotel.
What's Included
Sightseeing with English speaking station guide
Transportation by air-conditioned vehicle with driver